Hi and thanks for visiting! :)

All my lolita items are kept in a separate wardrobe out of the sun and dust - they are clean and all in good condition. I have inspected them carefully for any flaws and they should be noted. However they may have a tiny bit of lint on them from other garments.

My EGL feedback can be found here.

Payment by paypal only in US dollars, please. Unfortunately at the moment I can't accept payment plans or holds.
Items will go to the first person who confirms their intention to buy by leaving their paypal address.

I'm happy to mark items down for posting.



PLEASE NOTE:

Shipping rates to the US and UK listed are for 'pack and track', which is airmail with basic tracking. This is NOT insured and insurance will be at the buyer's request and expense. I will ship with standard airmail (about $5 cheaper per item) but only if you're willing to send the funds as personal payment since I can't take responsibility for an untracked/unregistered item lost in the post.
You can calculate shipping for other countries and shipping options using the Auspost calculator here. Please note that the cost is actually around $2 higher than the calculated amount for the purchase of a bubble mailer/'tough bag' to keep garments safe.

Also, I have a 9 month old baby who keeps me pretty busy during the day, so if I am a little slow to reply to messages please bear with me! However, I will make sure I get all packages sent within 2 business days of payment.


Proof - gingham quilt! (from previous sales post, hope that's okay)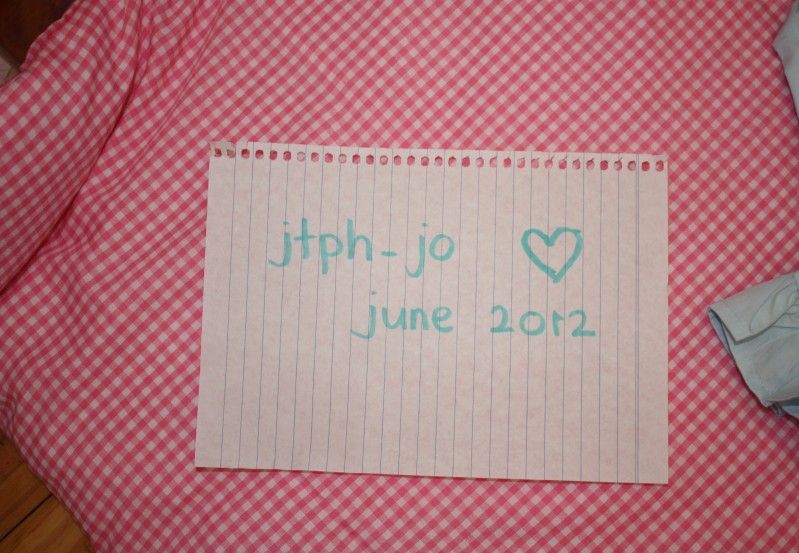 I have tried to measure accurately, but I could be a centimetre or two out (or a bit more in the case of shirred things which are so tricky to measure by yourself). I apologise in advance for any errors.


Emily Temple Cute



Present Box Jumperskirt in Black - $125

SOLD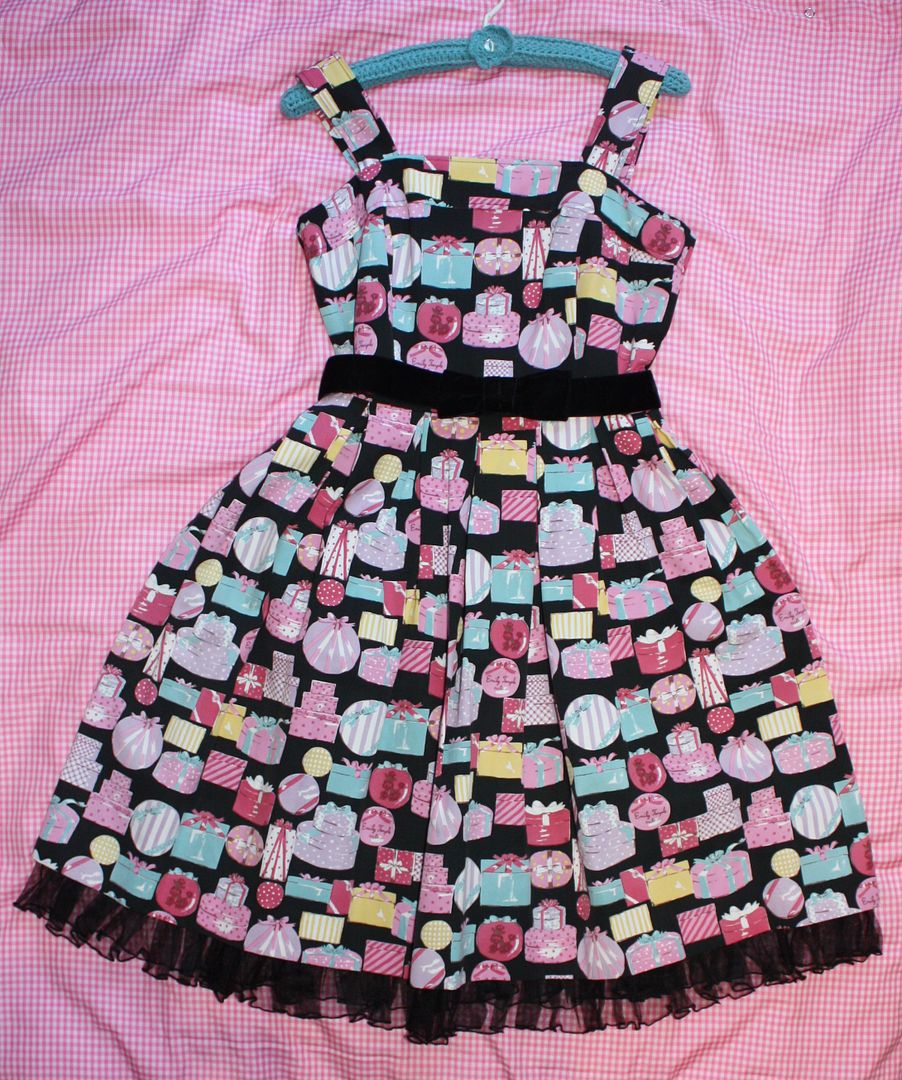 Waist: 68 cm
Bust: 83 cm
(no shirring)
Lined (black ruffle is on a separate satin underskirt section), never worn, excellent condition. Includes the black velvet bow waist belt, which has snap fasteners.
Shipping (by registered post) to US $36, to UK $43
You can calculate shipping for other countries and shipping options using the Auspost calculator here.
(Package weight ~850 grams)
Black lace trimmed Jumperskirt - $75
SOLD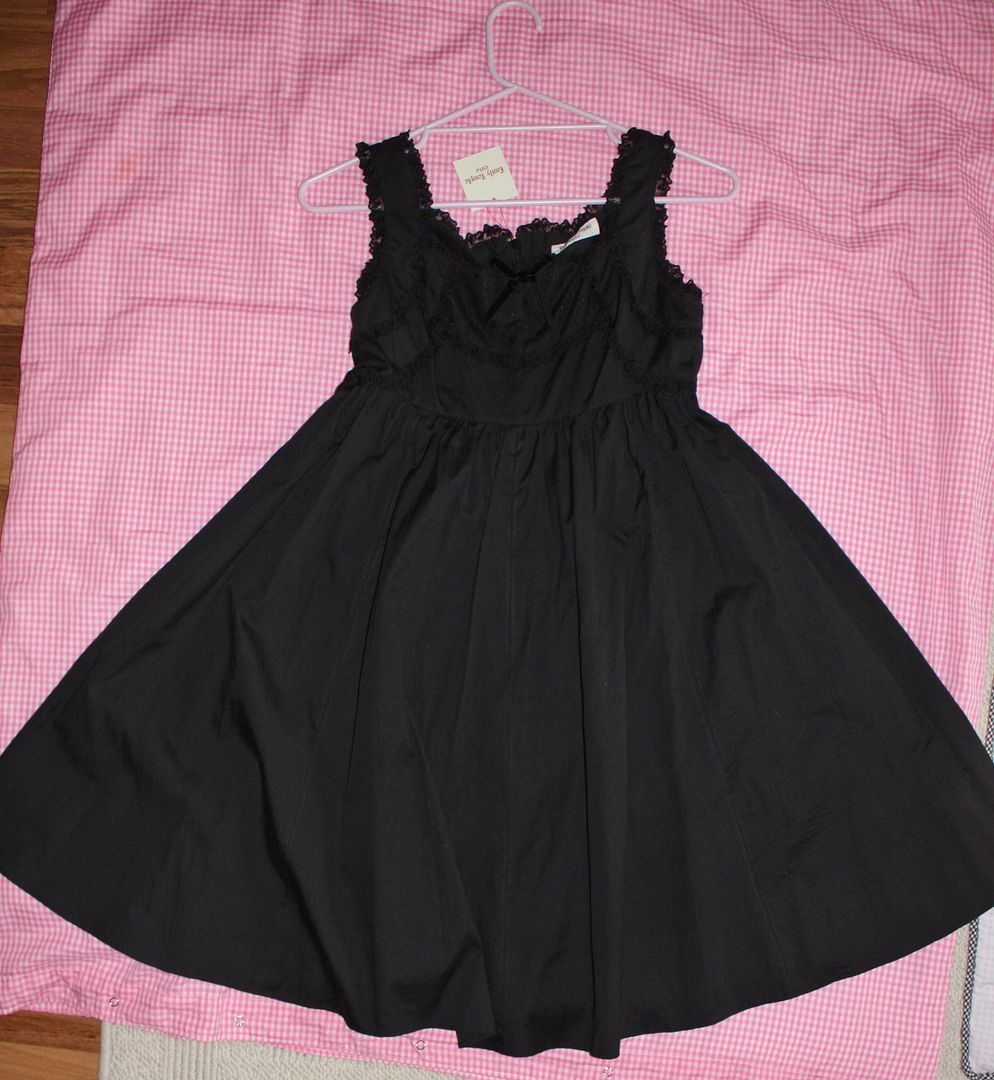 High Waist/Underbust: 78 cm
Bust: 84 cm
(no shirring)
Unlined, new with tags (though it does have a little lint on it from hanging in the closet). It is sooty black, I just lightened it to try and show some detail. See a very overly brightened image to show the lace at the bust here. Very pretty lace trim and a small velveteen bow.
Shipping (by registered post) to US $22, to UK $26
You can calculate shipping for other countries and shipping options using the Auspost calculator here.
(Package weight ~400 grams)
Innocent World
High Collar Blouse in White - $70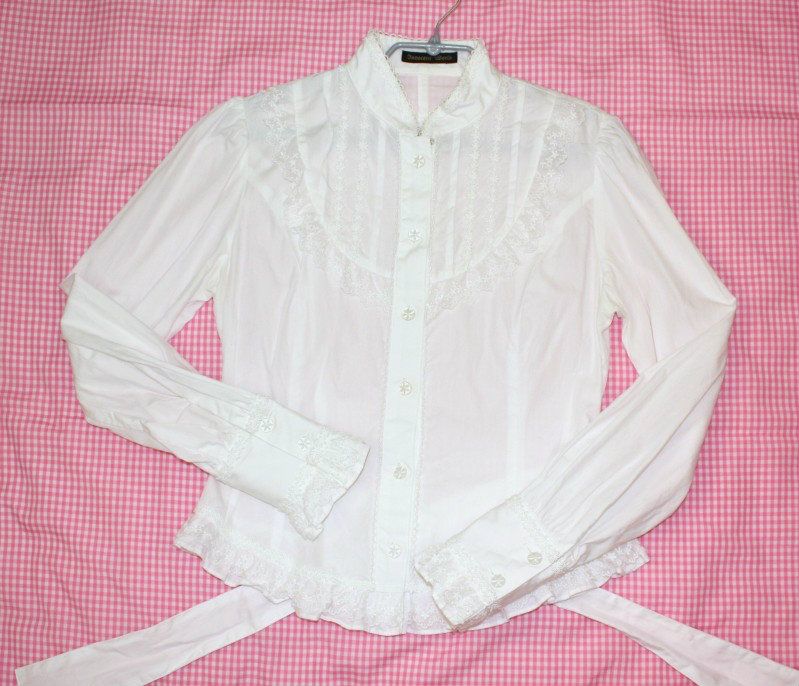 Photo does it no justice - it is so beautiful in person! Here's a picture I took several years ago when I first got it which shows the lace much better.
Waist: 78 cm
Bust: 88 cm
(no shirring, is an IW size 'M')
Very good condition - bought new from IW by me and worn about 3 times.
Shipping to US $22, to UK $26
You can calculate shipping for other countries and shipping options using the Auspost calculator here.
(Package weight ~300 grams)



Metamorphose



Polkadot Ruffle Skirt in Black and White

- $65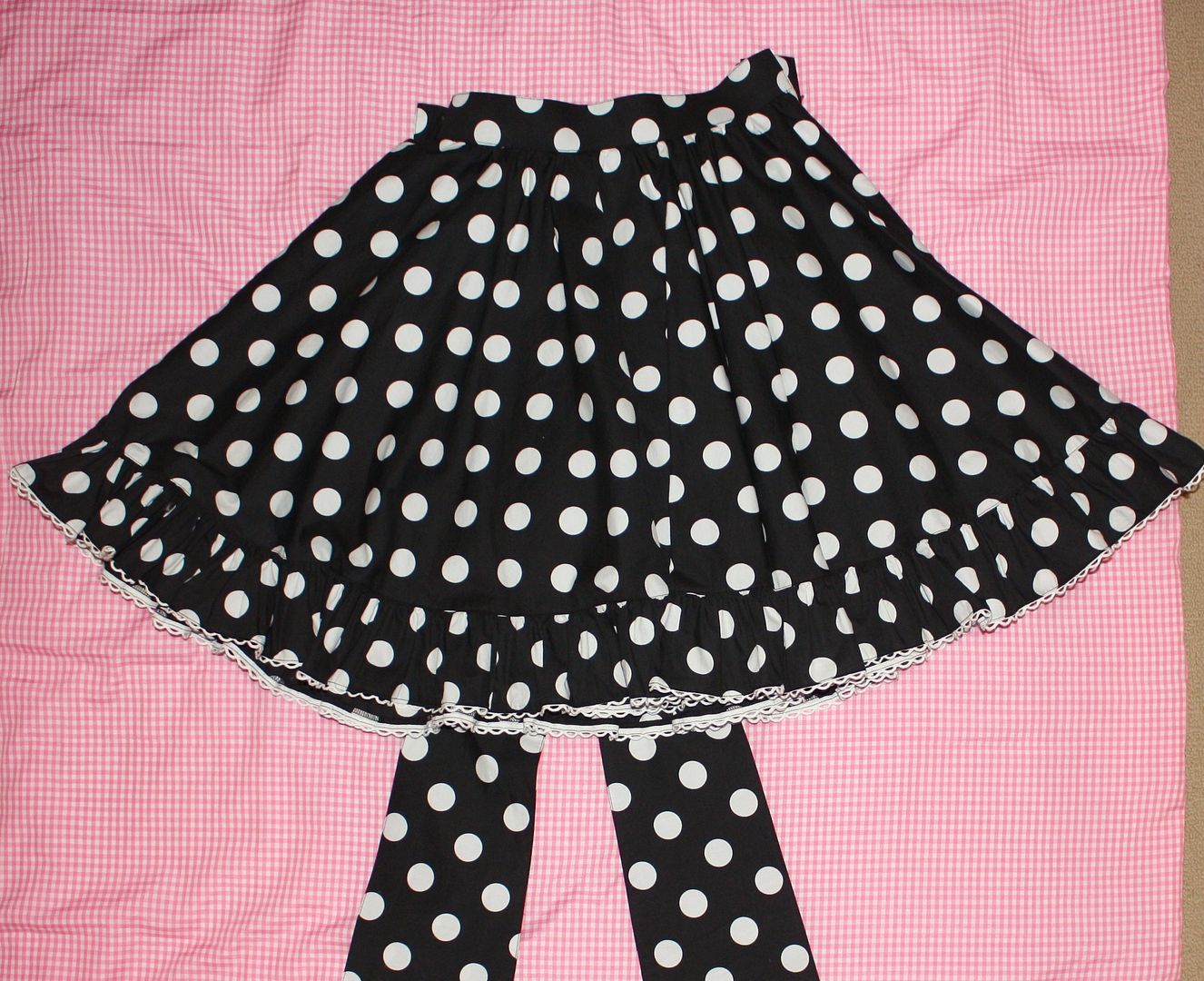 Waist: ~64-73 cm
(has a small shirring panel across the back)
Lined, no flaws, very good condition. Note it is a little shorter than many lolita skirts at 51 cm.
Shipping to US $22, to UK $26
You can calculate shipping for other countries and shipping options using the Auspost calculator here.
(Package weight ~400 grams)



Baby, The Stars Shine Bright



Alice in Fun Fair Skirt in Black

- $100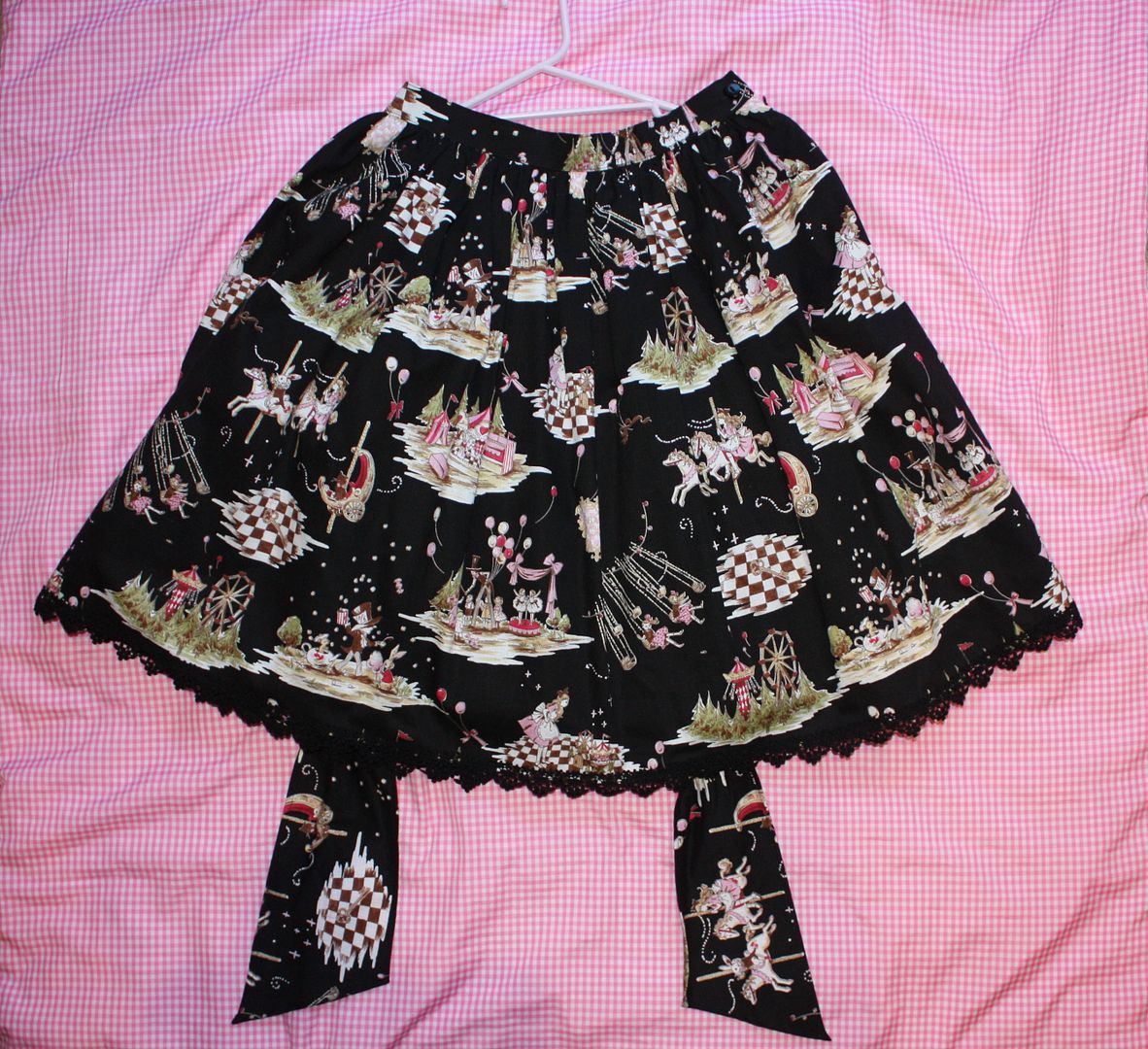 Waist: 68 cm
(shirring panel at the back has been removed by a skilled seamtress - see detail photograph here)
Lined, no flaws, very good condition.
Shipping to US $22, to UK $26
You can calculate shipping for other countries and shipping options using the Auspost calculator here.
(Package weight ~400 grams)


MILK



Swing Note OP in Pink

- $150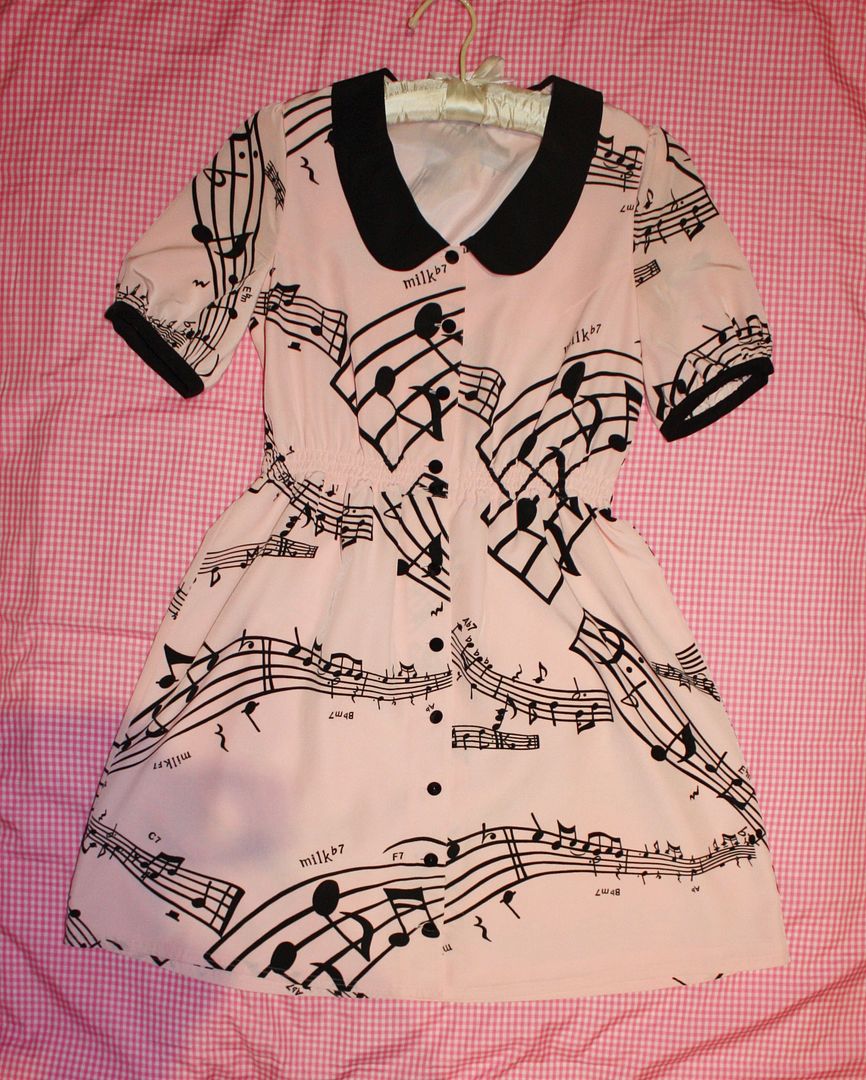 (excuse my shadow!)
Waist: free
Bust: 88 cm
Cuff: 26 cm (sits on the lower part of the upper arm, above the elbow)
(full shirring at waist only, bust is fixed and designed to sit a little 'slouchy')
Lined, no flaws, never worn so basically new. Note it is a little shorter than many lolita dresses at 85 cm.
Shipping to US $22, to UK $26
You can calculate shipping for other countries and shipping options using the Auspost calculator here.
(Package weight ~400 grams)




Thank you for looking!