I have +6 feedback at the comm: here; two are from the previous comm and are not shown

Payment Method:
Paypal & Paypal CC
Prices and payment in USD

PLEASE READ:
-Please keep on top of communication. If others are in line for something and you don't respond in a timely manner (36 hours from when my last message was), I'm going to move on to the next person.
-Shipping is whatever is the cheapest. For items over 13oz, this means Priority. For items under 13oz, this means First Class Mail USPS (typically takes anywhere from a week to two and a half weeks).
-International buyers welcome, but please be aware of higher shipping costs.
-If you live within the USA, Delivery Confirmation is automatically added to the cost of shipping (it's $0.80). If you live outside the USA, I understand tracking is very expensive, so it will be optional with the implicit agreement that I am not responsible if your package gets lost without tracking. I ship these out, but what the postal system does with it is beyond my control.


Pink Ruffle Long Sleeved Blouse
Additional photos: cuff, label, tag
An offbrand blouse that I have never worn except once to try on when I ordered it. I didn't see a point in showing pictures of me trying it on as it doesn't fit properly and that's not helpful to you as a buyer. ^^;
Size: Medium. The tag size is small but it really doesn't fit like a small at all. I'd say the bust is 34-38 inches/86.3-96.5cm
Price: $16 + shipping. The original was exactly $16 plus shipping.
SOLD!

69th Dept - Long Sleeve High Neck Blouse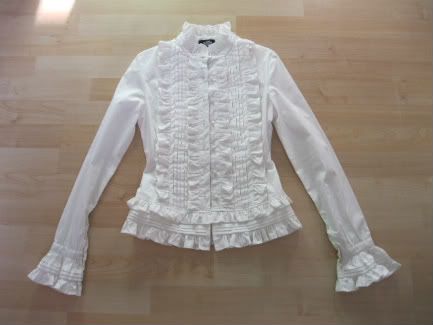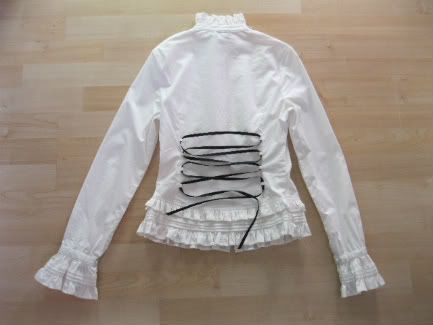 Additional photos: pintuck and ruffle detailing with faux pearl buttons, sleeve ruffles and pintucks, worn
Never worn, only tried on once for pictures. From a Chinese maker called 69th Dept. Has some really gorgeous pintuck and ruffle detailing. The black ribbon comes out. It's a shame I never got around to wearing it because it's such a lovely blouse.
Size: XS, Bust: 31.5 inches/80cm - this is my bust and it fits snugly; I would say this is the absolute maximum possible
Price: $36 + shipping; The original price was $40 PLUS $20 shipping. Considering I've never worn this, I feel it's a very good price.

Black Punk Lolita Jacket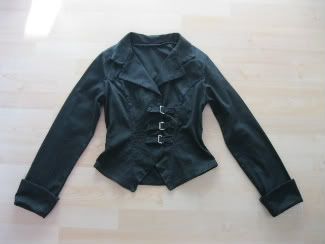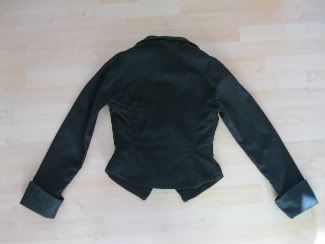 Additional Photos: Worn,Close-up of front
Handmade Jacket. The front buckles are slightly asymmetrical. Inside seams are serged, no lining. This jacket is NOT meant for warmth in cold climates, it is more of a fashion piece.
Size: Extra-Small or Small, Bust: 29-32 inches/73.6-81.3cm, Waist: 23-26 inches/58.4cm-60cm This jacket is EXTREMELY fitted - if you exceed the bust OR waist measurements, it will not fit you properly. For measurements under 29 inches, please enquire and I can give you a better idea of how it will fit.
Price: $29 + shipping

Navy Blue Corduroy JSK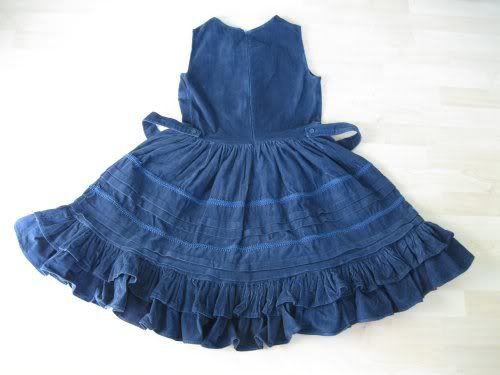 This handmade JSK is made in navy blue corduroy. Perfect for autumn and winter.
Larger Image

Size (These are absolute maximums, will fit smaller)
Bust: 34 inch / 86.36 cm
Waist: 32.25 inch / 81.91 cm
Length from waist to end of JSK: 20 inches / 50.80 cm

Features
-Detachable bows
-Detachable waist ties
-Couduroy material

Flaws/Quality concerns
-I made a mistake when sewing the top to the bottom and had to take out the stitches. Near where the bottom meets the top, you can see where the stitching was. It's really noticeable up close, but not when taking a picture.
-Mysterious red stain the size of half a penny on hem of JSK (see here)
-Partially worn before. Bodice and bows have been replaced completely before selling; the only part of the JSK that has been worn before (once) is the skirt part + waist ties.

Price: $47 SHIPPED in the USA WITH tracking; International buyers please ask for quote your purchase acknowledges that you understand the flaws in the JSK

Alice Belle OP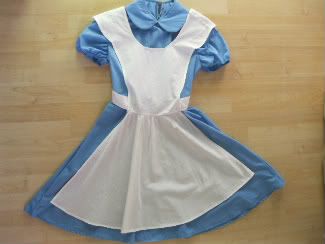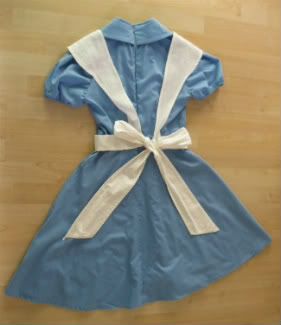 Additional Photos: Front of OP, Back of OP
A handmade sky blue OP with apron, reminiscent of Alice in Wonderland, although personally I think it's more like lolita-fied Belle from Beauty and the Beast. Unlined. Inside seams are serged. Worn once.
Size: Small, Bust: 30-33 inches/76.2-83.82cm Waist: 23-26 inches/58.4-66cm
Price: $40+ shipping

White Alice Bow Hair Comb
Price: $4
Gorgeous white hair bow with braiding detail attached to a metal hair comb. Brand New.
SOLD!


Questions? Please don't hesitate to ask. Thanks for looking!