Terms of Sale~
-Free Gift with Purchase!!!
-I am willing to negotiate price :)
-I ship from US.
-I take Paypal direct transfer. 5% will be added to price listed for fee.
-Shipping not included: Please leave your zip code for shipping quote amount.
-Please tell me which country you are in when making an offer.
-I can do shipping to any country, but it might be costly, inquire if interested.

My feedback page:
http://community.livejournal.com/eglfeedback/853416.html



Milk tea Blonde wig $38
Beautiful wig! I loved this wig but only wore it once and could really use the monies >.<

A pic of the wig styled with a doublbraid~


Angelic Pretty Powder Rose $200


Length:

About 84.5 cm + 3.5 cm lace




Proof pic~


(Pure Doll) Btssb Swan Princess Odette OP~ $200 (Reduced price!) OBO
aka: the lace dream dress from btssb designer documentary
http://hellolace.net/wardrobe/baby-the-stars-shine-bright/type/op/item/29/



Metamorphose Card Playing Kitty OP and headbow Set SOLD
Set only includes dress and Alice bow
~the black bowties on the bodice are removable!


Length:

84cm (33in) + lace (skirt length: 58cm/22.8in)




Stock pic~ Mine is blue!


Proof pic~



Putumayo Alice Print OP (they call it OP but I would call it a jsk)Bought new from Harajuku Hearts $130 OBO
I'll include the handmade headbow that I am wearing in the pic if you like~ It's very simple: made of grosgrain ribbon and cream lace, the same color burgandy as the ribbon on the corset lacing.
27"-39" Bust (lots of shirring in the back)
23"-30" Waist
28.4" length


Angelic Pretty Pink twin tails bow set of pony tail holders $19 OBO


Irredecent Unicorn resin necklace $20
Heart charm is 2"x 2"
chain is 8" long
Handmade~ Bought off of Etsy


Without flash~

Proof pic is below of me wearing the btssb pony skirt~


Plush Unicorn purse SOLD
White plush bag with irredecent hooves and horn- mane and tail is purply pink


Zipper and inside


Proof pic below with the btssb pony skirt





Sugary Carnival OTK's in sax blue SOLD
worn only once very shortly
perfect condition!


Proof Pic


Another Proof pic with the btssb Pony skirt





Baby the Stars Shine Bright El Dorado skirt (Carosel ponies)- $98


Anna House Venice lace Alice bow $12 OBO


Btssb replica wire bow- high quality, exactly like the original~ (Reduced Price!)$25


Chiffon dot and lace detail blouson blouse- $20 (Urban Outfitters)
gathered ruffle waist
Size S/M
Bust and waist free size


Bodyline Black bloomers/frilly shorts- NWOT~ $24
Size M
Waist 22"-30"
Once again; this is the price I paid after shipping.



Stock image:


Cotton Mint jacket w eyelet lace (color is mintier in person) $10 OBO
34" bust max 27" waist max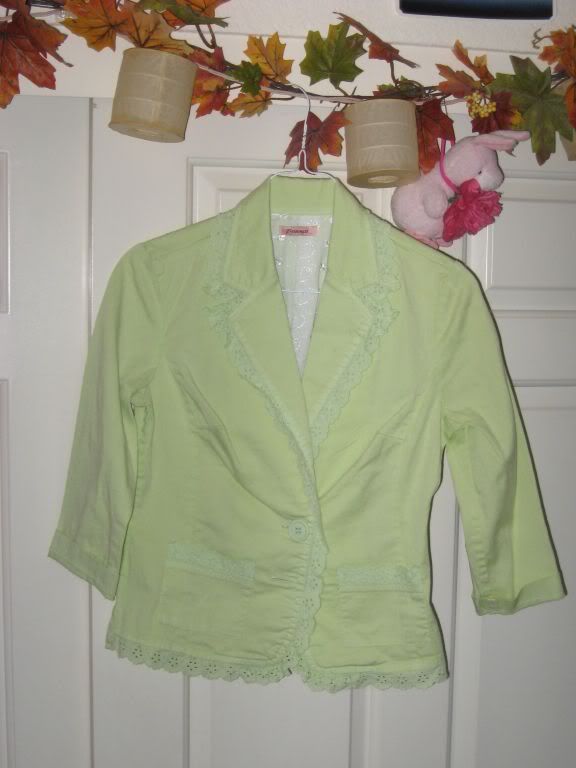 Accessories~~~




Bodyline White crochet lace wrist cuffs $8 Free Size


Classical Unicorn necklace $16 OBO


With flash



Btssb Special Edition Tote $29 without bear charm, $42 with bear charm (Reduced Price!)
Bear charm NOT sold seperately. Never used


Without flash


Want to Trade for any of the below items or AP items in fall colors or Gothic style AP items.
(In order of preference)



Thanks for looking!♥~~~~~~~~~~~~~~~~~~~~~~~~~~~~~~~~~~~~~~~~~~~~~~~~~~~~~~~~~