I accept paypal payments only, and no E-checks. Prices are in USD. Priority will go to the first person to comment with their location and desired method of shipping. DO NOT post your paypal address in the thread! If I accept your offer on the item I will comment back, and then you can PM me your paypal address. I reserve the right to refuse a sale for any reason. Here is my feedback: http://community.livejournal.com/eglfeedback/494508.html

***I want this stuff gone so I will take offers on them!***

Angelic Pretty Size L pink blouse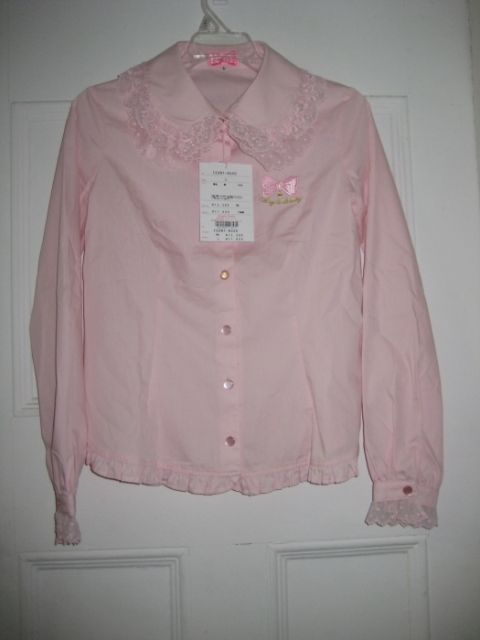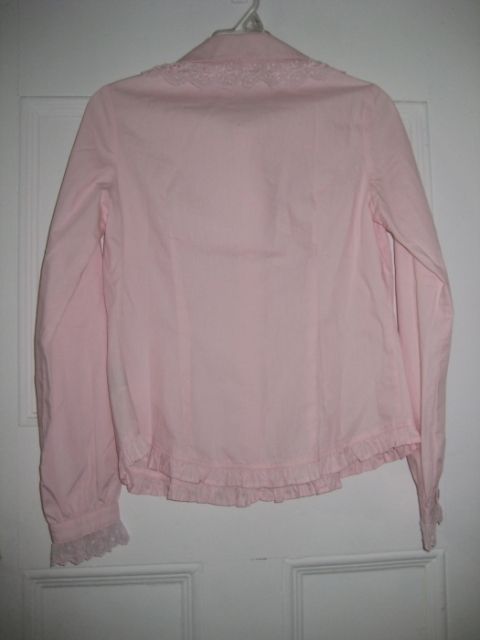 This is a size L Angelic Pretty blouse. I bought it new from the AP japan website, and I never got to wear it because it didn't fit. Please note: the sleeves are rather small, please measure yourself accordingly!

These are the measurements of the blouse itself in inches:
Bust: 36"
waist: 34"
sleeve width: 12"
sleeve length: 24"

Price: $100
Priced way below what I paid for it!
Priority shipping within the US will be $11.35, International airmail shipping is $16.


Metamorphose Kimono jsk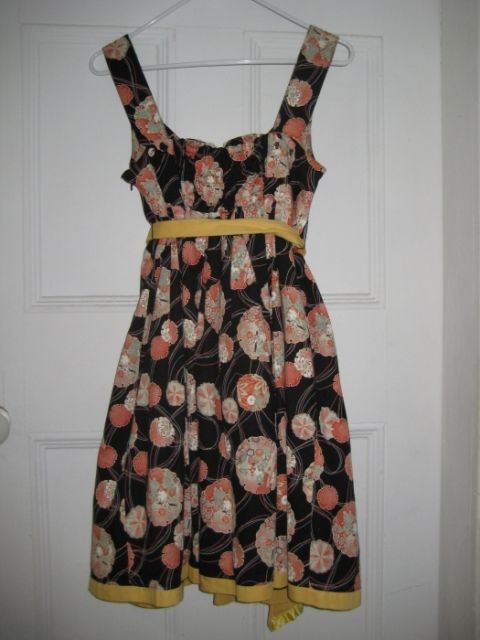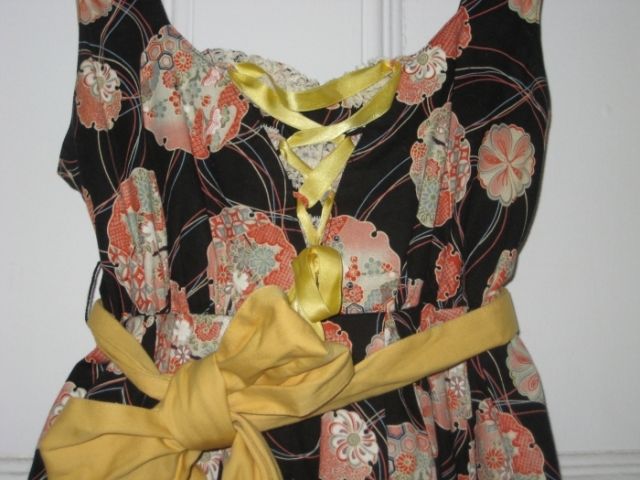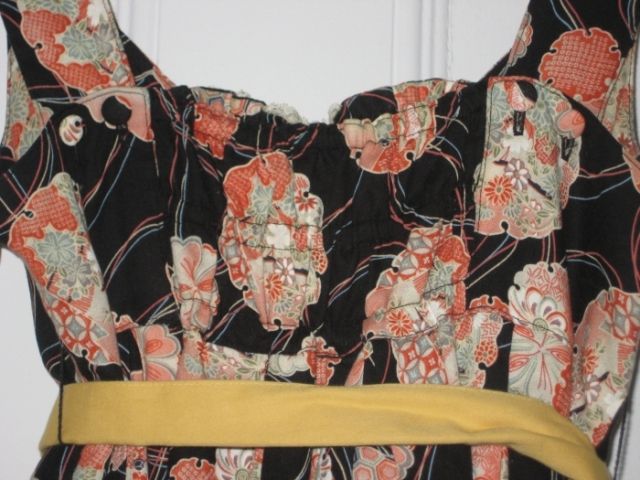 I really love this dress, and it's very hard to find this dress now a days, but it's time for me to sell it as I haven't worn it in a while. It is an old dress and feels worn as its age would suggest, but it has no damages. The sash is removable, as is the panel behind the yellow ribbon on the bust. I have moved the buttons down on the straps to allow for longer torso/larger chest.

Because it has shirring in the back, I would say it can accommodate anywhere from a 35 to 38 inch bust. The waist is free. It is 35" long.

Price: $145
Shipping within the US is $11.35 for Priority, international airmail is $20.



BTSSB Scallop Princess jsk: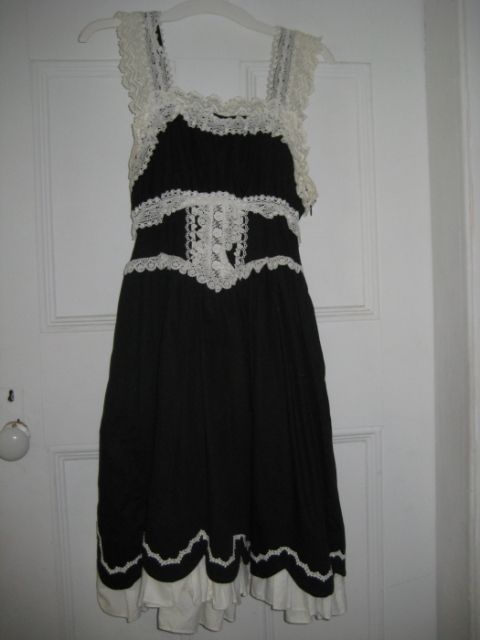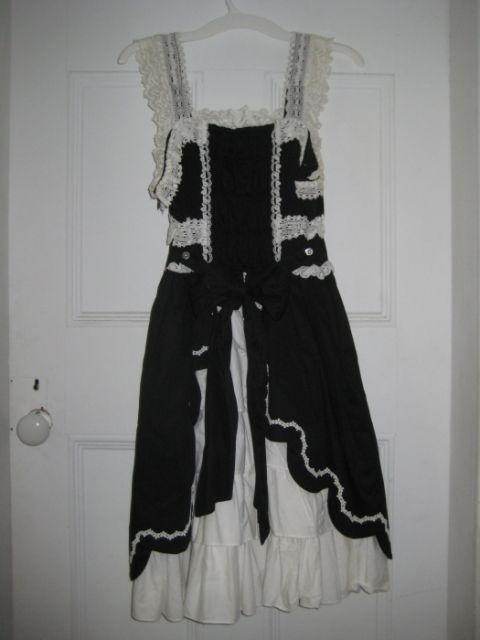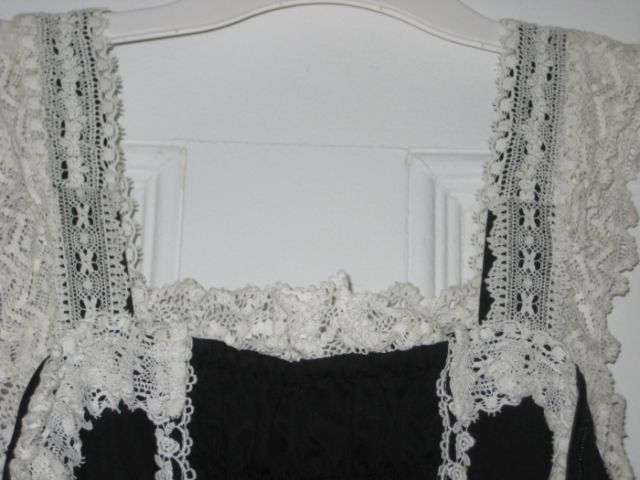 This dress had been modified to fit a larger bust/longer torso. I added a length to the straps in the back. The addition is camouflaged with real BTSSB lace from another skirt. As you can see, it's an amateur job, but it does make the dress a great deal more comfortable. It could be returned to it's original straps very easily, by simply unpicking the addition, and sewing the original straps back in place.

I wouldn't recommend this for larger than a 38" bust, 32" waist. It is 39" long.

Price: $90
Shipping within the US is $11.35 for Priority, international airmail is $20.



DS: Blasphemina's Closet "Little Black Riding Hood" jsk
This jsk is a fantastic piece from Blasphemina's Closet! I believe I bought this from her back in '09, and have only worn it twice since then... so sadly I think it's time for it to go to a new person who will wear it more than I!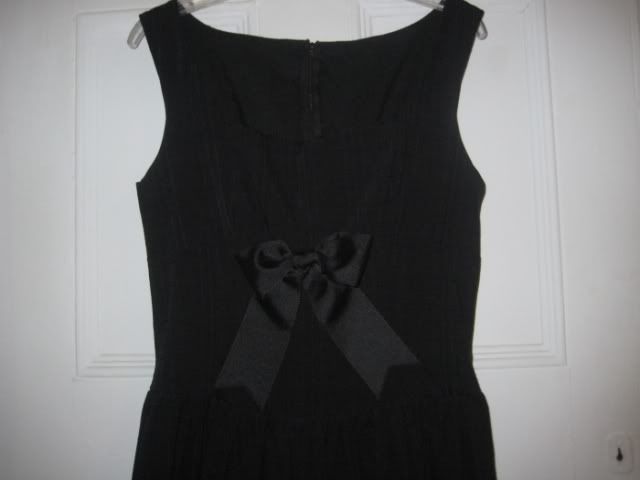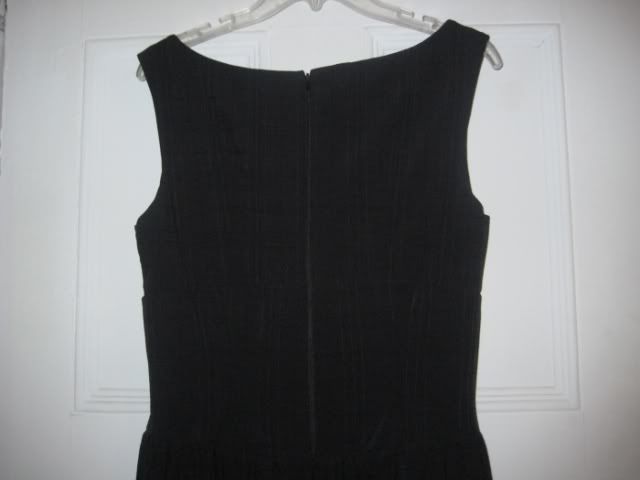 Worn photos: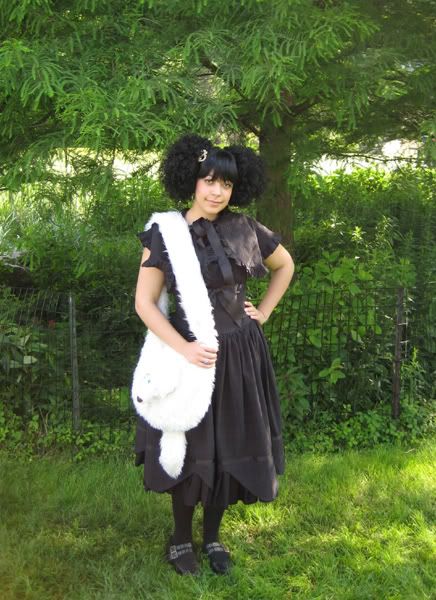 Without a blouse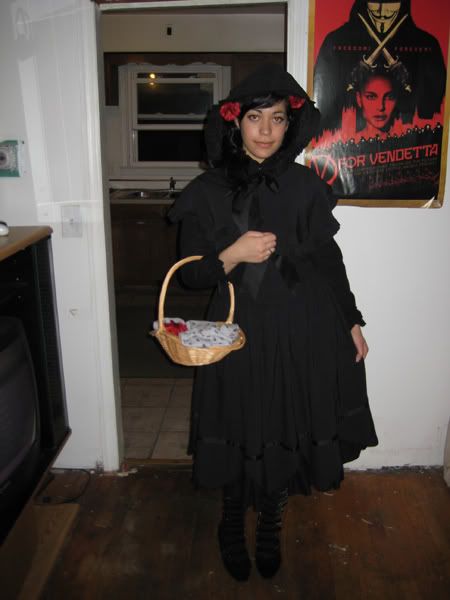 With a blouse

The fabric has a little stretch to it, so it hugs your body perfectly. I would say the max measurements are bust 37", waist 31". It is a little longer than average lolita dresses, lending to the gothic feel(for reference, I am 5'5"). As you can see in this photo, the fabric has a woven plaid pattern that is very subtle, but gives it a texture to keep it from being just another black dress. The dress ends in tapered scallops with black ruffles underneath to give the impression of an underskirt. The bow on the front is sewn on. The capelet has a generous hood to accommodate your hair.

Price: $100
Shipping within the US is $15.45 for Priority, international airmail is $25(this is a pretty heavy dress, lots of fabric).


TRADES: The only things I'm currently interested in trading for are:
-size L BTSSB blouses, especially pink or black ones.
-size LL BTSSB shoes.
Please don't offer me any other items!