Need money to fund the last stretch of my research project, so everything must go! Please don't hesitate to give offers. Pickup available for NYC or during comic-con

NO TRADES
Holds are OK with a 20% deposit
Shipping and handling fees (usually 3.5%) is not included, I ship only on Tuesdays and Thursdays
I am not responsible for your package after it has left me

Feedback: http://eglfeedback.livejournal.com/309925.html

-----------------------------------------------

JSK

Innocent World Linderhorf JSK in wine ON HOLD
This is the *long* version of the JSK (105cm) and perfect for taller lolitas or a dolly look! It's made of very beautiful peachskin fabric, and lined with cotton for comfort. Beautifully made with rows and rows of elegant rose lace and fabric! (note because of all that fabric, this dress is rather heavy)




stock/hellolace image

Size; 108cm length (skirt length: 68cm), 86~99cm bust, 64~81.5cm waist
it has back shirring and adjustable shoulder straps

Price: 230usd or best offer ON HOLD

MILK swing note JSK ON HOLD
Rare 2007 MILK swing note jsk with asymmetrical drape! the print is a delicate design of music notes and bars with the MILK logo interwoven and the top bust area has a cute bow. The fabric is ivory peachskin, and has a soft almost velvety feel with polyester lining.




Size; length: 88cm, bust: 80-92cm (stretch jersey) waist: free

Price: 100usd or best offer

Shirley Temple carousel JSK 160
super super rare Shirley Temple carousel JSK in ivory. I don't think it has ever been sold on egl comm sales before. It's from 2011 Autumn/Winter collection and sold out on pre-order. The carousels have gold highlights on them (similar to puppet circus) with a falling alphabet print and a side pocket on the left. The back is shirred, and the ribbon brooch is detachable. Dress has no lining, and is in perfect condition. I have only worn it twice.




dress when worn

Size; bust: 82-95cm highwaist: 72-80cm length: 94cm
straps are adjustable with button; back is has shirring

Price: 350usd

*because of rarity I will sell for higher but I will not go lower as I still really love this dress

Emily Temple cute Chocolate & Deer JSK ON HOLD
Sweet Emily Temple cute print with chocolate and deer! The colour is a lovely dusty pink, with browns, creams and maroon hints. It is quite a difficult to get JSK, and the series is very popular. The material is made of heavy cotton, and is not lined




Size; bust: 82-88cm (NO SHIRRING) waist: free length: 88cm
Price: 200usd or best offer ON HOLD

SETs
(I will not split sets unless there are buyers for all items in set)

Innocent World millefuille cutsew + rococo rose skirt SOLD
Perfect classic or country combination! The cutsew is a soft white, paired with a dusty peach-biege tiered skirt. The print is bouquets of roses tied with ribbon, and made of thick cotton lined with polyester. The cutsew is cotton-jersey, with chiffon sleeves and bust detailing. I think you can easily pair the items seperately. The skirt would be very pretty with a brown blouse or pink cardigan; while the white cutsew would go with anything.


stock pic for cutsew
stock pic for skirt

Size cutsew; bust: 88cm waist: 75cm length: 49cm (size L)
skirt; waist: free (fully shirred) length: 52cm

Price: 130usd or best offer

Shirley Temple cultery set 150/160
RARE Shirley Temple cultery print set in TEAL (most popular colour) I loathe to sell this, but I own duplicates and I'm keeping the pink set instead. It came out in 2007 and was sold out during reservation and all waitlists. This was my dream print/series for a long time, so please give it a good home!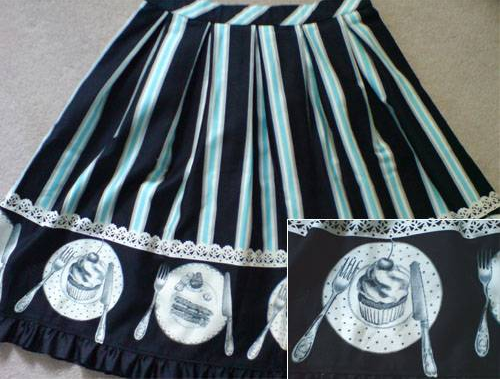 Size; cardigan bust: 79-88cm waist: 62-68cm length: 50cm
skirt: 64-68cm length: 50cm

(all these are MAX measurements, there is no shirring)

Price: 250usd or best offer

TOPS

Emily Temple cute triple lace frill bolero
Simple and sweet red bolero with triple frill design! It's from 2012 Spring/Summer collection (this year) and only tried on. I bought it to match an AP jsk, but didn't wear it at all.




Size: bust 82-92cm (free if unbuttoned) length: 38cm

Price: 65usd or best offer

MILK nordic knit top SOLD
One of my favourite designs by MILK! I think it was 2009? It's a warm wool knit featuring deer and snowflakes with zigzag & heart border inspired by nordic prints and tied with a big ribbon bow! It also can be fully buttoned up, so you can feel warm. I really like it, but I also have it in red so this one has to go

Size; bust: 82-92cm (stretch knit wool) length: 50cm

Price: 80usd or best offer

Jane Marple DLS fur stole with black ribbon
New With Tags! Lovely rabbit-fur stole with detachable black ribbon in a soft grey-brown. I think it would go well with most deer-prints, especially if you prefer a more classic less 'obvious' fawn inspired design.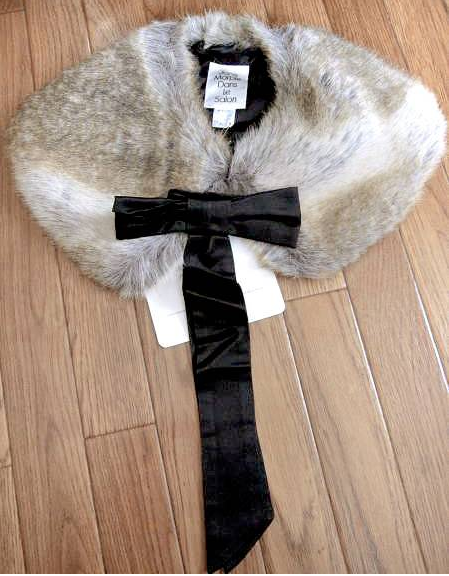 Price: 80usd or best offer

SKIRTS

Angelic Pretty Jewellery Jelly miniskirt
Cute pink miniskirt perfect for fairy-kei or casual lolita! Worn twice, and the print is very very glittery still. The skirt has a non-detachable multi-coloured petticoat in rainbow shades, as well as cute custom jelly lace.




stock picture

Size; waist: 66-72cm length: 38cm
(partial shirring in the back; ribbons are detachable)

Price: 170usd or best offer

Metamorphose window print skirtSOLD
RARE Metamorphose window print skirt (LONG), made of beautiful supersoft shantung-peachskin with lining. The black is really stunning, and the print really stands out on it. It has long waist-ties to tie a big ribbon, and the skirt is edged with venice lace as accent. I think it could be really beautiful in a classic, gothic or even darker sweet coordinate!

skirt worn

Size; waist: 66-72cm length: 78cm

Price: 115usd or best offer

MISC

Jane Marple 3-way ribbon tartan bag
3 way bag from Jane Marple - it can be used as a backpack, a messenger/sling bag and also carried as a hand bag (the back has clips which you can loop with) very autumn/winter style with heavy tartan fabric, with double front pockets and cute ribbon bows. It's about the size of a small laptop bag (13" macbook fits fine)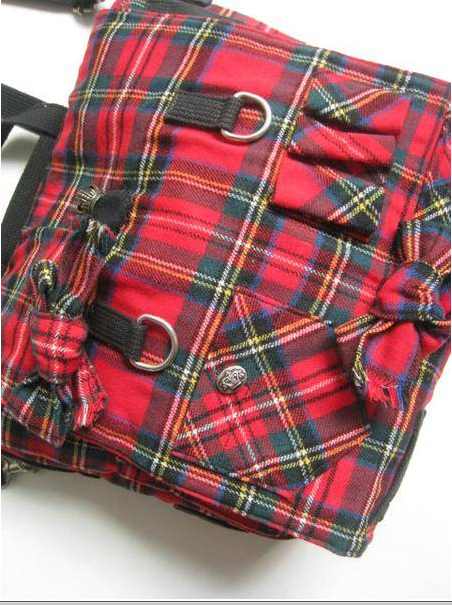 Size; Length: 33cm~ width: 23cm~ depth: 10~cm

Price: 80usd or best offer
*note: shipping for this item needs to be boxed

Thanks for looking!! Please PM me if you have any questions