♥~Island Resort Fever Update~♥
I have a shopping service for
Q-pot
in Hawaii, complete with some exclusive items with more arriving all the time. To celebrate the waning of summer and resort fever, Q-pot has updated with some luxuriously exclusive and fun accessories! We have a lot of new releases as well as seasonal limited edition releases! Now would be a fantastic time to stock up on some wonderful accessories for great coordinates!

The newest arrivals are the Hotel du Pot, Chocolate Bar Cell Phone Accessories, Mizuame (Crystal Candy), Watermelon Sherbert, Meat Afficionado, Hawaiian Burger Series new additions, some exclusive chocolate offerings, and a special ukulele collaboration with Jake Shimabukuro. I will also be able to purchase items from the online shop or things not available at the Hawaii store for a separate fee.

Please feel free to contact me if there's any way I can help you out. For any item that you don't know the price for, I would be glad to find that out so don't be afraid to ask! :)
A semi-continuously updated list of what is in stock appears on both the official
Q-pot site
as well as their
official Facebook page.
I have an in-stock update listing on my page as well. I will be updating with the newer additions and arrivals shortly. There are sometimes items available that do not appear on either official page so if you have heard about it, you can always ask and I will check for you!
↓ These are the Hawaii exclusive items that can only be purchased here. ↓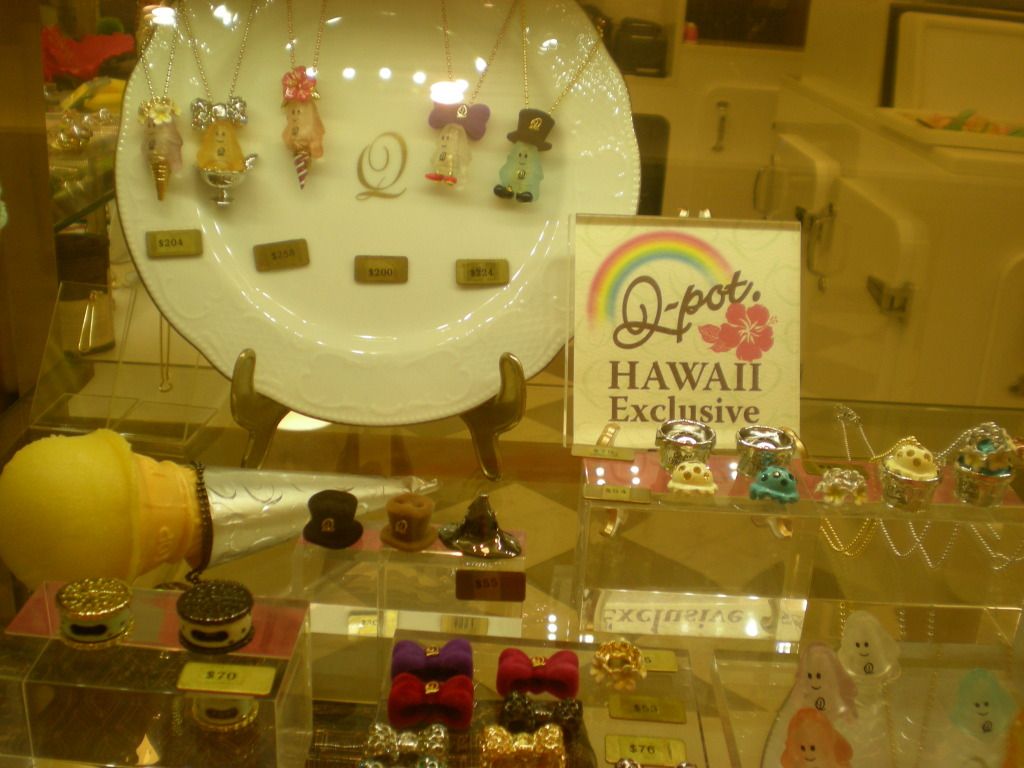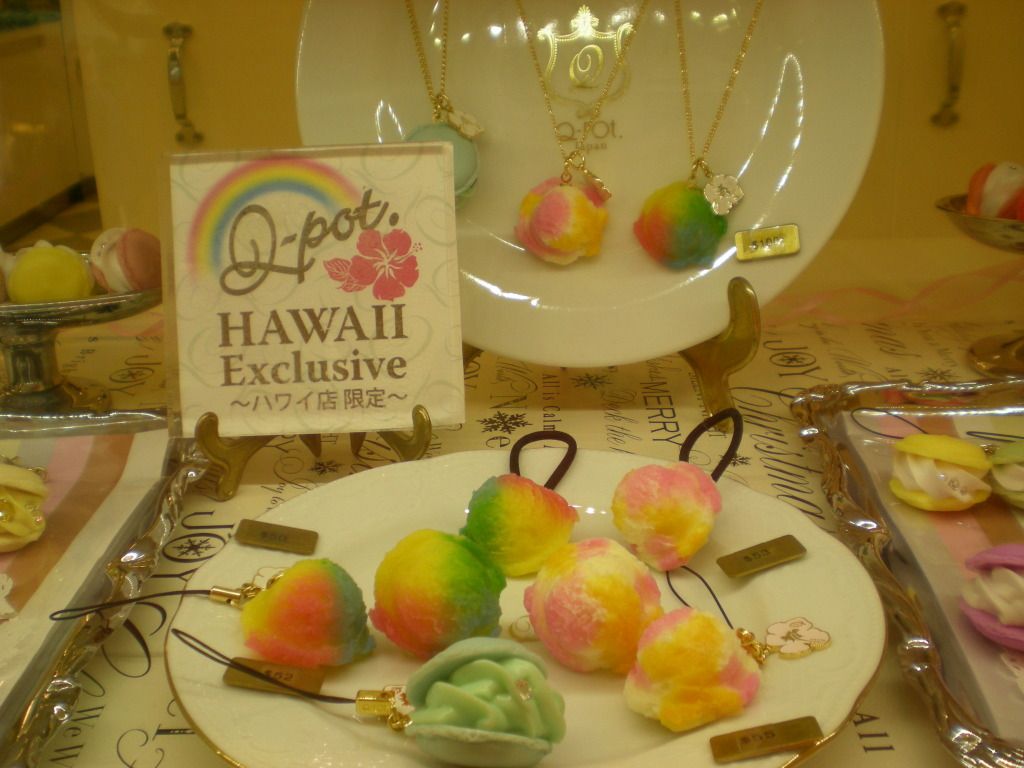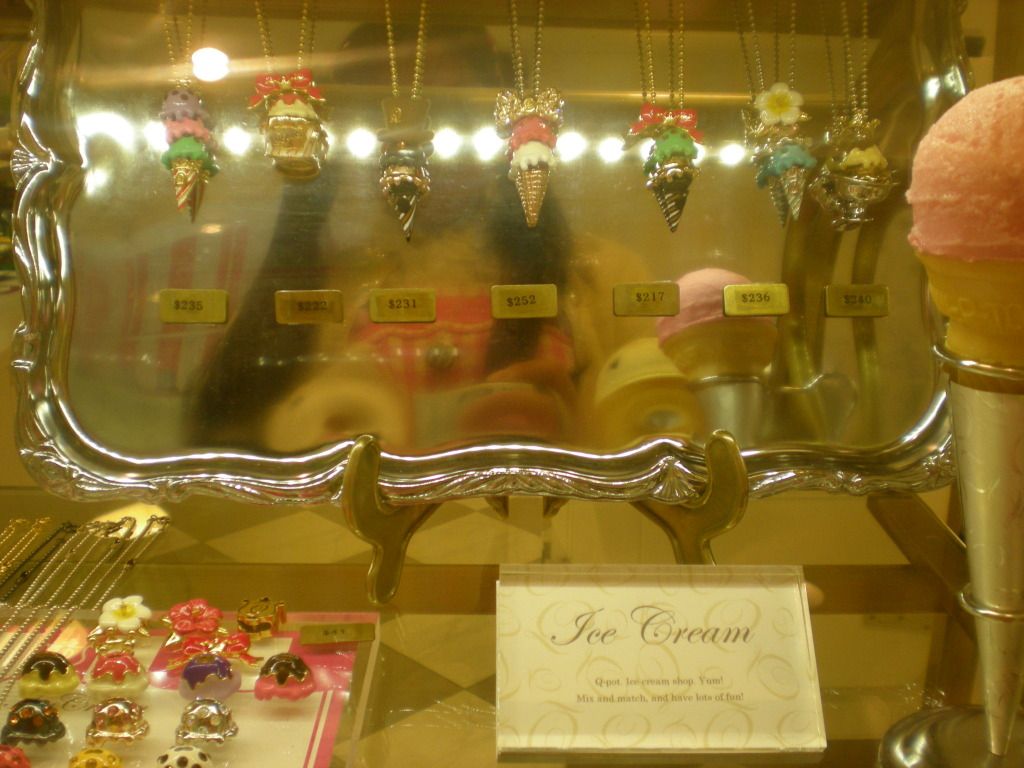 Most of the ice cream and burger toppers are only available here.
~
Newest exclusive releases
Mostly full list of availability here. All new phone strap releases now how Hawaii-exclusive charms attached.
* Please ask to reserve your order of Mizuame! This one sells out so fast! *
COMMISSION RATE
15% of total cost + $2.50 transport fee


Transport fee is one-time for each store visit and covers 35-50% of the transportation cost.



For items from Japan store locations, please inquire.
~Fabrics, Trims, Etc.~
Some swatches
here
. Subject to availability. Average price: $5-$9/yard for fabric
Fabric shopping service fees
$3.50/yard for cottons and cotton blends (i.e. quilter's cotton, batiks, muslin)
$5.50/yard for all other fabrics (i.e. brocade, faux fur, polyvinyl, etc.) due to weight and bulk
$1.50/ea trims and notions regardless of length
$1 each patterns set
I
may
offer a discount for full-bolt purchases, but only if I am able to get one from my suppliers. I would charge regular rate and apply the discount as a refund after.
Special imports and orders may be requested: please supply swatch and/or brand, name of print, and any other information if possible.
Kimono fabrics and imports of brands such as Cosmo Textiles may be up to $55 retail if not available through wholesale.
5% tax + necessary Paypal charges apply
Payment
All payment types accepted, Paypal preferred. All fees must be covered by buyer unless payment sent via Personal option.
Euro, British Pound Sterling, Yen, Australian Dollar, and US Dollar are accepted through Paypal.
Cash and money order/cashier's cheques will be accepted and are sent at the seller's own risk. Tracking or certification on the envelope is recommended. All money orders and cashier's cheques are subject to a 7-10 business day hold.
Bank transfers/wires also accepted.

All store-holds require a non-refundable 50% deposit.
All online orders require 100% pre-payment before the order will be placed.
Additional shipping charges will be assessed after order has been finalized if parcel exceeds shipping estimate if given.
Shipping from my location will be via First Class unless otherwise requested or if items exceed 13oz/369g.
Request Form
Name: [optional]
Item(s) wanted:
Estimated total cost including tax (+5% for tax): [Only if known]
Ship-to Zipcode/Country Code:
Shipping preference: [optional]
Payment Type:
Feedback Link:
You can contact me through
PM
or
email
as well.
eglfeedback
is
here
.
reference page for feedback purposes
here
.