Hello Lovely Community!

To get things started here is my feedback:

http://http://community.livejournal.com/eglfeedback/975199.html



PLEASE DO NOT SEND ME PM's THEY DO NOT SEEM TO ALWAYS GO THROUGH. IF YOU WISH TO CONTACT ME OTHER THAN COMMENTING PLEASE EMAIL ME AT: Pakiren.egl [at] gmail.com

You may try pms, but please comment to say you have left one, and i will respond to confirm!



Payment Info


I pay using Paypal. I generally will pay right on the day of invoice or within 2 days unless we specify otherwise.
I don't mind sending via gift if you have more than 10 feedback at the least. For both of our safety.



Shipping Info


I live in California, US.



WTB


Similar dresses are more than welcome! To make things easier, please include:
1. Price / Price Range
2. Location (So I can gauge how much shipping I will be paying if it is not already included in price)
3. Proof Picture (Please have one! :) )
4. Feedback
Thank you so much!

Also! If you know where these are located via auction and would like to offer a SS, please let me know!

I am currently looking for non-print dresses in all styles, except for sax colorings. I am also looking for floral print dresses, in all styles, except sax colorings. I do not mind sets, but I am primarily looking for just a dress. All brands welcome! I am also open to handmade dresses, although I am not looking to comission at the moment. I have two AP dresses I am looking for, but I am not looking for only AP. Thank you!

Measurements around:
Bust: 34 in / 86cm
Waist: 28in / 70cm
Depending on the length of the bust area, it may vary, but these are a basic minimum.


Two Specific Dresses: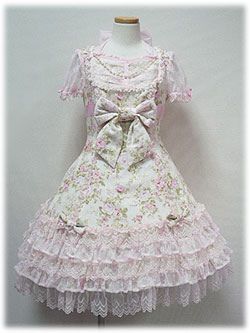 Lady Rose mini sleeve JSK (Mint or black) Rose Princess Doll OP or JSK (YELLOW OR PINK)

If you have any questions feel free to ask! I generally check LJ twice a day. Thanks!