WELCOME~!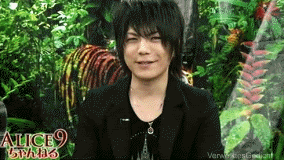 I am your host who likes to use unrelated gifs, Cherie.

EGL Feedback
Positive: 69
Neutral: 0
Negative: 0

Today, my WTB is as broad as it sounds... I am looking for gothic styled Jsks and/or Corset skirts to wear to an event. I am interested in (but not restircted to) brands like Alice and the Pirates, Moi-Meme-Moitie, Atelier Pierrot and Pina Sweet. If they look particularly, well, vampire-y, that's even better.

Some examples of what I mean can be found on my Pinterest Board.

I am also interested in steel boned corsets/underbust corsets for a naturally 28/29" waist. (So about a 26" corset, right?) If they are used or a little worn that's okay, I'm looking to wear them alone and also under dresses so either is fine.

I am VERY open minded with this, as long as the items are in great condition.

Basically I want things that are a little vampiric, with the main colours of black, white, gray, blue or red.

If it interests you, I may be willing to trade something from my closet for rarer or equal value items. (nudge nude)
+ Chess Chocolate bustier Jsk in mint + chocolate brown AP headbow
+ Listen Flavor Red/Black Boots size LL (value $90-100)
Big maybe: Honey Cake Jsk in Ivory + Honey Cake ivory headbow + pancake purse + ring

I can pay with Paypal, either right away or with a short layaway. I need the items before mid-September anyway so be assured it won't be a dragged out layaway.

In the event of a trade I'm quick to respond to PMs, negotiate and will ship on an agreed date. I'll be shipping from and would need your half of the trade to arrive in Hawaii, USA.

Thank you for looking at my post and I look forward to seeing your offers!