I N F O R M A T I O N
My egl_comm_sales feedback:

sekiria

| nickelblingshop
No trades. Just looking to sell.
Serious buyers only, please. I really want to just concentrate on selling off items to people ready to buy.


Items will be sold in this priority:



The first person who fills out the order information completely, purchasing for at least the price asked.
Priority to buyers who order more items.
Priority to domestic USA buyers, at my discretion.
If you don't fill out the form, I can't consider you a serious buyer and will act on my discretion.
Best offer items: For items with best offer availability: Place a best offer within my range, and in 24 hours after your offer, if no one else has placed a higher offer, your offer will stand.
Picture requests: I refuse photo requests of items worn. I will however upload pictures of details of the item that you want to see that haven't already been shown.
P A Y M E N T

S H I P P I N G

Paypal

only. I can accept both credit and debit card, as well as bank account transactions. NO E-CHECKS.


Paypal fees:

These are already factored into the price of the item.


Discounts:


If you wish to pay via the "Personal" or "Gift" option, I will give you a discount off of the Paypal fee on the item price. To calculate your discount, please check it here

.

You must ask for this discount.

Delivery Confirmation:

This is automatically included in USA shipments!


Insurance:

Please check USPS insurance rates here. You may choose to forgo insurance, but I cannot not be held responsible for lost or damaged parcels.


International Shipping:


Please use the rate for insured Global Priority Mail. Shipping origination is from USA. I do not recommend shipping items by any other means. If you decide you want to use First Class Shipping, although I take pains to package items carefully, I cannot be held responsible if the package does not arrive. If you do not specify a shipping method, default is Global Priority Mail, which comes with insurance and tracking. (Except for flat rate, which does not come insured)


Ship times:

I ship throughout the business week, M-F
O R D E R F O R M
Paypal email:
Your paypal email to invoice
Item(s):
The names of the items you want and price of item
Item postage:
Copy / paste the item shipping price
Where is this shipping to:
USA buyers put your state & zip; International buyers put your country here
Your feedback link:
Please link your entry on eglfeedback community
Did you read my info section?



Miho Matsuda


2007 New Year's Special Set

Special set available only during the new year!
I'm selling as a set the collar, the cutsew, plus a pair of socks. All brand new, still in original packaging.
You'll also get the special set print postcard! See the scan of it below.
$50 $115 + shipping

+ $15 to USA
+ $30 int'l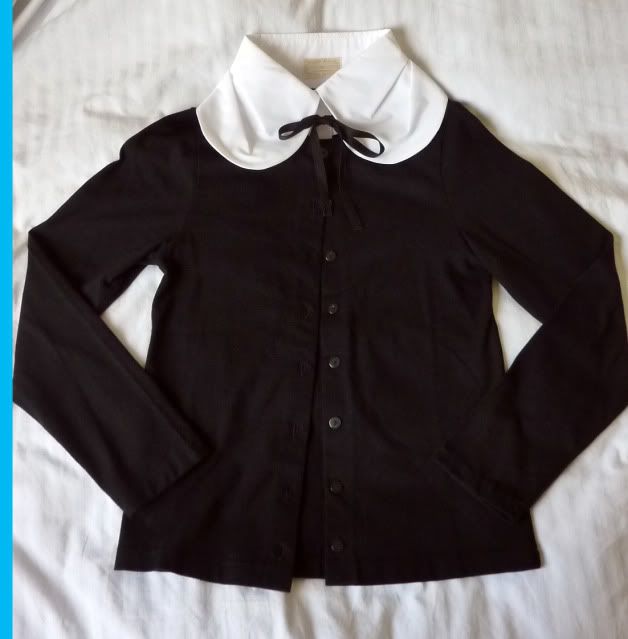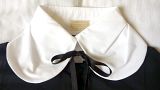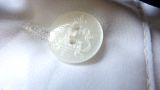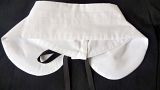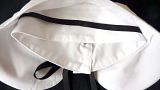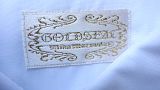 Detacheable collar can be worn with any other garment. Features gathering at both sides and special Miho Matsuda brand buttons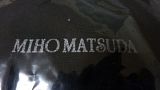 Qutie Frash
Kimono Tunic Convertible Cutsew
An amazing convertible sleeved cutsew from Qutie Frash!
The front lacing can adjust the sizing of the torso to your liking. Furisode styled kimono sleeves zip on and off over regular close fitting sleeves, and are concealed cleverly via a lace panel. Super stretchy chirimen textured fabric is comfortable while also providing a beautiful drape. Front lapels edged in satin material. The right sleeve is screenprinted with a Chinese dragon, the left made of a kimono print stretch chirimen fabric.
Amazing runway look!
$80
$150
+shipping
USA $15
worldwide $30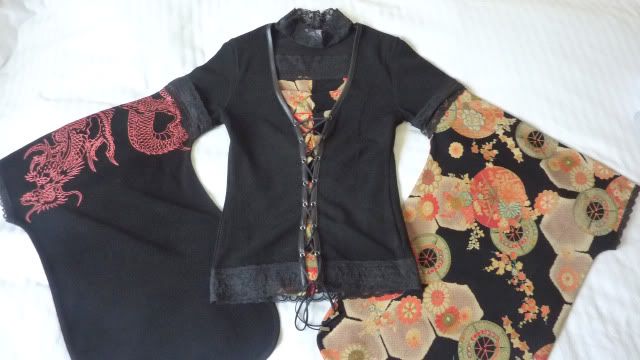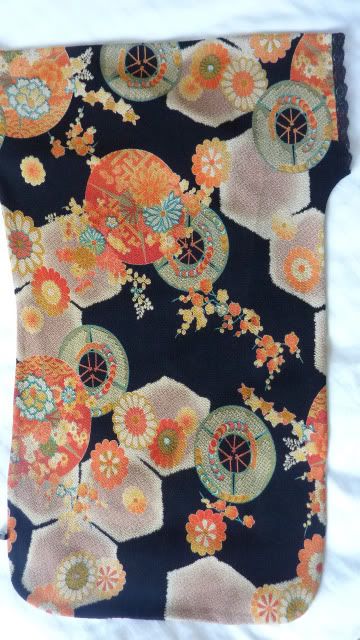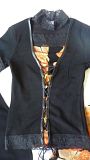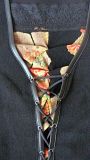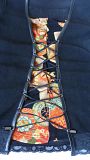 front lacing adjusts both in and out, and end in metal danglers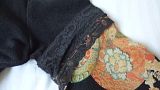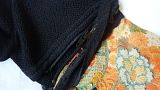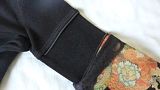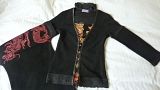 sleeves zip on and off!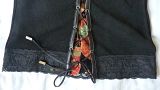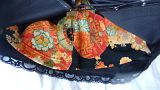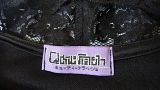 ruched kimono print center panel
Baby, the Stars Shine Bright
x Novala Takemoto
Kangaroo Pocket Hoodie
Gorgeous cluny lace trimmed hoodie with front Novala logo embossed kangaroo pocket and pompon drawstring at neckline
French terry fabric and cotton cluny lace. Raglan sleeve construction

Novala Takemoto came to prominence as the author of the lolita-and-punk-fashion-themed novel turned motion picture Shimotsuma Monogatari, and also produced a collaboration fashion line with Baby the Stars Shine Bright, called Pour Lolita.

The Novala collection was pulled from the Baby site and catalogue and all mention of their collaboration was disavowed, so this item makes an interesting novelty piece and is certainly very limited edition at this point!

$25 $30

+shipping
USA $8
worldwide $20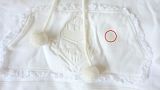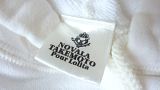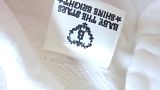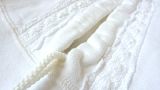 small discoloration at front pocket
Innocent World
Crown Embroidery Drawers
white, brand new with tags
Gorgeous fully embroidered drawers-length bloomers.
These are the few brand bloomers with the length and stretch to accommodate plus sizes.
waist: 22" - 39"
length: 23"
width at leg: 12" - 24"
10,290 yen from IW
$45
$65
+ shipping
+$5 to USA
+$10 first class worldwide (no tracking)
+18 global priority mail to worldwide (tracking, insured)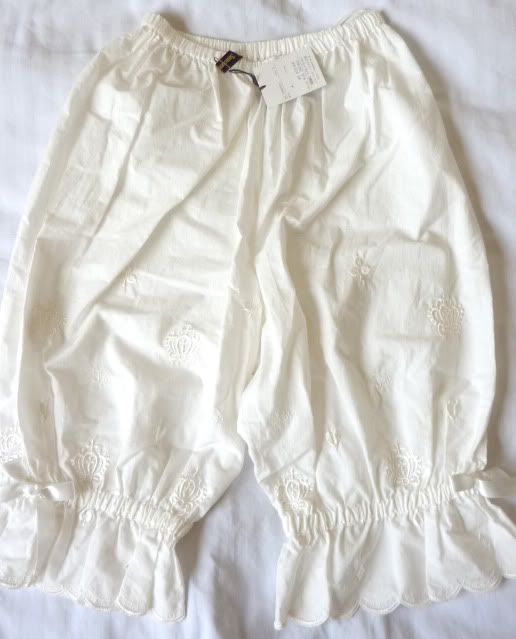 Miho Matsuda
Spiderweb Cutsew
A stretch knit spiderweb cutsew designed to be layered over another top. The spiderweb fabric is see-through and elegant. Two zippers at the front neckline and two split openings at the front hem, one rear split make this into a longer garment that can brush the hipline but also accommodate a high waistline lolita skirt.
Bust: 36"
Length: 22"
Sleeve: 26"
Shoulder: 17"
$20
$50
+ shipping
+$5 shipping USA
+$8 shipping Worldwide, first class
+$20 global priority mail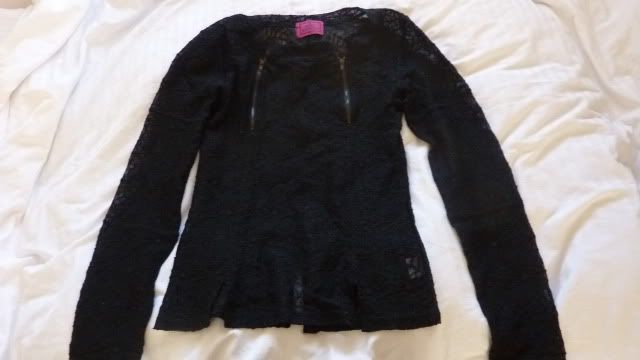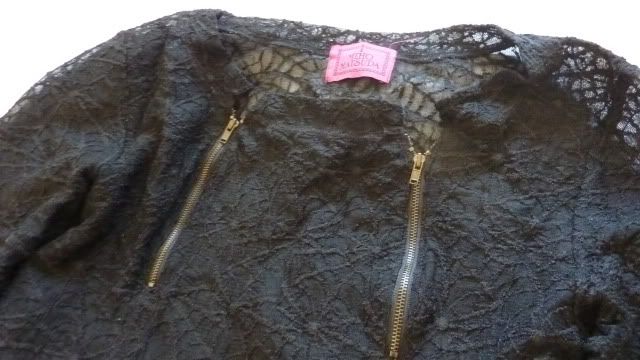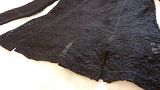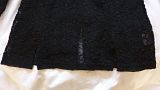 Baby the Stars Shine Bright
Border Print Tote
A vintage BabySSB in brand new condition. Screen printed trump and fleur de lys.
Swarovski crystals x 5 at crown design.
100% cotton
$30
$40
+$5 shipping USA
+$12 worldwide
Metamorphose
Nautical Summer Set
dot stripe socks
worn once
$8
$10
+s/h
+$3 shipping USA
+$13 shipping Worldwide, first class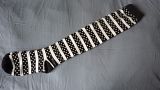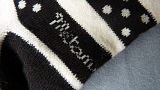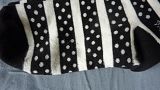 Metamorphose
bow stripe socks
$15
$18
+s/h
+$3 shipping USA
+$13 shipping Worldwide, first class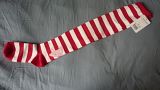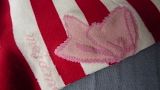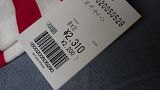 Swimmer
lace print knee socks
brand new
$15
$20
+s/h
+$3 shipping USA
+$13 shipping Worldwide, first class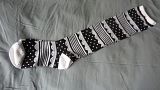 Swimmer
bow dot knee socks
brand new
$12
$20
+s/h
+$3 shipping USA
+$13 shipping Worldwide, first class
Logo overknee socks
brand new
$5
$8
+s/h
+$3 shipping USA
+$13 shipping Worldwide, first class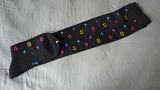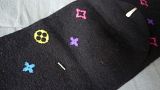 Ribbed socks
Superlong overknee/thigh high
$5
$8
+s/h
+$3 shipping USA
+$13 shipping Worldwide, first class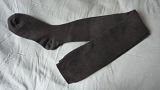 Diamante bow earrings
$5
$8
+s/h
+$3 shipping USA
+$8 shipping Worldwide, first class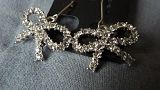 Previous sales posts:
25th-Jul-2012 01:34 am
- DS: Angelic Pretty x Kokushoku Sumire, Miho Matsuda x Disney, Btssb bunny earmuffs
24th-Apr-2012 07:38 pm
- DS: H.naoto FRILL/Anarchy, Jane Marple, Babyssb