-DS-

USA shipping IS included in the price.
I will ship internationally but I need your country to get shipping quote and continental US buyers get priory since it's easier to ship within my own country. Sorry.
Please allow up to 5 days for me to ship your item(s) out.
If you need (not want) your items sooner then let me know and we can see if we can work something out.

Payment: Paypal
PP fees have been included
FIRST TO LEAVE PAYPAL GETS ITEM.
I will accept Money Orders, but not concealed cash. For USA only!
Payment expected within 24 hours (unless you ask for a hold, downpayment needed). If you do not pay, the next person will get the item.
PLEASE NOTE: Once the item leaves my hands I am no longer held responsible for the item. If it gets lost in the mail, I'm sorry but there's nothing that I can do unless you buy insurance. No refunds.

Trades: Sure! I'm looking for an all black cotton JSK, an all black cotton skirt, and a black AP Sugary Carnival JSK or Skirt.

Offers: I am only really open to best offers where noted by OBO. And please note that I accept the highest offer! So if you make an offer, but someone offers more, then the item goes to the highest offer. Though, if you are only a few dollars shy of my asking price, then most of the time I'm cool with it.

Discount: I always combine shipping!
Similarly, if you have purchased from one of my previous posts and your package has not shipped yet, you can add any purchase from here at a slightly discounted rate.

Feedback:
EGL Feedback 178 positive

Non-smoking house. I have two pets, but they are kept away from my clothes and out of my bedroom, and everything will be Febreze-ed before sent out.

Any questions, just ask.

Preivious Sales:
http://egl-comm-sales.livejournal.com/19230272.html
http://egl-comm-sales.livejournal.com/19128385.html




20% PRICE REDUCTION! PARTIALLY LEAVING SWEET SALES POST! (Plus others! xD) PLEASE TAKE THESE AWAY! As much as I love bittersweet, I wear gothic and boystyle more.

FIRST TO LEAVE PAYPAL ADDRESS GETS ITEM(S)!!! It is recommended that you PM me your Paypal. Most responsible offers accepted!

Status: ONLINE (as of 12:30pm EST on 8/25)





SOCKS




RED OFFBRAND MUSIC NOTE SOCKS SOLD PREVIOUSLY
Purple offbrand kneehighs SOLD PREVIOUSLY

BLACK Innocent World Music Note Socks -
These are my dream brand socks. But I just don't wear music note things anymore. ;3; Only worn a few times.
PRICE: $20 $16 USD (shipped in the US, PP fees included)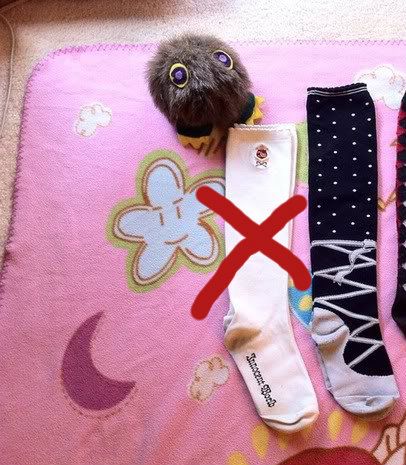 White Innocent World Socks SOLD PREVIOUSLY

Grey Polkadot/Ribbon Socks
I think they are SS socks, but there is no label on them.
PRICE: $10 $8 USD (shipped in the US, PP fees included)

Red/Grey/Black argyle socks
Great for a punk co-ord!
There is slight pilling and some of the fibers are pulling, but it's not that noticeable when worn! They are still totally wearable!!
PRICE: $4 $3.20 USD (shipped in the US, PP fees included)






Innocent World black/white socks SOLD PREVIOUSLY

Angelic Pretty black/pink socks SOLD

Black SS socks
PRICE: $12 $9.60 USD (shipped in the US, PP fees included)





ACCESSORIES





PINK Bodyline casual headbow
PRICE: $6 $4.80 USD (Shipped in the US, PP fees included)

WHTIE Bodyline casual headbow
PRICE: $6 $4.80 USD (Shipped in the US, PP fees included)







BLACK/WHITE haircombs
Missing tooth
(Made by a user on here, but I can't remember her username. ><) Wonderful quality! One of the combs is missing a tooth, but it doesn't hinder the comb from staying in your hair! Still works just fine!
PRICE: $12 $9.60 USD (Shipped in the US, PP fees included)


All others SOLD PREVIOUSLY.







Black/white gingham AP Mode Girl headband PAYMENT PENDING
Still in great condition! All the pearls are still in tact! Pic of the AP tag
PRICE: $22 $17.60 USD (shipped in the US, PP fees included)

Red DoL replica of AP's Fantastic Dolly SOLD PREVIOUSLY



BLOUSES/CUTSEWS

All sold, thanks!



SKIRTS


RED Pirate Bodyline skirt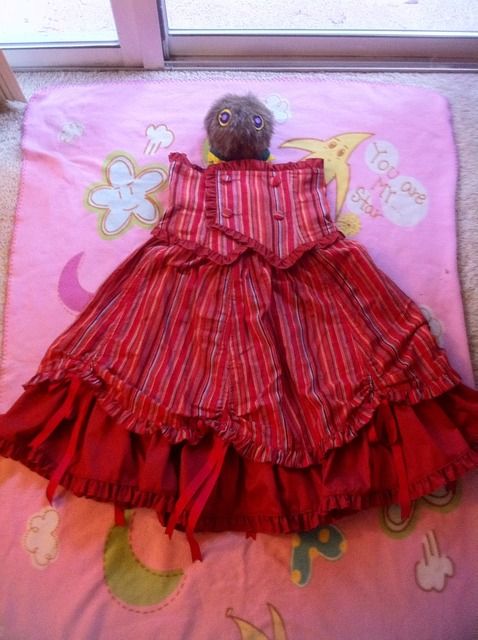 Close up of the corset | Back of corset + skirt detail | Damage: Small pull in the fabric | Damage: the underside of the skirt where the pull is | Damage: Small hole in the corset

Bought directly from the Bodyline website and only worn about 2 times. It came with the damages that I listed, and I will fix them to the best of my ability before shipping it out. I have been sewing for about 15 years. :)

Size M

PRICE: $40 $32 USD (shipped in the US, PP fees included)


BLACK Moi-meme-Moitie multi-tiered skirt PAYMENT PLAN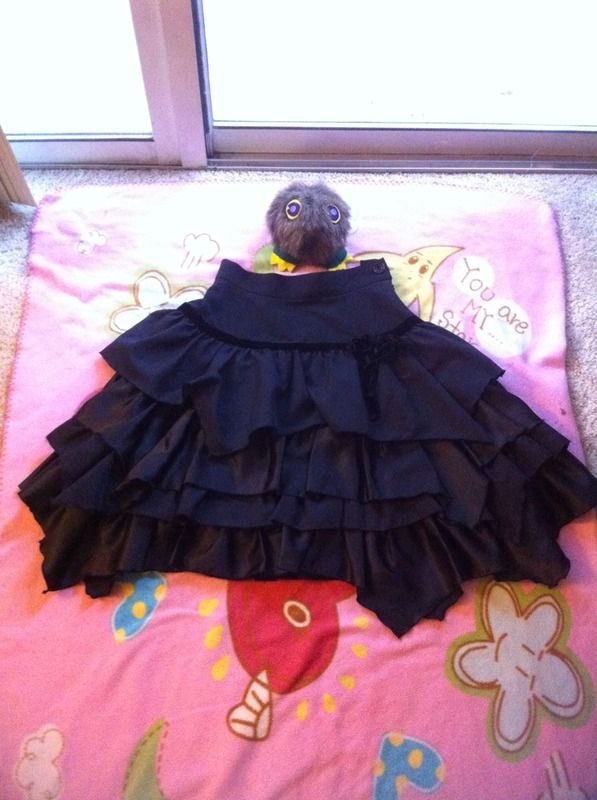 Close up

Size 2
Waist: MAX 25 inches (on the small side for a size 2)

PRICE: $150 $120 USD (shipped in the US, PP fees included) (or best offer)


BLUE Angelic Pretty Star Night Theatre skirt




Does come with detachable waist bow that can be used as headbow

PRICE: $275 $220 USD (shipped in the US, PP fees included)



GREY Angelic Pretty casual skirt




Back of the skirt! Pockets!
Close up of Bear patch on front of skirt

It has working front and back pockets!!! ;D For an brand skirt this thing is very forgiving! Granted it's meant to be worn on your lower waist/hips, so the waistband on this is larger than normal. It has little pull-tab elastics on the inside so you can tighten or loosen the waist of the skirt! Really cool! I wore this on my natural waist (24-26inches) and I had it set to about halfway tightened. Still plenty of room for larger waists/to wear on your hips! :3

PRICE: $85 $68 USD (shipped in the US, PP fees included)



BLACK Angelic Pretty Whip Magic skirt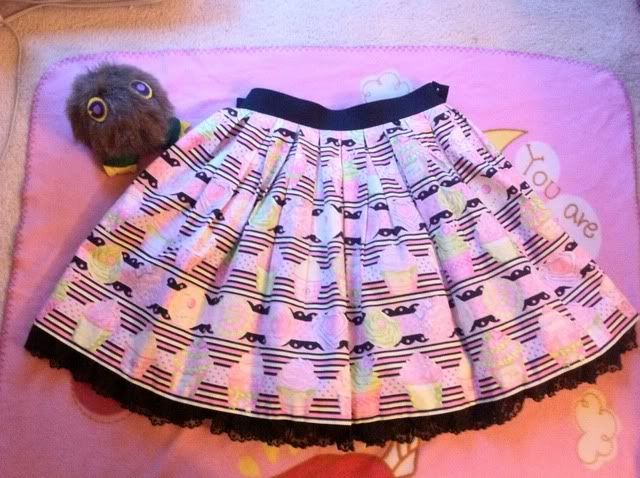 Pearls on the waist ties
Still has the spare scrap of fabric and button!

I LOOOVE this print, but as a skirt, I just don't wear it. It's in great condition, and has only been worn a small handful of times.

PRICE: $150 $120 USD (shipped in the US, PP fees included)




BLACK/RED PLAID Punk Rave skirt PAYMENT PENDING




Close up of skirts
Close up of skirts 2
Close up of leg "warmers"
Damage 1
Damage 2

This is two skirts in one! Literally two separate skirts that fit together as one skirt, or you can wear them separately. :3 There are a few damaged areas on the leg straps, but nothing noticeable or that would hinder the wear of the skirt! Also, a petti can fit under these skirts! Not a large/full one, but a small one can fit just fine. :3

PRICE: $30 $24 USD (shipped in the US, PP fees included)



JUMPERSKIRTS


ALL SOLD, THANKS!



SHOES


MUTED PINK lace up pumps




Damage on right shoe 1 | Damage on right shoe 2 | Damage on left shoe

The color in the main pic is pretty color-accurate! It's not quite a baby pink and it's not really a muted pink, but it's a hair closer to muted pink! These are super cute and are like a "grown up" version of some laced up shoes released by different brands! I got them second hand, and never actually wore them out. Only tried on by me.

Size: US womans 7 (about 24 cm)

PRICE: $18 $14.40 USD (shipped in the US, PP fees included)







FIRST TO LEAVE PAYPAL ADDRESS GETS ITEM(S)!!!



SOLD ITEMS


BLACK Bodyline Military JSK
http://i813.photobucket.com/albums/zz60/kittycaesar_sales/Lolita%20sales/Sales%20for%20June%2019%202012/8cd8328e.jpg
Not sure of the name of this JSK, so I apologize. ^^;
Size M
PRICE: $50 $40 USD (shipped in the US, PP fees included)

Pink Offbrand longsleeve blouse
http://i813.photobucket.com/albums/zz60/kittycaesar_sales/Lolita%20sales/f3f0d167.jpg
Close up FRONT
Made out of a nice airy cotton!
Size: Small
Bust: MAX 36
Waist: MAX 34
I have a 32in bust and 25-26in waist, and it looks fine on me~
PRICE: $6 $4.80 USD (shipped in the US, PP fees included)

BLACK BtSSB Mary in the Sky with Candies skirt
http://i813.photobucket.com/albums/zz60/kittycaesar_sales/Lolita%20sales/Sales%20for%20Aug%207%202012/4f8504b3.jpg
PRICE: $150 $120 USD (shipped in the US, PP fees included)

Angelic Pretty black/pink socks
PRICE: $20 $16 USD (shipped in the US, PP fees included)

BLACK Handmade JSK
http://i813.photobucket.com/albums/zz60/kittycaesar_sales/Lolita%20sales/7e7800a1.jpg
Pic with flash | Close up of the bust
Bust: MAX 36inches
Waist: MAX 29 inches
I have a 32 in bust, and 25-26 in waist and it fits me just fine!
I didn't make this! I bought it second hand off the comm sales, and frankly, I've worn it a lot. It's still in really good condition, just needs to be ironed. I washed it last week and have not worn it since. It's a good staple piece and you don't have to worry about it getting dirty/torn since it's not brand! ;D The lace at the bottom of the JSK isn't the best, but at least it's not crappy/scratchy raschel lace. lol It's not lined, but the construction is pretty good. There are neck ties, as well as shoulder straps and waist ties.
PRICE: $35 $28 USD (shipped in the US, PP fees included)






Status: ONLINE (as of 12:30pm EST on 8/25)





Preivious Sales:
http://egl-comm-sales.livejournal.com/19230272.html
http://egl-comm-sales.livejournal.com/19128385.html


(Non-related comments will be screened for the sake of a neat and tidy post. Also, PP addresses will be screened for the buyers protection. Thanks! ^^)