My Feedback Post: I haven't sold here for years, please check my ebay feedback as linked on the page
Payment and Shipping: I take paypal and only paypal (except for trades)
Shipping is a flat $10 for Priority within the United States. I prefer to sell or trade within the states. If there is BUYING interest internationally I will calculate shipping for you (or you can pay the $50 priority flat rate) but I prefer not to trade overseas.
I am willing to entertain trades! Preferably other JSKs or skirts. Not very interested in blouses etc or smaller things (unless they match something else you are trading).
HOWEVER: all trade offers must meet my measurments, 108cm/43in bust and 86cm/34in waist. a good fit and good craftsmanship is more important to me than stuffing into brand (I like some shirring but not so crazy about full shirring)

Innocent World BxW Polka Dot Fully Shirred 3 Tiered JSK - $100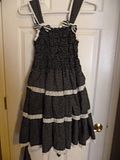 This dress boasts IW's famous full shirring which many will say goes rather high (I've heard 110-120cm), though I have never pushed it nearly to it's limit (I was 46-36-46 for reference). 28" seems to be about the minimum waist, up to at least 40". The bust got to 48" at least, probably 50", though it is hard to measure by yourself. It measures about 32" from top lace to bottom, and features two types of beautiful white cluny lace. The straps button in at the back, so it can be worn as a halter, or normally, and it is another dress that is good for taller girls because of how adjustable it is. I'm sorry for the poor photos but I wanted to include the one that more clearly showed the two detachable bows that still come with it, and the detachable waist ties that are also intact. Thiss dress isn ot 'stretched out' from wearing (even though I was larger when I bought it), it is in great condition with all the shirring channels intact, still very stretchy, and I've not observed any flaws. I've only worn it out once myself and a couple times indoors. I'd rather pass it on to soemone else then allow it to sit in my closet for another 3 years.