Most items in storage so there may be some delays as things get found.

I will still try to ship within 24 hours of payment as is my usual.

Feel free to make reasonable offers.


There are some eBay auctions listed as well. Feel free to make an offer off-eBay. I'd rather save on fees so I'll be more generous off-eBay.
.



♪~Payment~♪

I prefer payment by Paypal, but will accept snail mail payments at buyer's own risk. I am not responsible for any lost payments

Prices are primarily in US dollars. GBP, Euro, and JPY may also be accepted.

Buyers are responsible for Paypal fees which can be calculated here.
.



♪~Shipping~♪

I ship from Hawaii, USA and will ship anywhere the USPS ships to. Tracking is free for US.

Prices are not inclusive of shipping unless mentioned. Prices including shipping are only to the US.

International shipping through envelope unless otherwise requested. No economy post outside the US. EMS or Standard Airmail only.

I am not responsible for any packages once they have left my hands.

Insurance and international tracking are extra at buyer's own cost.
.

♪~Other~♪

I will do holds and payment plans with a non-refundable 20% deposit sent via personal payment or with appropriate fees included required.

All sales are final. NO REFUNDS. Please make sure to ask any questions you have beforehand.

I expect responses within 24-48 hours unless previous mention of delay. Please respond, even if it is to say you are no longer interested.

If you make an offer and I accept, then disappear or do not respond/send payment within 24 hours without leaving a reason why, I will leave feedback.
.

I reserve the right to deny sale at my own discretion.

I may consider trades in lieu of purchases at my own discretion.

Wish list at the bottom. I will consider almost anything.
.





♥ SALES ♥



Black Anna House Daisy LS Blouse


Size S, new




Morbid Threads Keyhole Lolita Top: $40




Bust: 34"-38"

Waist: 28"-32"

Length: 22.5"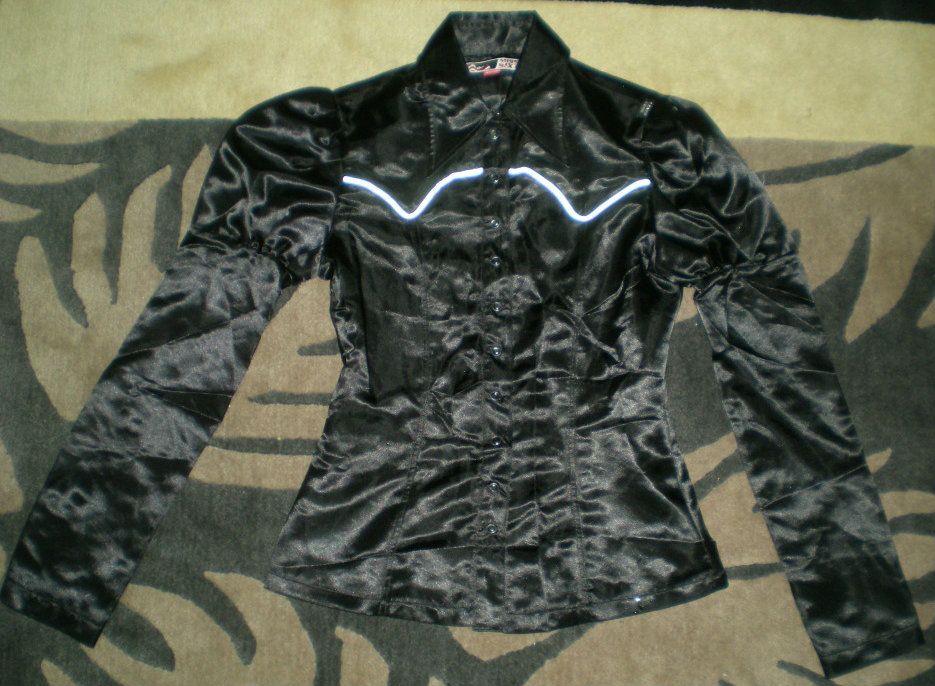 Damaged Offbrand Victorian Satin Blouse: $20 shipped
Size medium, new
Bishop sleeves and moonstone look snap buttons
Back seams have split and were bought this way
Bust: 86cm
Waist: 72cm
Length: 59cm
Sleeve: 66cm
.

[x][x][x][x][x]

Boystyle Aristocrat Vest Blouse: $20
Size 12M, no outward sign of wear
Shoulders are padded, vest is a little crinkly on the inside
Bust: 105cm
Waist: 76cm-100cm
Length: 57cm
Sleeve: 60cm



[
x
][
x
][
x
]
Creme High Necked Bowtie Blouse: $56
Size 12, new with tags
Bust: 110cm-114cm
Length: 67cm
Sleeve: 64cm
.
[x][x][x][x]
Ivory Embroidered Bowtie Blouse: $65
New, some minor discolorations from storage
Bust: 106cm
Length: 62cm
Sleeve: 58cm
.




[

x

][

x

]





Creme Classical Pleat Blouse: $50




Gently worn, no stains or pilling




Bust: 104cm




Length: 63cm




Sleeve: 60cm


.

Fanplusfriend White Corset Bustle Skirt


New. Back is fully shirred.

Size F

Waist 20-26 inches

Length: 29 inches

.




[

black/ivory][x][x][x]


Fanplusfriend Black/Ivory Corset Bustle Skirt

Size F, worn once, minor stains at back bustle

Waist: 62-76cm

Length: 70cm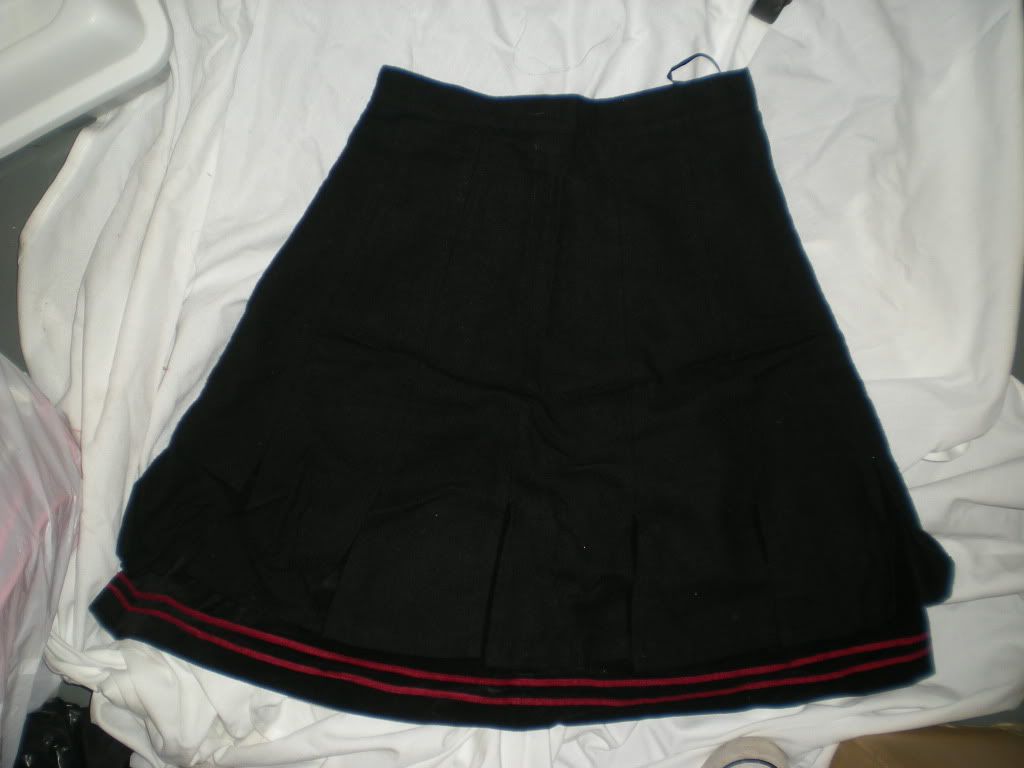 BPN Sailor Skirt :: $68
Size F, new
Waist ~26 inches
.
In The Starlight "Meeting Alice" Skirt *EBAY*
Bought new and stored away but never worn, some minor stains from storage not readily visible when worn
There are production flaws on the felt pieces as well
Waist: 34"
Length: 20"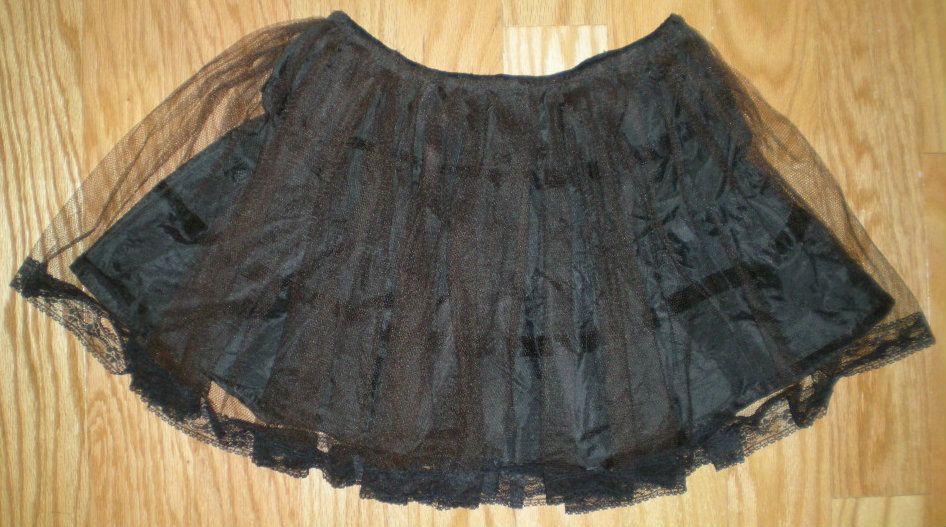 [
x
]
Black/Brown Petticoat: $12
Netting is brownish, waistband shows external abuse due to wear
Light poof, some damage to netting in some places
Waist: 80cm-114cm
Length: 43cm
.
Sweet Rococo Pink Ballerina Princess OP Set *EBAY*
Sweet Rococo Sax Ballerina Princess OP Set *EBAY*
Partially shirred back and partially lined inside
Fully shirred sleeves and sleeve cuffs
Detachable waist ties, Side zipper entry
Bust :: 34-45 inches
Waist :: 28-35 inches
Length :: 38" (sleeves unstretched)
Dresses are NEW. This is a custom design, true color closest to the picture above. On the inside shirring, there are still tailor marks on the elastic which do not come off or affect the wear.
.
Mary Magdalene Lavender Short Sleeve OP Replica *EBAY*
New, but has been tried on a few times and has been stored away for a few years
Bust: 94cm
Waist: 80cm
Length: 87cm (from shoulder)
Shoulder: 39cm (white only)
.
[x]
F+F BTSSB Little Riding Hood Coat OP Replica
Brand new: sleeves, hood, usamimi bow, and ribbons are detachable, received without back lacing
Some stitching starting to come loose, but does not affect overall condition.
Bust: 112cm
Waist: 92cm
Length: 105cm from shoulder

.

[x]


Jet and Lace Knit Bolero Cardigan: $100

Size S, new, knitted from Angora and lambswool

Bust: 100cm-126cm

Sleeve: 56cm (64cm to lace

Length: 54cm
.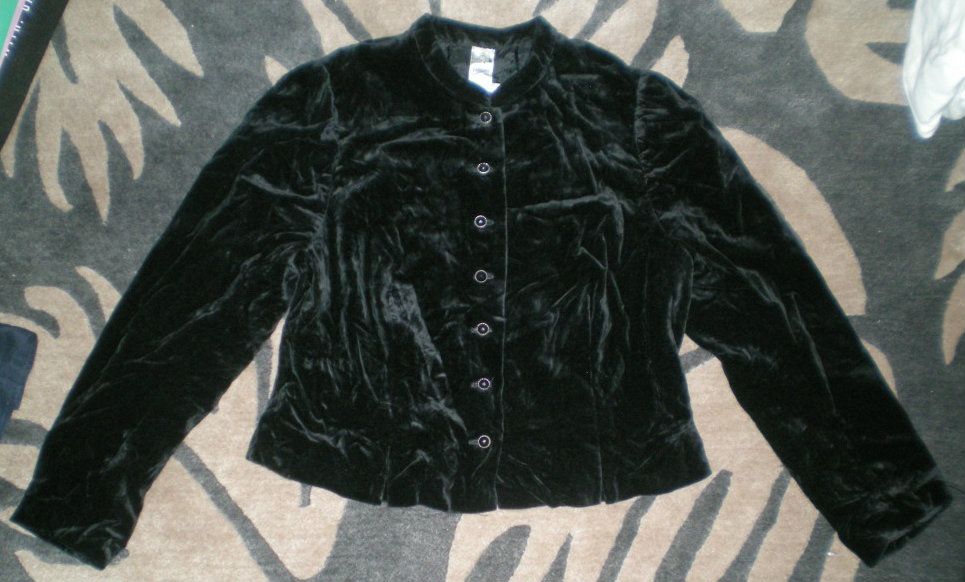 [x]


Weiser Linz Velvet Jacket: $85

Size 44, gently worn

Velvet is super plush and silky

Bust: 100cm

Length: 49cm

Sleeve: 59cm
.

Length: 24"

Sleeve: 24"

Arm Circumference: 16.5"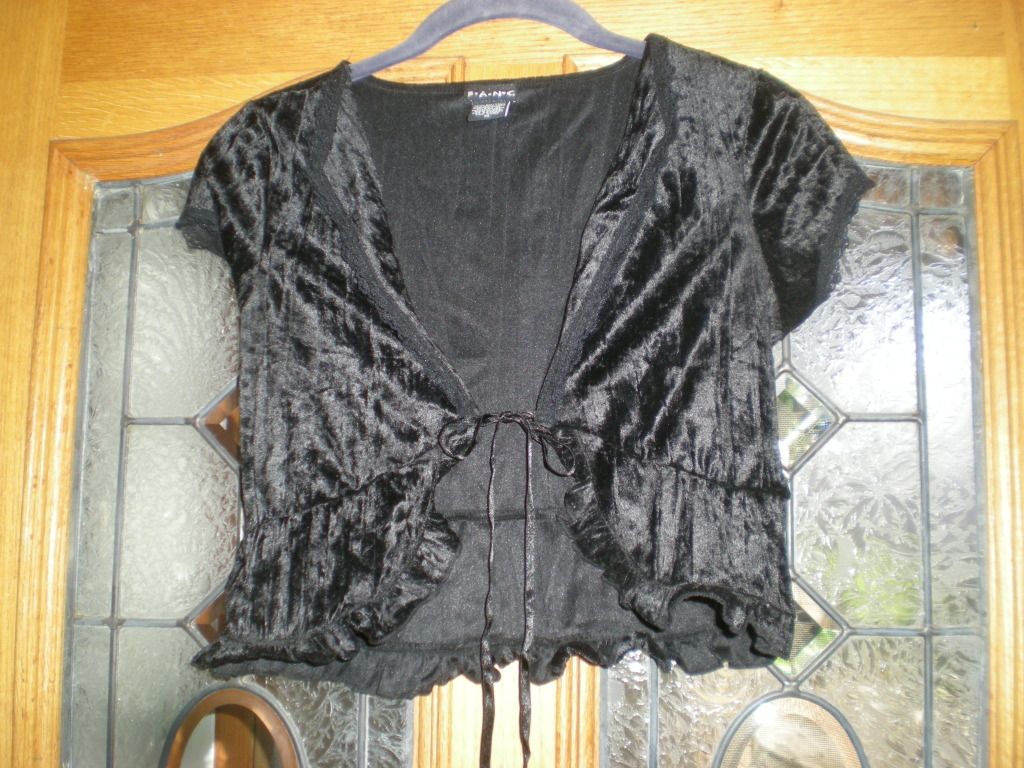 Fay Textured Velvet Bolero:

$23

$20

Size S, ties with ribbon. Frilled hem.

Bust: 80cm+ (76cm underbust

Length: 39cm

.





Clobbao Secret Shop Orange Shoes


Size 25, new but with surface damage from shipping


.



Tartan Oxford Pumps: $20




Size 9 US, gently worn but very scuffed

Most scuffing on inner heel
.


[x][x][x][x]
Prada Classical Bow Heels: $450 OBO
Size 36.5EU
Gently worn a few times, has minor dinginess


[
x
][
x
][
x
]
Black Ruffle Shoes: $35
Size 9, new
Left toe has some minor damage (bought this way)
Runs a little small
.
Bodyline White Bow Strap Shoes
Was purchased as new but appears to have been tried on and has minor scuffing not noticeable when worn.
Size 27 (28cm insole measurement)
x
x
x
x
x
x
x
x
x
Hot Topic Platform Oxfords: $
45
40 shipped
Size 9US (25.5cm insole)
Gently worn only a few times. The sole came off the first time and has been reglued.
It was originally black but the pleather flaked so it's now light gray.
Wear ONLY with black or dark gray socks The pleather is flaking inside so it will stain otherwise.
x
Steve Madden Brown Pumps:
$28
$25
Size 11US, gently worn. Left button cap is missing
.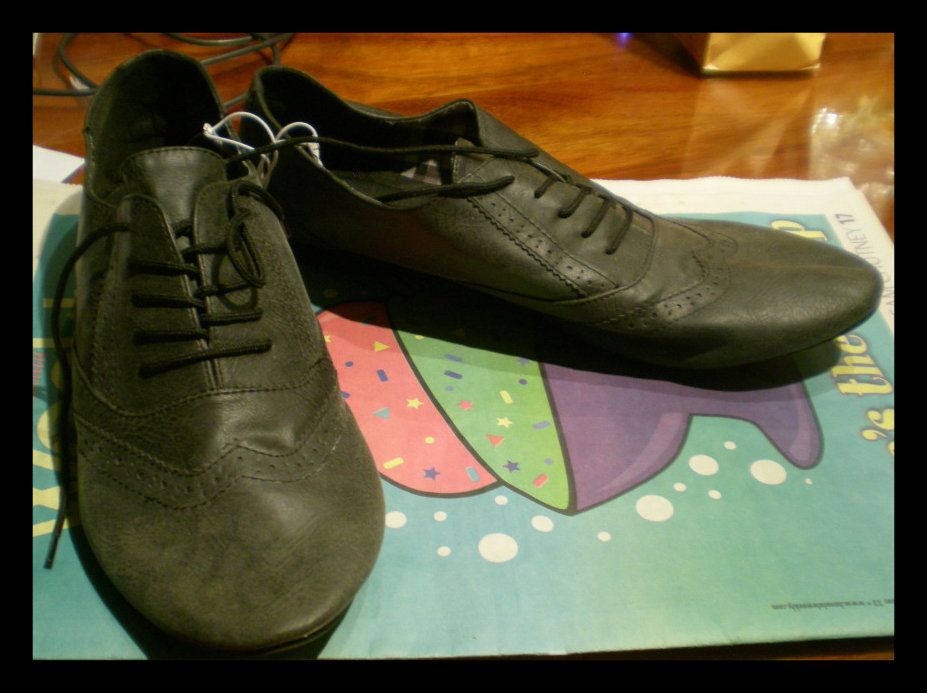 x
Xhilaration Kodona Oxfords:
$48
$45
Size 11US, new
♥~Paper Goods ~♥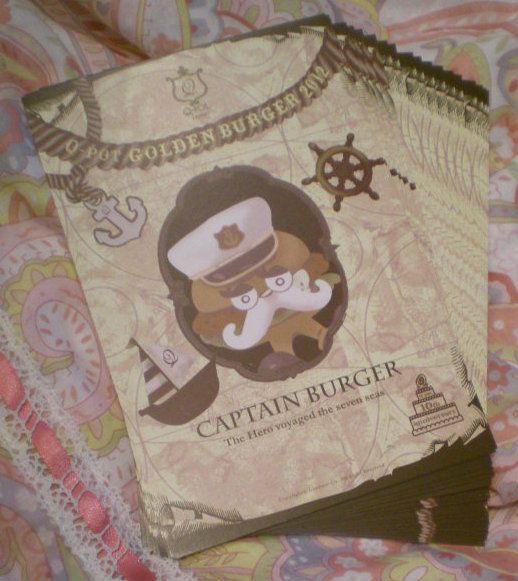 Q-Pot Limited Edition 2011 Spring Postcard :: $5 each (10x)
Q-pot Limited Edition 2012 Captain Burger Spring Flier :: $5 each (10x)
.
[
x
][
x
][
x
][
x
][
x
]
Gothic and Lolita Bible
No patterns, very bad condition
English language
.
Gothic and Lolita Bible V.11 2012
New with all patterns and stickers

.
♥ Accessories ♥
Q-pot Shave Ice Phone Strap: $56 shipped
New, has not been used
.




[

x

]





Q-pot Pray for Japan Peace Bands :: $13 each

Chocolate: 0

Strawberry: 4 3

Mint: 2

Milk: 3 2
.


Other Q-pot items available through my shopping service.





Goldilocks Curls Short Wig :: $23

New and only tried on

Has a skin-top and is very good quality

.

Black Dolly Curls Wig :: $6

New in bag and only tried on, has bangs

.


.




[

x

][

x

]





RJR Fashion Fabrics: Art Nouveau Romance :: $25/yard

100% cotton, machine washable

45"/114cm long, uncut bolt

Rare out of print, discontinued print line

11 yards available

Other fabrics available through my shopping service.






♪ TRADE ♪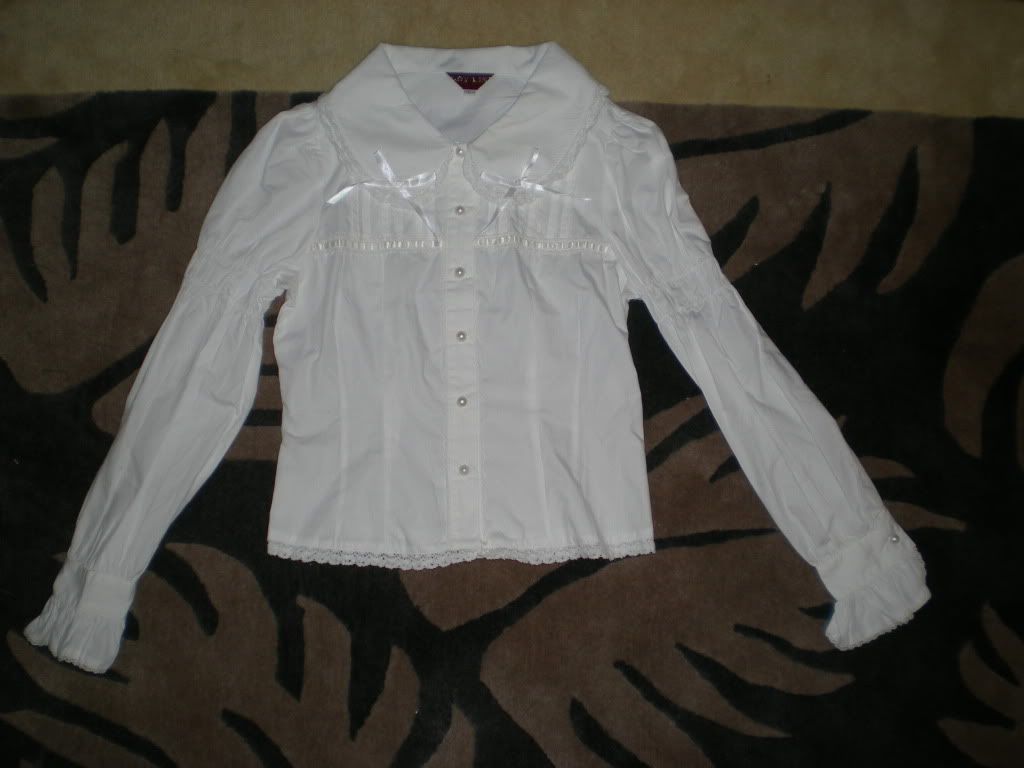 Black Bodyline Blouse / White Bodyline Blouse


No shirring or waist ties.

Size L, new (white blouse has minor discoloration on left collar)

Bust: 88cm

Waist: 74cm

Length (from shoulder): 50cm

Sleeve Length (from shoulder): 63cm





[
x
]
Spin Doctor "Marianne" Blouse :: $50
Size XS, would like this in S or M
New, retail €35,50 (tag still attached)
6-8UK
Bust: 32-34"
Waist: 28-30"
.
[
x
]
Old School Skirt
New, fully shirred waist, no zipper
Waist: 58cm-94cm
Length: 48cm
.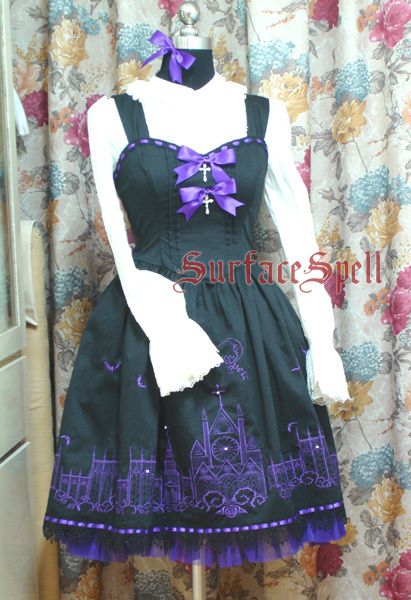 [

x

]



Surface Spell Cathedral JSK: Purple Version

Qutieland Listing here


Want to trade for this for a size fitting an 88+cm bust ONLY.

Also seeking the underbust version: any color.

Bust: 80-86cm

Waist: 72cm

Length: 90cm (from strap to bottom)





Victorian Maiden Broadcloth Floral OP


Worn once, want to trade for something that suits me better

Old design from about 2003, not recommended for a larger cup size

No shirring or stretch, fully lined

Bust: 88cm

Waist: 76cm

Length: 90cm
.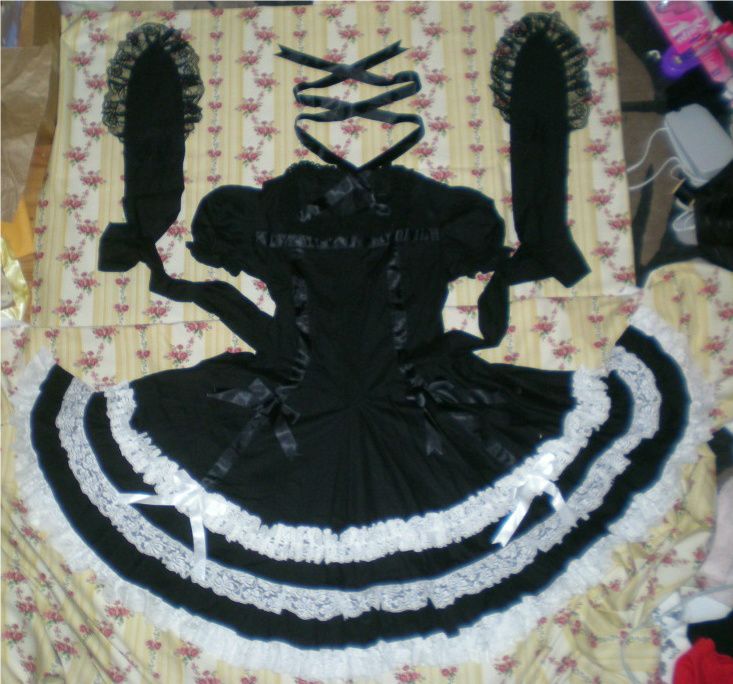 [
x
][
x
][
x
][
x
][
x
][
x
][
x
][
x
]
Old School OP and Headdress
New, but tried on a few times and stored away
Two ribbons were removed from the bust and two from the skirt. I only have one of each for reattachment.
Made by a Japanese atelier brand.
Bust: 86-94cm
Waist: 70-80cm
Length: 90cm (to bottom lace)
Old School VM replica OP
New, only tried on a few times
Bishop sleeves, can unbutton to make slightly flared sleeves
Waist ties are non-detachable
No shirring, no stretch
Bust: 94cm
Waist: 73cm (at narrowest)
Length: 114cm
Sleeve: 63cm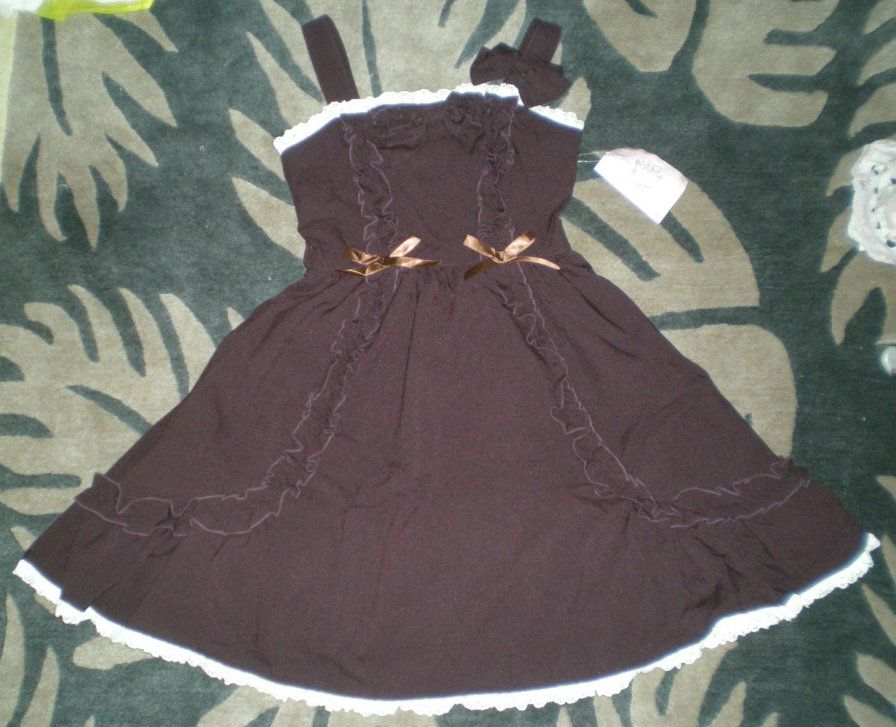 [
x
]
Metamorphose temps de fille Josette JSK (jsk only)
New with tag, color is a reddish brown
Tag price: ¥26,040
Bust: 81cm-92cm
Waist: 66cm-77cm
Length: 86cm
Would love to trade for a print dress (Btssb/Aatp, AP, Meta)
♥ WISHLIST ♥
Will consider trading for anything, but reserve the right to deny a trade.
Due to shipping costs, I prefer to trade within the US.
Trades must be sent within 4 days of trade agreement with tracking unless otherwise agreed. Traders must send first!
Please provide feedback link.
.
My current measurements:
Bust: 88-91cm
Waist: 71-73cm
Hip: 88-90cm
Shoulder Width: 43cm
.
Primarily interested in:
Steampunk/pirate, clockwork styles, and corsets
AATP, BTSSB, Metamorphose, Lief, HMHM, Atelier Pierrot styles or replicas (i.e. Queen's Coach, Relief JSK, Stained Glass, Toybox, Chess Chocolate, Ms Wolf, underbust/waistcoat jsks, etc.)
Gothic, chandelier, castle/coach, stripes, chess, fairytale, Harlequin and circus prints
Vintage medical/nurse fashion
Victorian/Steampunkish bags, clasp bags or trunk bags
Shoes that fit 9/9.5US (25.5-26/LL/3L), boots that fit 9.5-10 (25.5/26/LL/3L) or 40/41EU
Tea Parties, platforms, Victorian/granny boots, AATP boots (any color)
Cage skirts, petticoats, bloomer trousers and high waist trousers
Petticoats with megapoof or a nice full never-die shape, or long organdy/chiffon (i.e. Classical Puppets, F+F Omniscient, Meta long petticoat)
Detachable sleeves in any color, primarily flared sleeves or poofy sleeves
♥ OLD SALES ♥
DS/DT: Offbrand Sailor Top, Bolero, Skirts, TUK shoes, fawn charm, GLP OP, some plus size
DS/DT: F+F, BL, VM, Offbrand, Wigs, Shoes, Dresses, Skirts, Tops, Plus Size, and more
.
Will consider reasonable offers for old sales and old trades.