My feedback:

http://eglfeedback.livejournal.com/1360

516.html




☆ US traders preferred to save on shipping but international is welcome!




☆ Partial trades are considered!




☆ I live in a smoke-free home! I have a dog who does not come into my room and a cat who does. The shoes have been put away so she has not had access to them but just a heads up to those with severe allergies



My proof photo:
The shoes: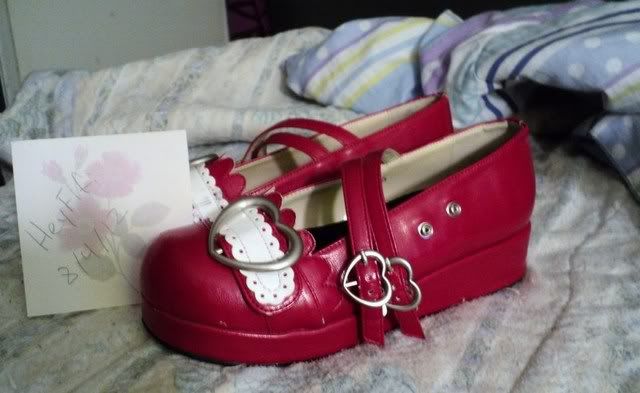 I am the 2nd owner, they have never been worn by me, only tried on because they are too big. They have been worn by the first owner. There is slight scuffing on the inner parts of the shoe but it is not noticeable when worn because of the location. There are a couple little marks as can be seen in the first photo that are not very noticeable. There are some marks on the straps from the buckles. They can only be seen if the buckles are at the smallest as shown in the picture. They are not visible when the buckles are adjusted larger. The soles are slightly dirty but not very worn.


Pictures of scuffing, etc available upon request!



I am looking to trade my Bodyline size 22.5 red heart buckle shoes for something smaller. I know 22.5 is usually the smallest size but I have other shoes from BL in this size that fit so these just run big. I usually wear a 5-5.5 US and they were at least a whole size too big for me so I would recommend them for a size 6-6.5 US!

I would like a pair of red shoes that are the same size but fit smaller or a pair that are 22.0.
I would like red but am open to other colors and styles and it does not have to be BL. I am also open to partial trades.