Feedback: http://eglfeedback.livejournal.com/858122.html

PLEASE READ
♥ I ship from the UK but International buyers are welcome
♥ Items come from a smoke-free home, however I do have cats and although I will run a lint roller over items before sending out, stray hairs may turn up
♥ Price is in GBP£
PAYMENT
♥ Paypal is preferred, but if you are in the UK, I will accept other forms of payment if requested
TRADES/OFFERS
♥ I am currently not interested in trades
♥

Feel free to make any offers on prices! All serious offers will be considered





Alice & the Pirates Roll Rose Corset JSK

in offwhite
http://hellolace.net/wardrobe/alice-and-the-pirates/type/jsk/item/20/
Price: £90 shipped to the UK, £95 shipped worldwide ON HOLD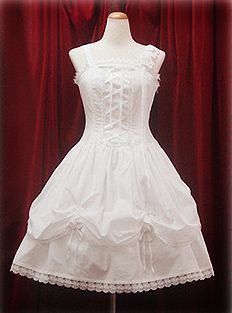 Worn/Proof Photo
Dress is in good condition; there are no stains or marks. The corset boning is poking through a little at the bottom, but can be easily repaired. It can't be seen from the outside though. I am the second owner.