Terms of Sale

First, Please Note:

* I only accept PayPal. CC PayPal and payment from PayPal balance is preferred.
* I accept payment in $AUD (Australian Dollars).
*My feedback can be found on the EGL Feedback Database here: http://community.livejournal.com/eglfeedback/273114.html and in my personal journal, here: http://living-revision.livejournal.com/3848.html
* I ship from Melbourne, Australia, and will ship items world wide. Shipping is not included in the item prices and will be calculated on an individual basis. Insured shipping will cost extra, but delivery confirmation is included (sign on receipt).
*Pick-up is available if you live in Melbourne.
* Priority goes to whoever can pay first and in full. Failing that, priority goes to whoever meets my asking price via a payment plan, then to whoever makes the next best offer.
* Items are cleaned prior to sending out and come from a smoke free and pet free home.
* Items are shipped within 48 hours after payment clears whenever possible. I will notify buyers of shipment within 24 hours of sending out, and provide proof of shipment.
*I reserve the right to refuse a sale, and please note that I am not responsible for items once they have left my hands/lost packages/postal loss.

*Please feel free to ask questions or make offers – I'm hoping to get back what I paid for these items, but I do need to get them sold so I will consider reasonable offers. I am also happy to consider payment plans on an individual basis.
*I also am happy to respond to inquires made via the Livejournal PM system, but please make sure that I can reply to your messages.
Item One:
Angelic Pretty Puppet Circus JSK, Wine Red.
Released in 2006 and arguably Angelic Pretty's most popular print. I purchased the JSK several years ago via a shopping service, who arranged a sale with a private seller via MIXI. The seller said that she had not worn the JSK, and I haven't worn it myself. Considering the fact that the JSK is six years old, I'd judge the condition to be as near to mint as possible: there are no flaws in the fabric that I can find, no missing pom poms, and no flaws in the print. The JSK has quarter back shirring.

Measurements from Hellolace.net:
92cm length,
90cm bust,
70cm waist
Sold, thank you.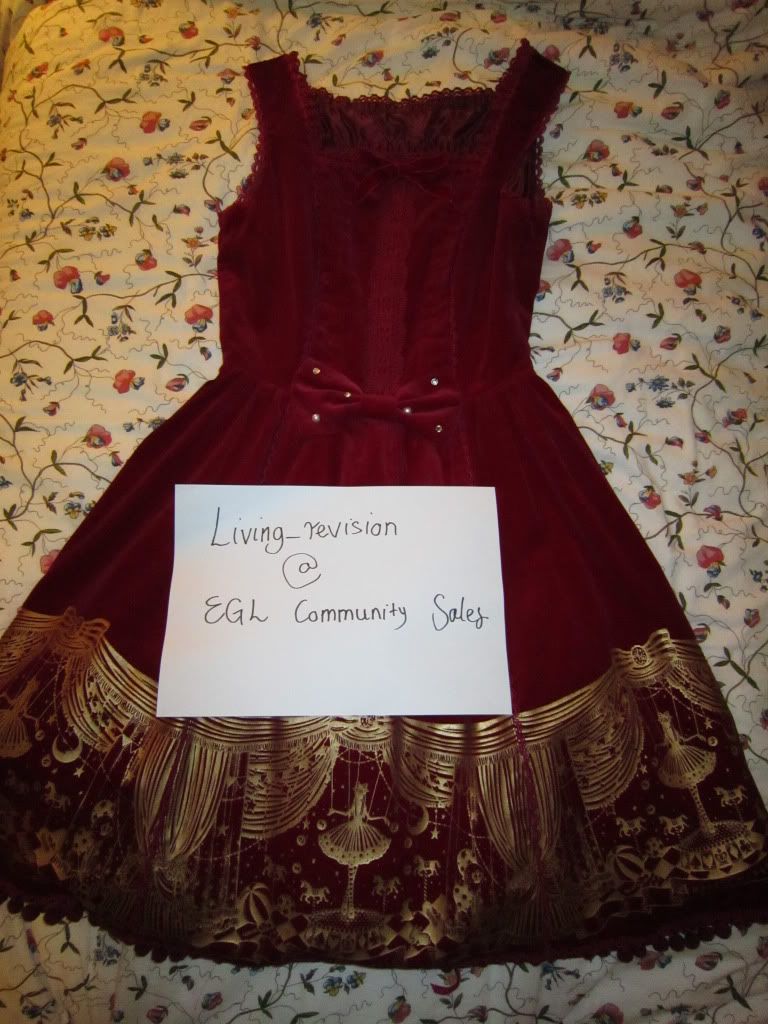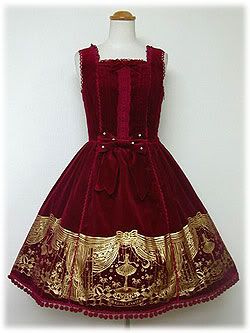 Item Two:
BtSSB Ribbon Princess Drop JSK (Pocket Embroidery JSK, Second Release), black.
Released in 2008, and a re-release of BtSSB's popular Pocket Embroidery JSK. I received the JSK in a trade and have worn it several times. It is in excellent second hand condition, with no apparent flaws that I can find. The material of the JSK is a heavy cotton sateen, and the jsk features intricate ruffles, pintucking, and several different types of lace. The JSK has quarter back shirring.
Measurements from Hellolace.net:

95cm length,
78-90cm bust,
74-86cm waist.


Sold, thank you.






Please note, the JSK I am selling is black.
Item Three:
Moi Meme Moitie Dot Stripe JSK, Black.
Released in 2007. I bought this JSK new from Moi Meme Moitie via a shopping service but never wore it. It is in NWOT condition with no flaws that I can find. The JSK is really beautiful,with delicate chiffon fabric, ruffles, original lace and a detatchable lace jabot.
Measurements from Hellolace.net:
91.5cm length,
82cm bust,
64cm waist.
$350 AUD, or best offer.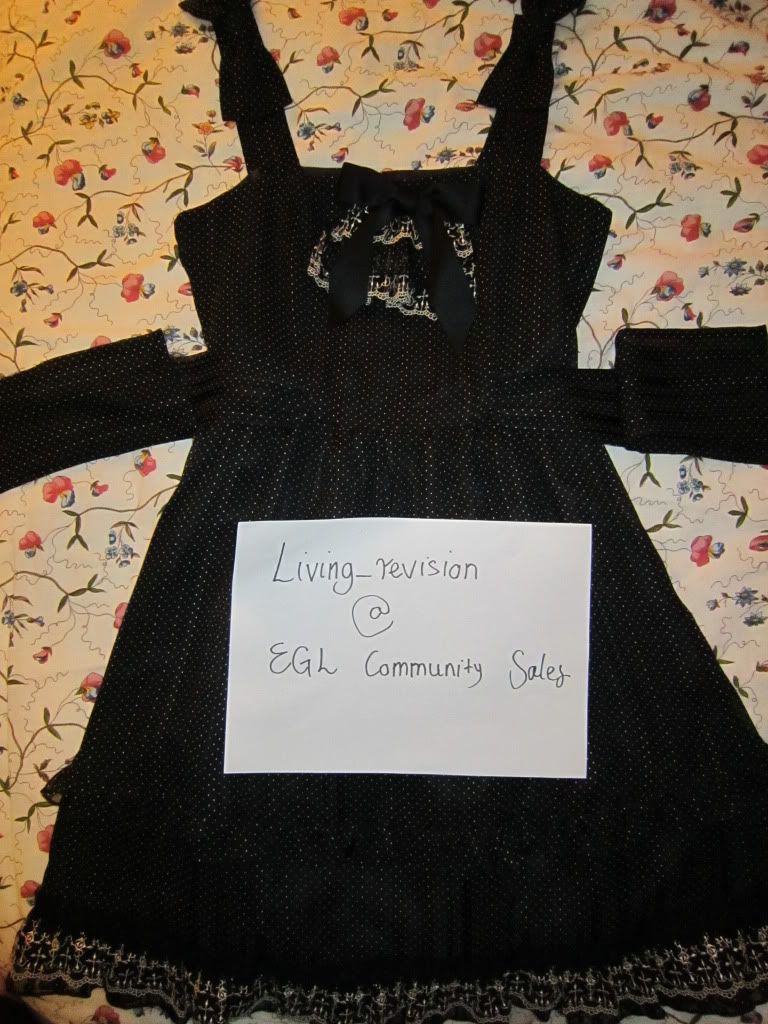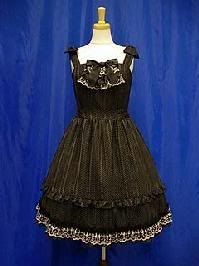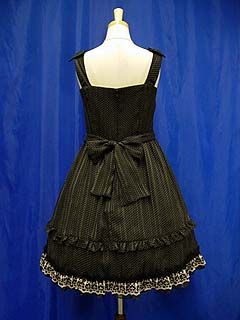 Item Four:

Angelic Pretty Rose Toilette Skirt, Black.

This is Angelic Pretty's Rose Toilette skirt, released in 2007. This skirt was purchased from Mbok some time ago. The previous owner said that she had worn it once or twice, and I have worn it several myself. It is in excellent, as new condition. The print is beautiful, featuring perfume bottles, roses and butterflies or a thick textured grosgrain fabric, and the skirt features perfume bottle lace at the hem and small pink crystals on the tail of the moveable waist bow. The skirt comes with waist ties.

Hellolace lists the waist measurement for this skirt at 62cm, but because of the shirring in the back it should fit up to 72cms, as with most Angelic Pretty skirts with partially shirred waistbands. Please note that this is an amateur flat measurement, and allow a margin for error.
$190 AUD or best offer.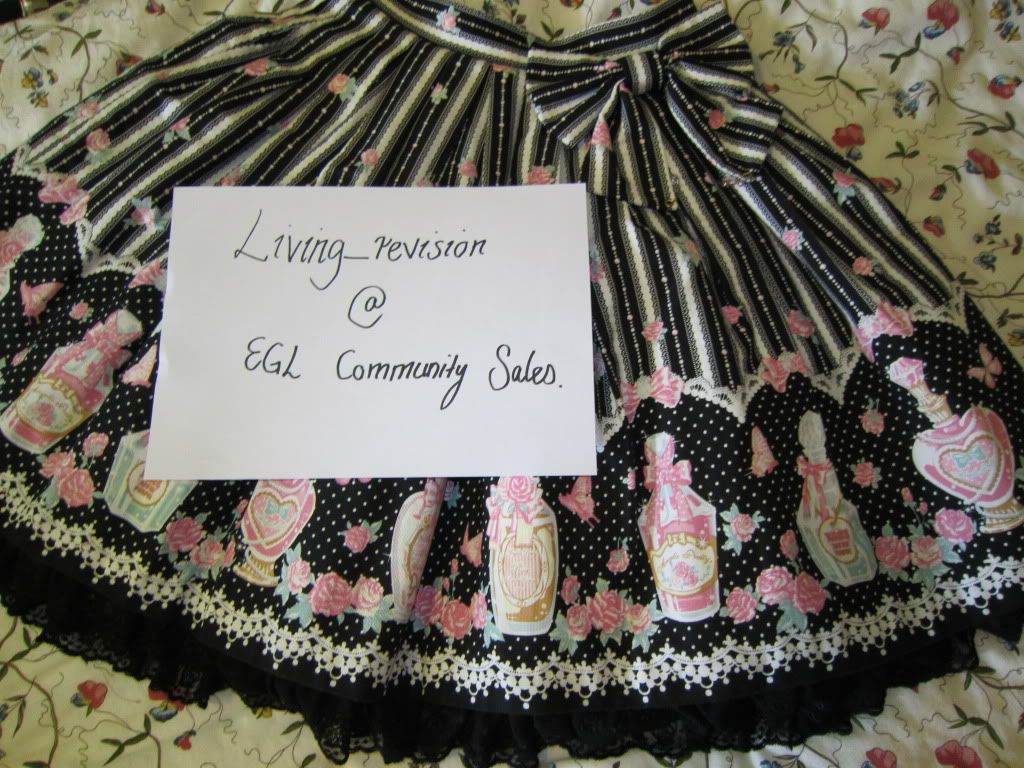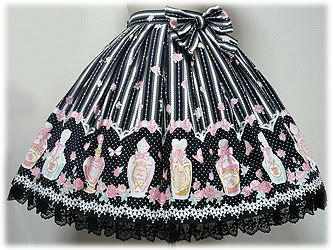 Item Five:
Emily Temple Cute Glitter Ballerina heels in Gold/Multi, size Small/22.5cm.
I bought these shoes new from ETC via a shopping service a few years ago, and have only worn them out once to a restaurant, as I discovered then that they were just a bit too small for me to be comfortable. They are in excellent, as new condition with no flaws that I can find. I have since found a pair in a larger size, so I'm selling these ones. This is one of ETC's most popular styles of shoe, and they are frequently re-released in new season colours. The Gold/Multi colour is especially nice, as it's a mix of both light gold and multi coloured glitter.


The sizing is very accurate, but the shoes will not fit anyone with extremely wide feet.


$160 AUD or best offer.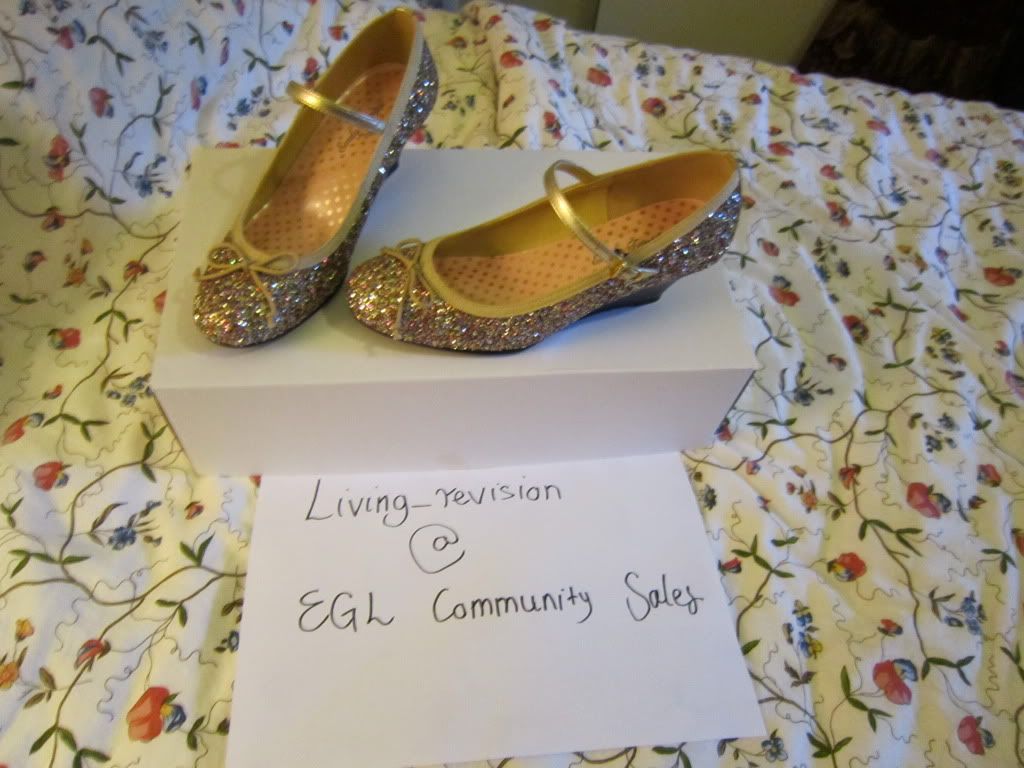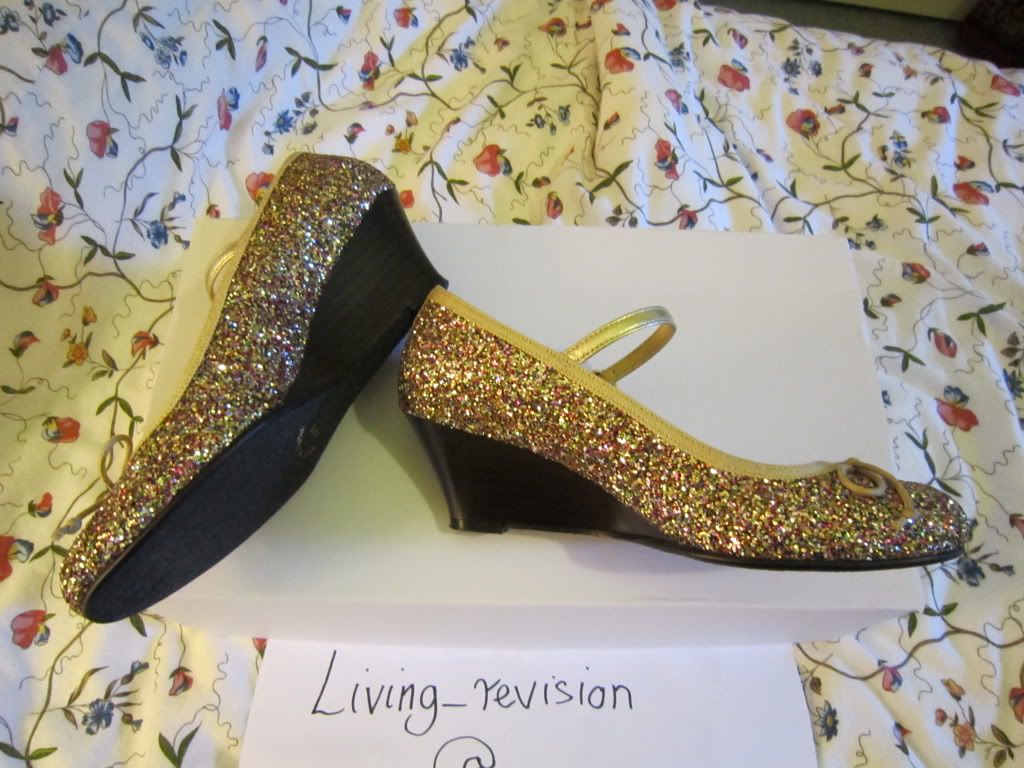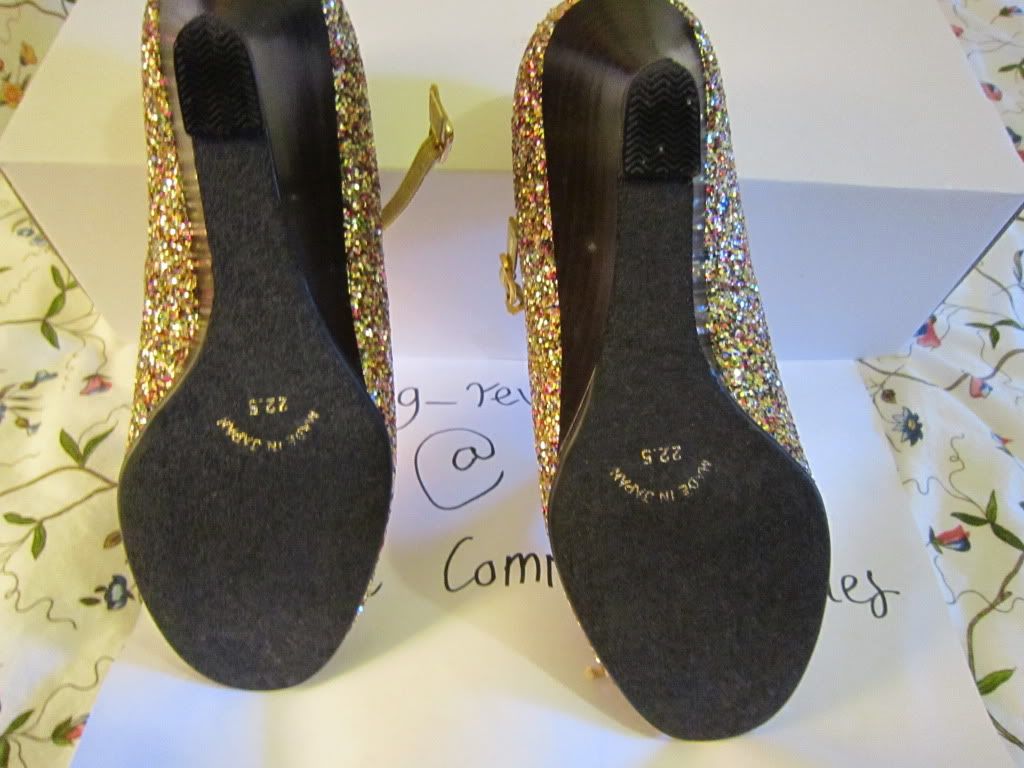 Please note that shipping the shoes will be quite expensive, so Australian buyers would be preferred.
I am not looking for trades right now, but would consider trades/partial trades for the following items only:
- ETC Rabbit Ballerina skirt in brown.
- Jane Marple Highland medium length skirt in either colour.
- Jane Marple Stained Glass skirt in either colour.
- The latest Jane Marple logo series skirt, full elastic waist style, in blue.
Thank you.