-I'll consider holds on a case-by-case basis
-Offers will be considered as well! But if someone else is willing to pay full price, the item will go to them
-Not looking for trades at the moment, sorry
-Paypal only, please, Non-CC preferred
-Please send payment to o.evelynk.o@gmail.com after I invoice you
-If you have any questions, picture requests, etc., feel free to ask here, in a PM, or email me at lost.in.innocent.world(at)gmail.com
-Shipping prices to the US will run about $5 for socks and cutsews, and about $10 for skirts and jsks. I'm willing to ship internationally as well, but shipping will probably be a little higher, don't hesistate to ask for a quote! :]
-Please pay within 48 hours of receiving your invoice. If you need longer, make sure to let me know your circumstances and I'll consider your hold
-Priority generally goes to the person who can pay first
-I do not smoke, but I do have cats, though everything will be lintrolled meticulously and cat-hair free before being sent out!


Proof Pic = My bedding that is the background for my sales pics xD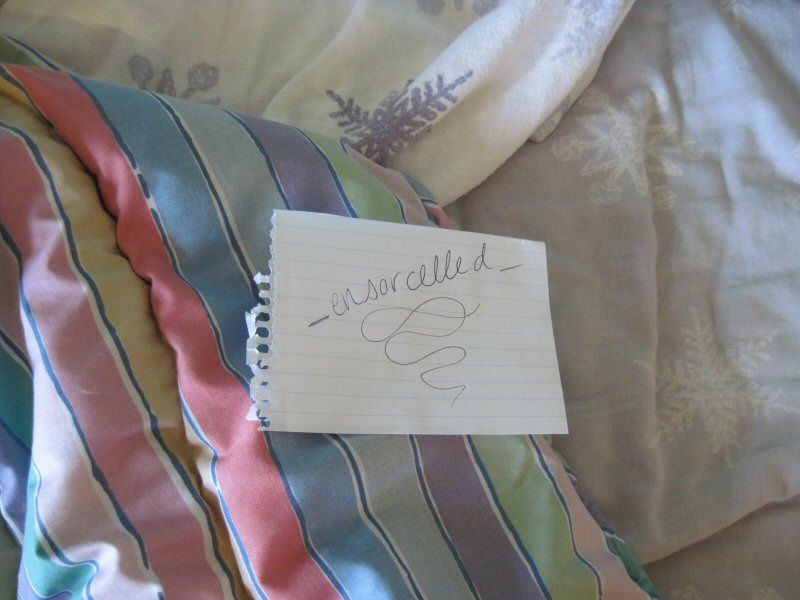 JSK

Metamorphose Marine Stripe JSK

Adorable JSK by Meta! In great condition, only worn a couple times. Super cute flawless nautical themed screenprint with adjustable tied straps. Comfy shirring, breathable fabric, Awesome for summer!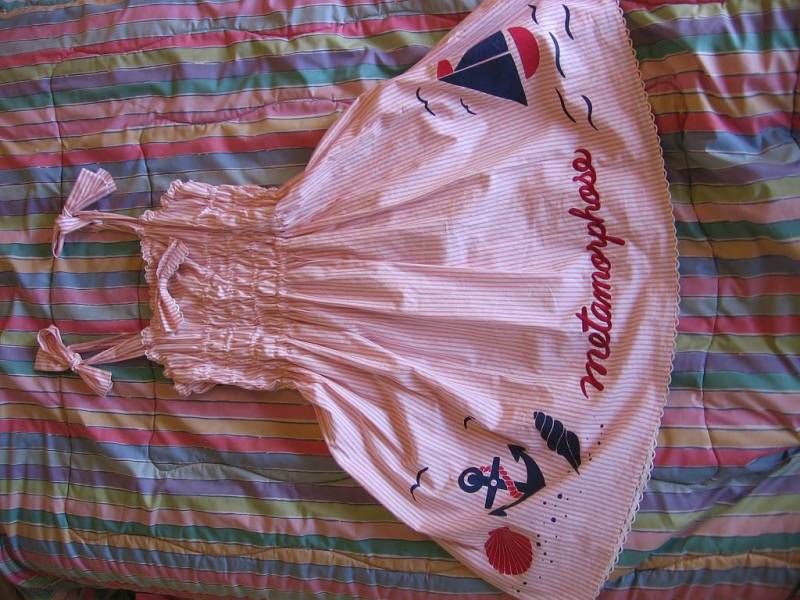 Stock photos: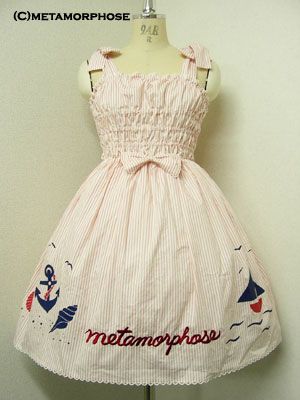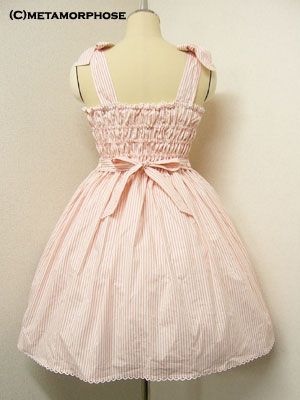 Price:$105 + shipping

Measurements:
Bust: up to 37"/94cm
Waist: 24"/61cm - 33"/84cm
Length (can be adjusted due to shoulder straps: around 35"-37"/94cm



Skirts


Red Putumayo Skirt

Comfy cute skirt by putumayo! Pretty red color with white details, worn once, in excellent condition. Perfect for casual lolita, elastic waistband.


Price: $55 + shipping

Measurements:
Waist: Up to 36"/91 cm
Length: 17"/43cmSOLD


White Tiered Meta Skirt

Gorgeous basic white skirt by Metamorphose with high-quality cotton lace trim. Worn twice. Has a nice amount of volume on its own and is very comfortable due to the partially elasticized waistband. Waist ties are non-detachable but long enough for a nice bow in back :]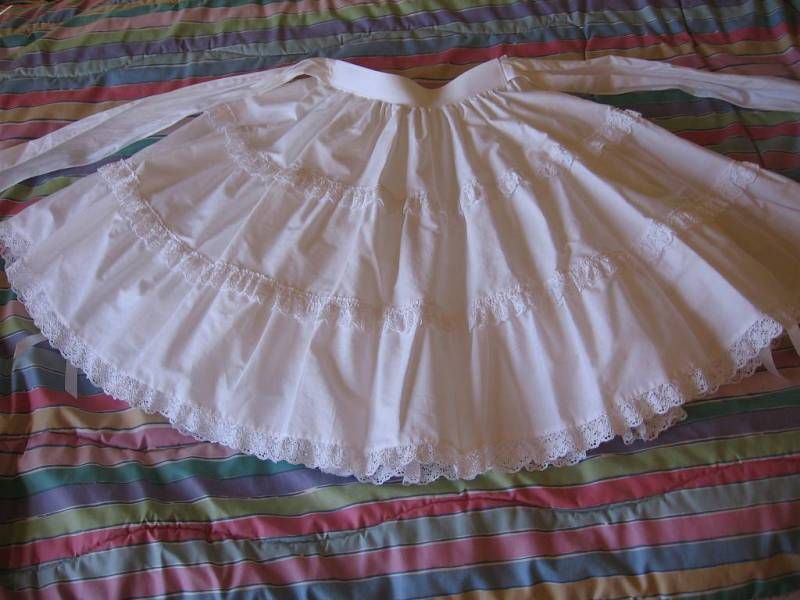 Price: $75 + shipping

Waist: up to 34"/86cm
Length: 20.5"/52cm



Innocent World High-waisted Crown Trump Skirt

Very elegant and flattering high-waisted skirt trimmed with gorgeous lace and adorable printed grosgrain ribbon~ Fully lined with fairly heavy fabric, great for winter!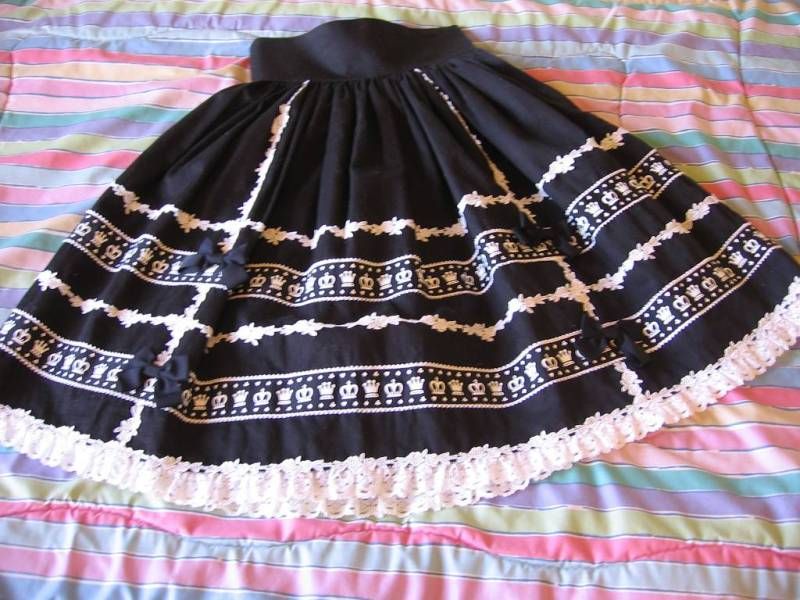 Price: $95 + shipping

Measurements:
Waist: up to 29"
Length: 24"/62cm


Fanplusfriend Black Ruffle Tier Skirt

Cute casual lolita/punk skirt, meant to sit a bit below the natural waistline.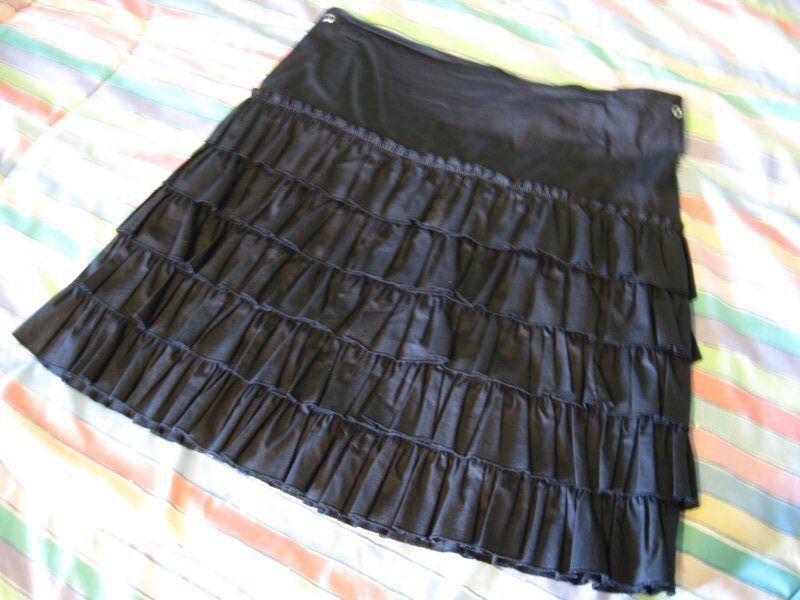 Price: $30 + Shipping

Measurements:

Low waist: 33"/84cm
Length: 18.5"/47cm



Cutsews


BABY Crown Fork&Spoon Cutsew

Absolutely adorable soft cutsew with a sweet utensil print. Has a detacheable collar with pink grosgrain ribbon and super cute crown lace!


Price: $55 + shipping
Measurements:
Bust: Up to 38"/96cm
Waist: Up to 38"/96cm
Length: 20.5"/52 cm shoulder to hem


Metamorphose Girl T-shirt

Sweet T-shirt by Meta with some awesome art on it :D




Shown coordinated with the detacheable BTSSB collar from above. Collar sold only with BTSSB cutsew!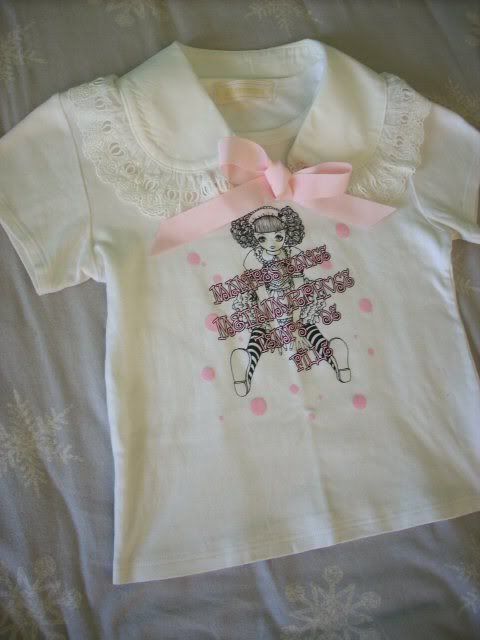 Price: $25 + shipping

Measurements:
Bust: up to 33"/84cm
Waist: Up to 32"/81cm
Length: 18"/46cm shoulder to hem


Angelic Pretty Pearl Chain Cutsew

Beautiful longsleeved AP cutsew with pearl and tulle details adorning the bust. The pearl chain is detacheable, and it has waist ties that form a bow in the back~ So lovely in person!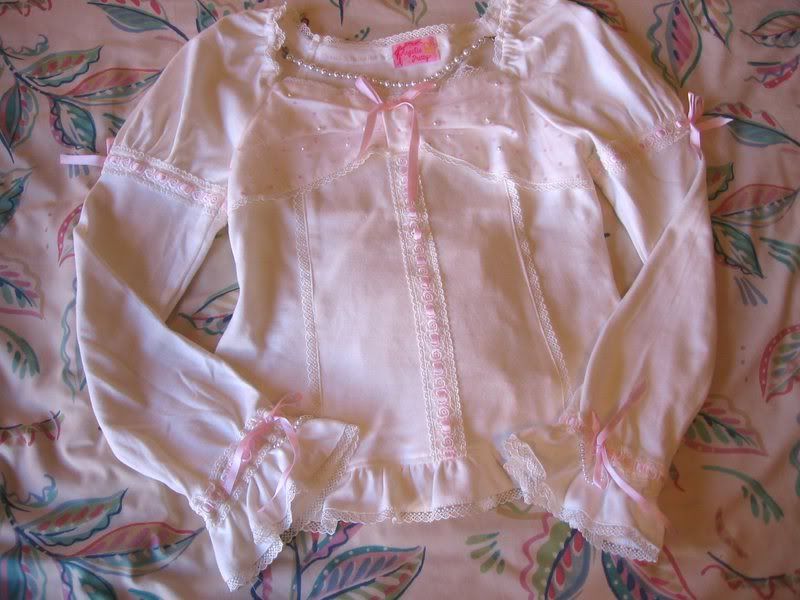 Stock photo: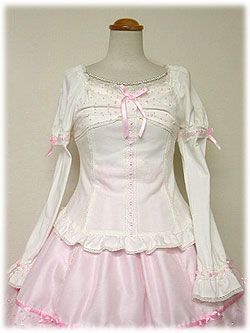 Price: $65 + shipping

Measurements:
Bust: up to 35"/89cm
Waist: up to 33"/84 cm
sleeves: 26"/66cm long
Length: 20.5"/52cm from shoulder to hem


Pastel Yellow Cami+Bolero Set

Pretty cami and matching bolero set by a chinese brand. Embellished with satin bows and lace trim! Perfect for lolita and also gyaru styles~

Price: $20 + shipping
Measurements:
Bust: 33"/84cm
Bolero sleeve length: 22.5"/57 cm


Socks

Angelic Pretty Bunny Pearl Socks

Adorable socks from the Bunny Pearl series. Cute bunny design with detacheable ribbon lacing and puffball tails.


Price: $25


AP Pink Crown Logo Socks

Lace-topped socks with the Angelic Pretty crown logo. Worn twice, wear visible on bottom of socks, as is typical with used socks~

Price: $17 + shipping


Metamorphose Anchor Dot Socks

Nautical over-the-knee socks that go really well with the meta marine jsk! Worn twice~

Price: $20 + shipping


Offbrand Rose Print socks

Charming white knee high rose print socks that remind me of a certain pair by BTSSB! Never worn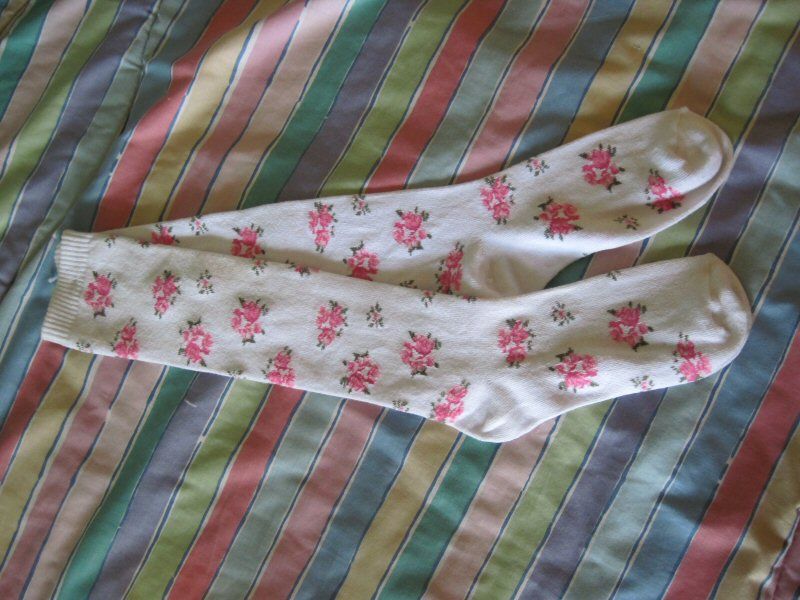 Price: $10 + shipping



If you want more pictures of anything feel free to ask~

thanks for looking!

I have feedback at the first entry in my journal. Please leave feedback for me at my new page, http://eglfeedback.livejournal.com/1916827.html


♥