Welcome to my sales post!
My feedback is here! http://eglfeedback.livejournal.com/377405.html

- I post from the UK
- NO TRADES. I mean NONE. I keep trying to get back interested in lolita and ultimately keep giving up. These are my last lolita items.
- If you want insurance, then request it. Otherwise I am not responsible for packages once they leave my hands.
- I will only do payment plans if you buy the whole set, have 20+ feedback and can pay half now, and half within a month. I had a bad experience with my last one, is all.

I brought this set a few months ago as it was my ultimate dream dress, but haven't worn it. I'm just really not into lolita anymore. I would like to sell this as a set - however - I know this isn't very realistic so I will sell the items separately if I have buyers for most of it. I will throw in the socks and ring for free if someone buys the entire set. Pricing info is underneath the pretty pictures.

Size of the mannequin is 28 inch waist and 35inch bust. There is shirring on the back, but I found it fit - just - with a 28inch waist and 38 inch bust. I really wouldn't recommend going over a 38 inch bust. My upper arm circumference is 10 inches and it was comfortable. More measurement info here; http://lolibrary.org/node/4705

PROOF: Here and Here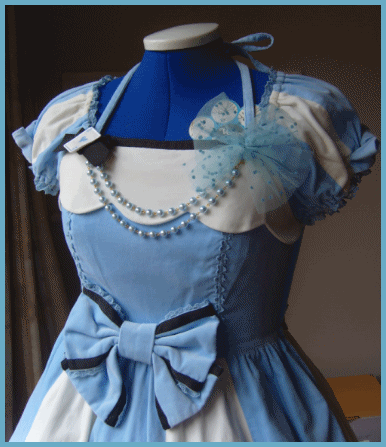 Please note: there is some discolouration on the bonnet which I have highlighted. I accidently flicked some St Tropez onto it, then tried to remove the stain. It's not massively noticeable (especially at a distance) but I will price the item to reflect this!
This bonnet is the 'Queen Trump' bonnet which matches the dress very well!




Two pairs of socks, a ring and headbow. The headbow is the original Marionette Girl headbow. The socks and ring are just matching items, not original Marionette Girl releases.

Pricing;
Entire set (with free ring and socks): £260
OP: £190
Bonnet: £50
Headbow: £20
Socks and ring: £40

Shipping is going to depend on what you purchase and where you are. I will only send the entire set via insured post, which will be about £10-£15 depending on where you are.

Feel free to ask any questions! I will be out this evening, but will check LJ when I can! ;P