EGLFeedback 7
I ship from Little Ferry, NJ (USA)

More than 5 week repost, with some price reductions and new items!

Info and Rules
I ship from 1-4 days after payment is received (I always notify user of when I ship and provide tracking number)
First to send me paypal gets the item
Sending Paypal via PM is fine, just leave a comment saying you sent it
I only accept Paypal at this time
All prices are in US Dollar
Shipping not included in the price
I do not facilitate returns so please measure properly!
I do accept reasonable offers

Handmade items, are new and never worn (possibly except for a short photo of it). The seams are completely finished either by serging or rolled seems.

~Sold~
F F Elegant Gothic Unisex Large Peaked Collar Long Cuffs Silk Shirt & Cravat
$45 $40
Site Link
Proof: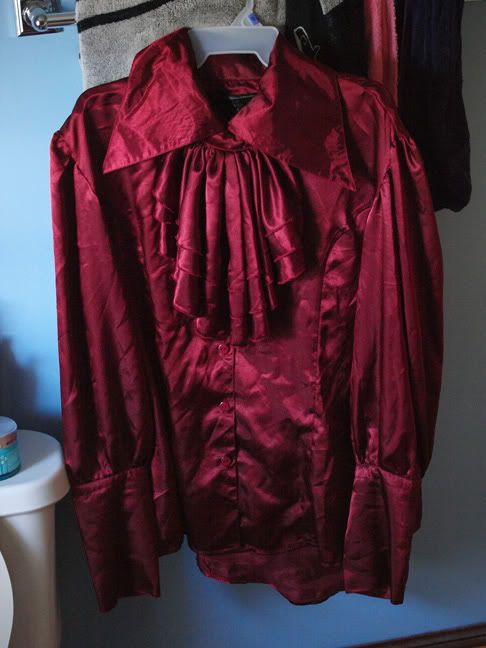 Worn out once for about 3 hours, still in amazing condition, I just decided I don't like how the silky fabric looks on me.
Size:
Bust: 44in
Waist: 42in (can go smaller with corset lacing in back of shirt)
Length (collar to bottom of front) 25in



F F Corset (I can't find it on their website)
$55 $45
Proof:
Front: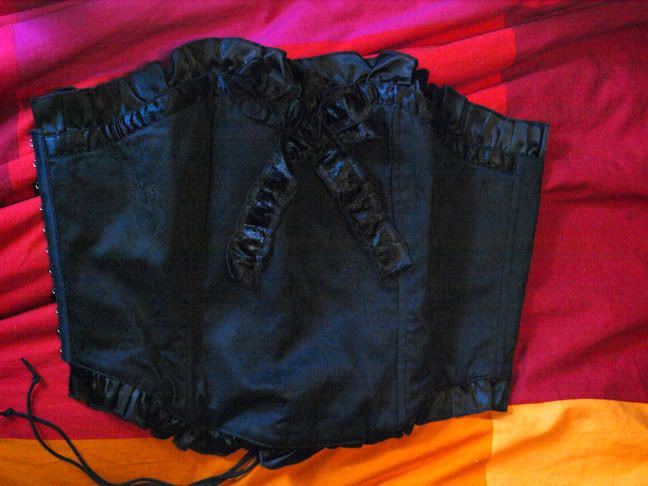 Back:


Pictures don't do this justice, it's so pretty IRL. The bow is detachable and there is boning (probably plastic) side closure lined with tiny hooks. Unfortunately it's too short and small for me.
This item is new and has never been worn.
Size:
Waist: 34in (can be smaller with corset lacing in back)
Length: 15in (measured from front center, including ruffles)


Handmade: Robin's Egg Party Overskirt
$45 $35
Front:



Back: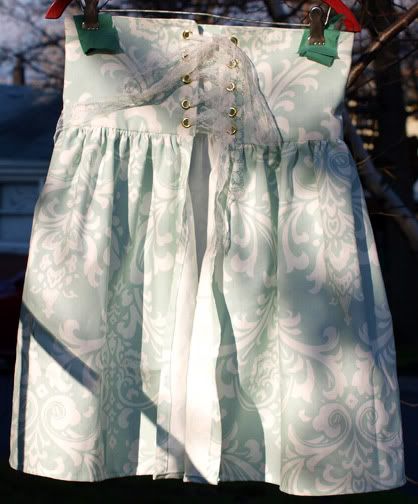 Gorgeous light robin's egg colour thick damask cotton with 5.5in high corset waist carefully aligned to be stylish and flattering.
Size:
Waist: Completely laced closed, the waist measures 28in but can be bigger if worn with the corset open wider in the back
Length: 16in from bottom of corset to bottom of skirt or 22in long from top of waistband to bottom of hem.
Handmade by me


Champagne Taffeta Skirt
$50 $40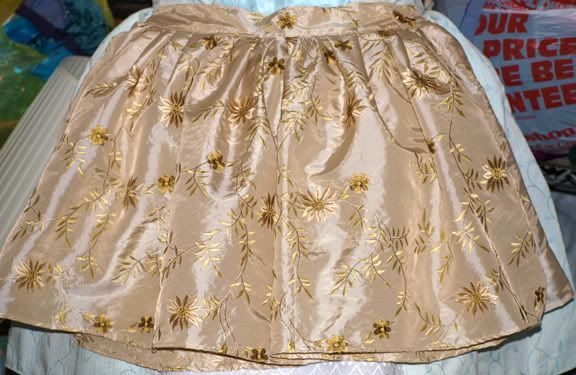 Gorgeous embroidered taffeta, not as shiny as the picture makes it seem, it's very classy looking. Metal button waist closure at the right side.
Size:
Waist: 33in (no elastic)
Length: 18.5in
Handmade by me



Yacht Club Skirt
$50 $40
Proof: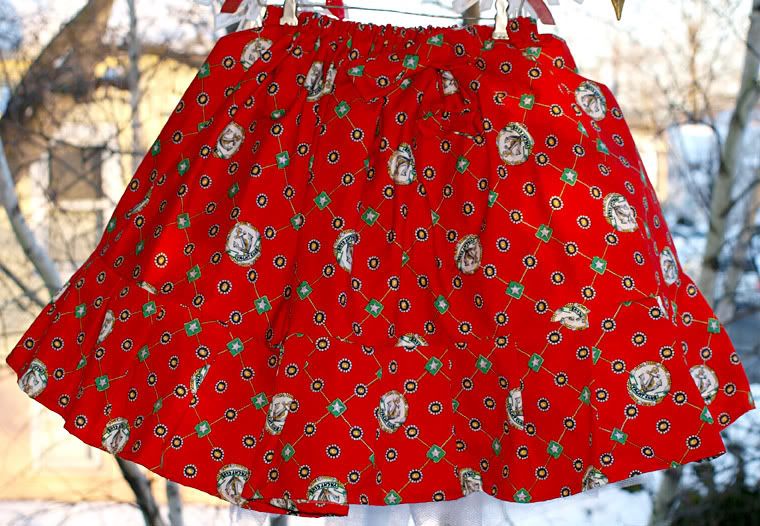 Nice full skirt fantastic for Sailor loli or a fun summer coord, full elastic waist and 2 detachable bows.
Size:
Waist: 28in unstretched (can be made smaller if interested) to about 44in
Length: 22.5in
Handmade by me

~Sold~
Nick & Nora Sweets Print Bustle Back Skirt
$70 $60
Proof: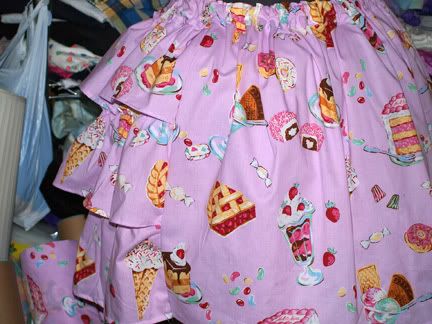 This skirt was a lot of fun to make, so fluffy and pretty! Full elastic waist.
Size:
Waist: unstretched 26in (can be made smaller if requested), stretched 50in (can be bigger but will lose shape)
Length: 22.5in
Handmade by me


Sol Flora 3 tiered skirt
$50 $40
Proof: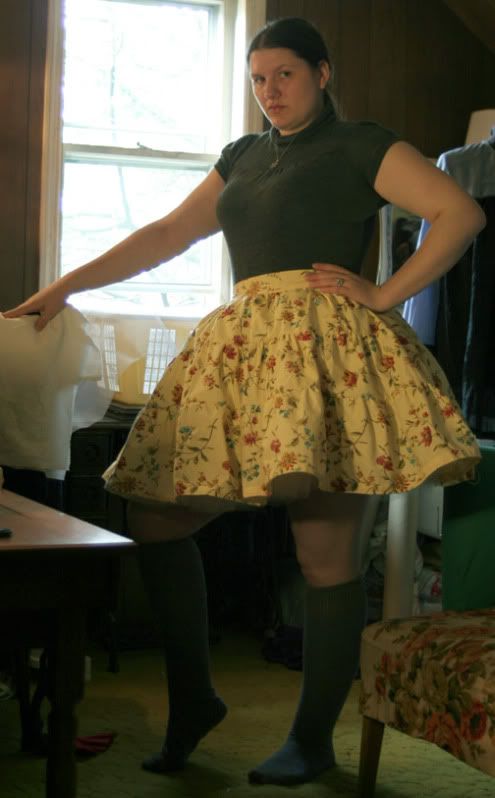 Looks short on me because I always intended to sell it, just put it on for a picture. This fabric is so so pretty, I wish I had more of it to make myself a skirt lol. Half elastic skirt with button at the right side.
Size:
Waist: 30in Unstretched to 36in fully stretched
Handmade by me

Strawberry Charms
See description for prices
Proof: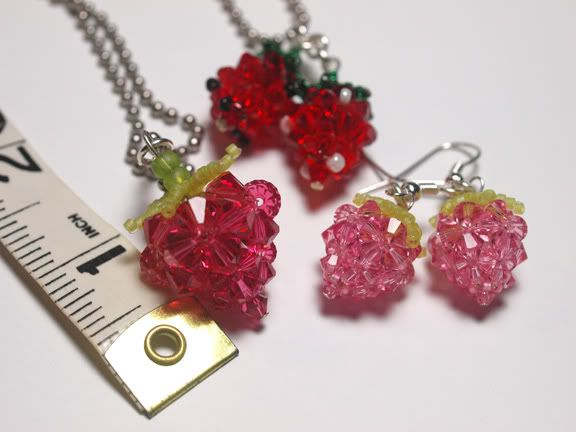 The strawberries are made out of Swarovski crystals
Large are about an 1.25in tall and Small are about 1in tall
I usually sell the berry on a ball chain, Small for $20, Large for $22, pair of Small berry earrings for $35
On a beaded necklace +$10 extra (like below), Giving the berry seeds (like the red ones in the pic) +$2 extra
Colours available: Pink, Red, Light Pink: shown above, Dark Red: shown below, clear and black (not currently shown)
Handmade by me

Dark Red Strawberry Necklace:
$32
Proof: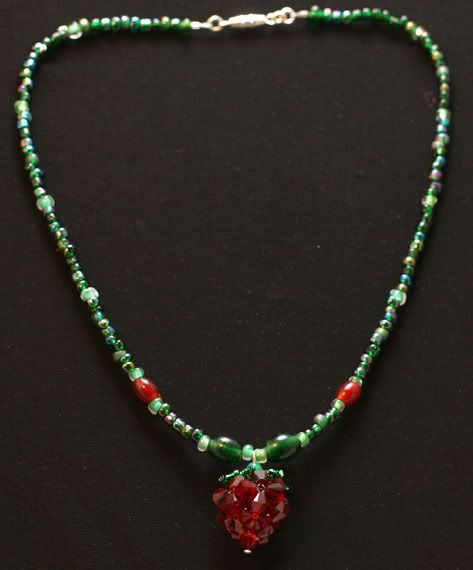 Large dark red

Swarovski crystal

strawberry on a necklace with carefully chosen czech glass beads.
Size: 16.5in long
Handmade by me

Thanks for looking!