Welcome :) ! I really need those gone ASAP

♥Terms of sales:

•I do consider trades, here's my wishlist: http://www.flickr.com/photos/bachelette/sets/72157629773053050/,
•Everything is OBO & negotiable,
•First who can pay get the item,
•I only accept paypal paiement,
•I ship from Canada,
•All my price are in CAD,
•Shipping isn't include in the price,
•I do combine shipping,
•Leave me your zipcode so I can estimate the shipping price,
•My first langage is french, so if you do speak french, it
could be more easy for me :) ,
•I do not charges paypal fees,
• Buyers with allergies, please be aware that I do own two cats,
• All sales are final. No refund.
• I can add pictures if ask.
•Serious buyer only.


Here's my feedback page: http://eglfeedback.livejournal.com/1398135.html




New Itemshttp://i1200.photobucket.com/albums/bb321/mlle_camelia/P2110730.jpg:


IW brown floral JSK On Hold for naviicakes forever!



http://i1200.photobucket.com/albums/bb321/mlle_camelia/P2110730.jpg,
In very good condition, bought Second hand. It didn't have
buttons at the back, so I put two imported from Paris :)
Measurments (took myself, I can't find a lolibrary link)
Bust: 80-90 cm
Waist: 70-75 cm
(maybe more, it has shirring at the back)
Price: 160 CAD$


Loris Trunk SuitcaseSold to cherry_siwi

Lady Sloth skirt, Sold to kai_yukashi



Le Flacon - Amber moon light


Proof:http://i1200.photobucket.com/albums/bb321/mlle_camelia/IMG_20120227_192426-2.jpg

Bought this in Fall, during the reservation period,
Here is the link with more pictures & information:
http://egl-comm-sales.livejournal.com/16526675.html#cutid1
Note: I would say it has more greenish reflect under the lace.
This is the M size:
bust 90 cm, waist 72 cm, length 97 cm
With all the fees it ended up costing me 260$
Selling it for : 190$ (come with the bow & post cards of the brand)



Repost with Reduction,
IW Florence OP
Sold to naviicakes
Proof picture:
[
Spoiler (click to open)
]
Lolibrary link: http://lolibrary.org/node/7129
Measurements:
Bust: 87-96 cm
Waist: 71-80 cm

Price: 80$ Now only 70$
♥Aatp Tartan Set♥,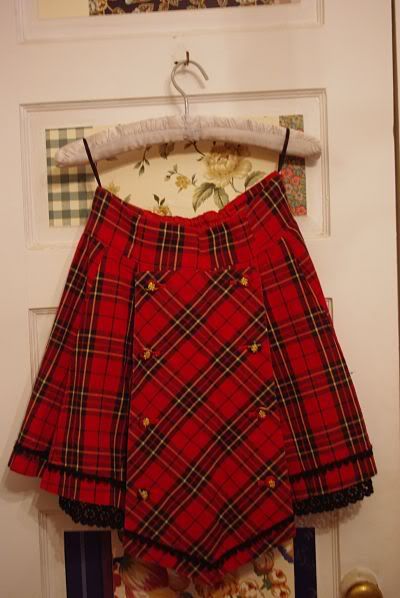 Size,

Top:
Lenght: 51 cm
Bust (well, the measurment under the arms hole, so not really the bust): 86cm
Waist: 78 cm

Note: I won't sell one piece unless I have a buyer for the other one!
The buttons are wonderfull, I can't take a better picture, but there is a gold emblem on each.

Skirt:
Lenght: 43 cm - 53 cm
Waist: 70 cm to 74 cm (has a little bit of shirring)

Price:
200$ Now 180$ OBO (As a reference, last time I saw it on Egl, it was only the skirt & it was 150$. Knowing this is the complete set, yes it is a good price. Still having the link if want proof).
Putumayo Cutsew: SOLD


View of the back:
[
Spoiler (click to open) Back View
]
Measurements:
Bust: 80 cm (Putumayo fabric is always extensible, so it can be more)
Waist: : 75 cm (again can be more)
Price: 60$ Now 48$
Putumayo black Blouse:
Proof picture:
[
Spoiler (click to open)
]
Site link:
http://www.putumayo-home.com/ap-bl/t321.html
Never worn
Measurements:
Bust
: 100 cm
Waist
: 80 cm
Lenght
: 56 cm
Sleeves lenght:
65 cm (21.5 cm Width)
Price
:
130$
Now 106$
(remember that Putumayo need a SS).
Mania-Q bloomers:
Only tryed on.
10$ 8$

♥Btssb shirt/vest:♥
The following picture IS NOT the same model, but the rabbit ears are identic, so it help giving an idea of the back side :
http://s1200.photobucket.com/albums/bb321/mlle_camelia/?action=view&current=Capturer.jpg
My proof picture:
http://s1200.photobucket.com/albums/bb321/mlle_camelia/?action=view&current=P18-11-11_22-04.jpg

Size,
Bust: 84 cm, but can go higher (92 cm approximately). As an example, I am 88 cm & it
Waist: ~75 cm
Lenght: 50cm
Note: Sleeves are detachable, the buttons are very cute.
Price: 100$ 80$ NOW 64$

♥Tenshi Neko Bag♥, Sold to Tiny_Kyuu
♥FanplusFriend Black Coat,♥
[
Spoiler (click to open)
]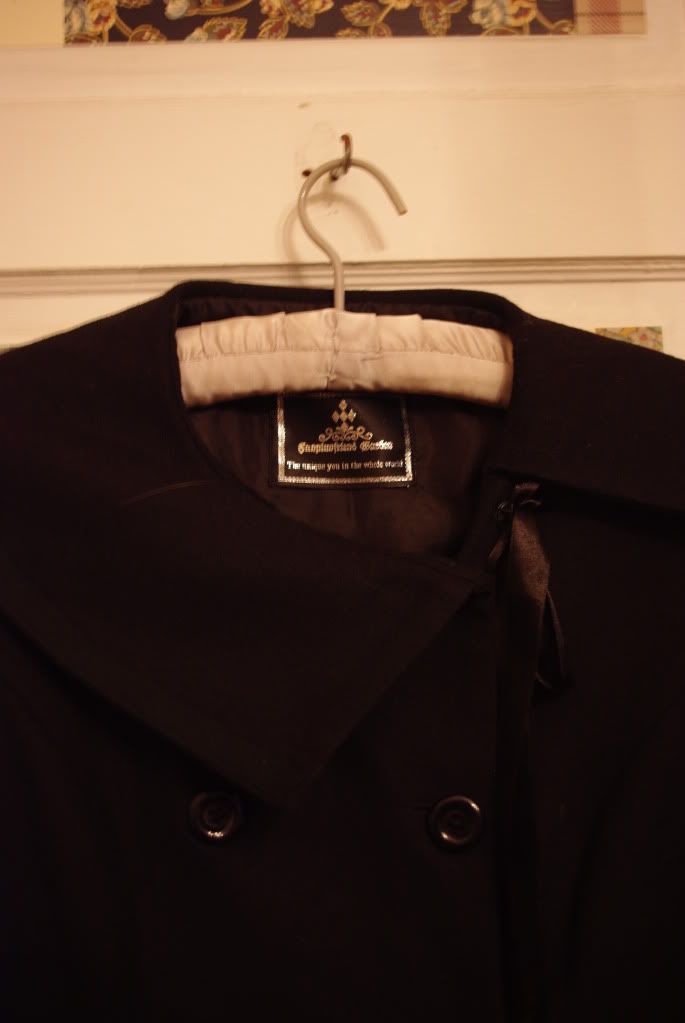 Size,
Bust: max 93 cm (but is lovely for lower bust, I am 88 cm bust & it is very cute).
Waist: 78 cm Maximum.
Lenght: 107 cm

Price: 110$ 88$ NOW 70 $



DT:

VM chiffon dress





Thank you very much! If you had any question or request don't hesitate :)