I am located in Sussex, UK.
I come from a non-smoking home with a dog and a cat, so please keep this in mind if you are allergic!
All prices are in GBP (£). Prices can be negotiable.
I only accept Paypal.
Prices do NOT include shipping.
My feedback is here: http://eglfeedback.livejournal.com/1348847.html

FanplusFriend Sailor Kodona Set: £30
Bust: 19in flat
Waist: 14 1/2in flat
Hip: 21in flat
Bought as a set, but am willing to sell them seperately. A very cute little outfit for sailor/kodona enthusiasts!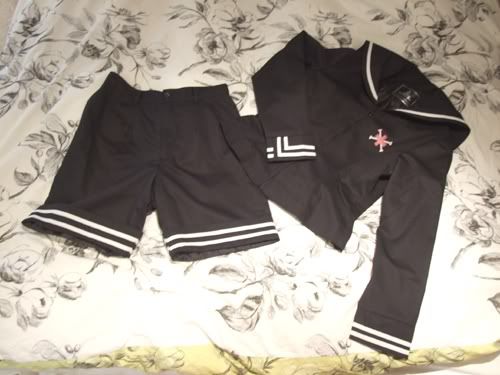 FanplusFriend Mint Chiffon Caplet: £12
This is such a lovely accessory and I'm kind of sad to see it go, but I don' t wear it enough, nor have enough items that will go with it. (I only own one mint dress). So I would much rather it go to someone else. It is a lovely thing to wear in the summer when you want to avoid a cardigan, and covers up the shoulders nicely. Worn only a handful of times. One size fits all.
LizLisa Knickerbockers: £70
Waist: 13-18inches laid flat (has shirring)
Hips: 19inches laid flat
A pair of lovely, fully lined knickerbockers bought from the Liz Lisa store in Harajuku last October for over 9000 yen. Although I love them to pieces, I don't have enough clothes to wear them with and would prefer if someone else made better use of them! There are two button holes in the straps so you can adjust them as you so wish! Only worn three times.
GothicLolitaPunk (GLP) Miniture Bowler Hat: £10
Bought some years ago, very cute and nice for Gothic/Punk cords. It attaches via two hairclips on either side (these can be removed). Will be shipped in the original packaging. Worn twice.

Offbrand Miniture Straw Hat: £4
Bought in Kyoto from an accessory shop. Very cute and looks great with summer/country cords. It attaches via two hairclips on either side. Worn once.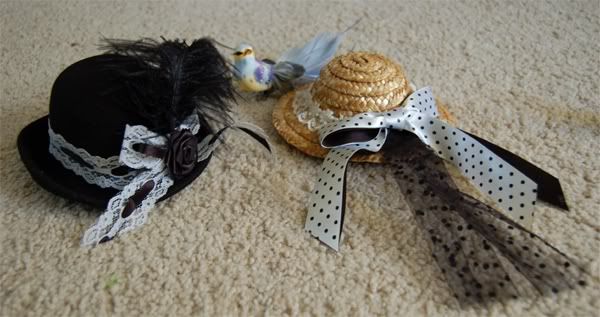 Black Ribbon-laced shoes: £12
Size: UK 5
Bought a few years ago and worn a number of times. Generally in good condition but with some minor wear and scuffing on the heels. Recommended for gothic or classic outfits!