terms of sale:
-Prices are in USD
-Shipping is NOT included
-If you wish to purchase an item please tell me your location/ zip code so I can calculate shipping
-Insurance and tracking is extra, please let me know if you want these services.
-I am not responsible for damaged,lost or broken items once shipped.
-Shipping prices include packaging materials and delivery confirmations (within us)
-Price tags will be removed for all international packages
-I accept paypal only, no e-checks
-Items go to the first person who i agree to invoice, or if it sells on the web store whichever happens first.
-No holds
-No trades, please don't ask
-No local pick up
-I am currently NOT accepting offers. Prices are non-negotiable.
-I am currently NOT shipping to Italy
-I will only ship to the UK fully insured and tracked!(starts at $34)
-Customs fees are the buyer's responsibility
-Invoices must be paid within 24 hours
-I reserve the right to refuse sale to anyone
-If you commit to buy and then cancel the invoice, I will leave you negative feedback!
-Colours may differ slightly due to monitor settings
-All sales final. So ask any questions before you buy!

DO NOT REPOST MY IMAGES ON LJ OR ANY OTHER SITES

*International buyers, if you wish to have your item shipped first class, I will only accept paypal payment as personal payment-gift*

feedback http://community.livejournal.com/eglfeedback/217351.html

** US BUYERS PLEASE USE THE STORE LINKS TO CHECK OUT, IT AUTOMATICALLY ADDS SHIPPING AND YOU DON'T HAVE TO LEAVE YOUR PAYPAL ADDRESS IN A COMMENT.** if you are purchasing more than one item or are an international buyer, then comment here with your location and i can give you a shipping quote.

Angelic pretty petit patisserie wrist cuffs cream
$40
condition:used
SOLD

Angelic pretty dolce tartan skirt with suspenders pink
$100
condition: new without tag
approx measurements: waist 66 cm length 44 cm

SOLD

angelic pretty school march romper
lavender x yellow
$160
condition:used
approx measurements:76cm length, 88cm bust, 83cm waist, 134cm hip, 53cm pants cuff
SOLD

Angelic pretty lace up otk navy
$40
condition: new without tag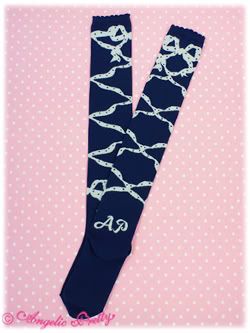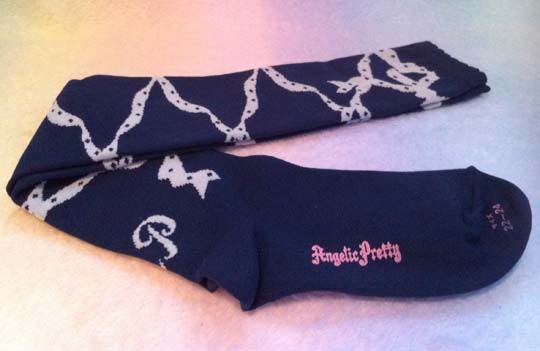 Angelic pretty nakayoshi bunny socks sax x pink
$40
condition: new without tag

SOLD

angelic pretty twinkle ribbon barrette dark pink
$25
condition:used
2 available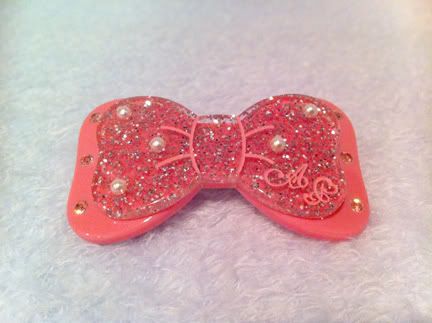 Angelic pretty chess chocolate headbow brown
$85
condition: new with tag

SOLD

Angelic pretty royal chocolate socks mint
$70
condition: new with tag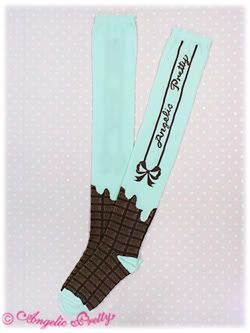 Angelic pretty happy bunny necklace white
$45
condition: used

SOLD

angelic pretty happy garden tote pink
$20
condition:used
approx measurements:20×30×10.5cm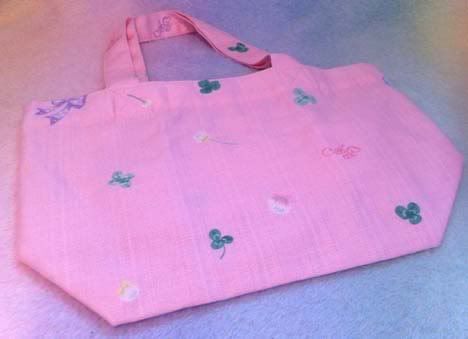 Angelic pretty pony eco tote pink
$25
condition: new in bag
SOLD

Angelic pretty sugary carnival tote black
$35
condition:new without tag

SOLD

Angelic pretty logo mug red
$20
condition: new with box
mug is about 7.5 cm tall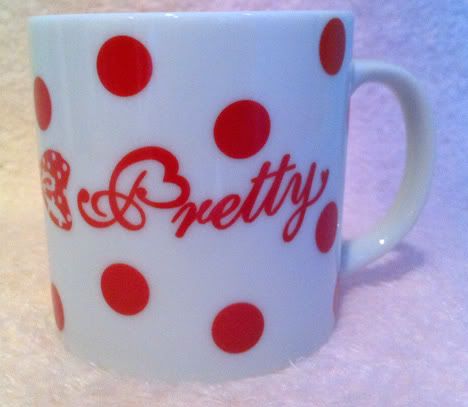 Angelic pretty french cafe cutlery set red
$25
condition: new

SOLD

Angelic pretty wonder cookie headband
white
$43
condition:new without tag




angelic pretty fantasic dolly scrunchie black
$27
condition:new without tag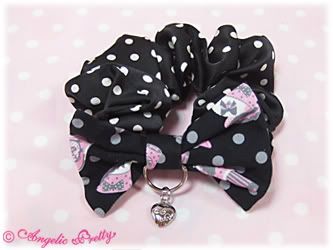 Angelic pretty dream ribbon hair tie pink x black
$30
condition:new without tag

SOLD

Angelic pretty sugary carnival op pink
$390
condition:used

approx measurements:
84.5cm + 3.5cm (lace) length, 34cm shoulder width, 88cm bust, 68cm waist, 17.5cm sleeve length, 28cm cuff
SOLD

Angelic pretty sugary pony OTK socks sax
$65
condition: new with tags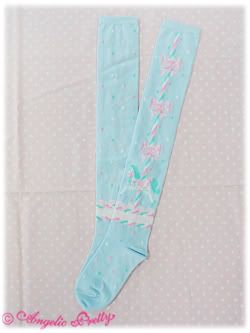 BTSSB usakumya headdress black
$65
condition: new without tag, the ends of the ribbon don't appear to be sealed well

SOLD

BTSSB Baby SSB wrist cuffs white x sax
$45
condition: new without tags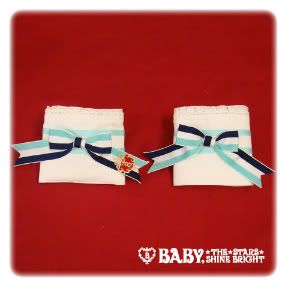 Alice and the pirates Joker pom pom cuffs pink x white
$85
condition: new with tag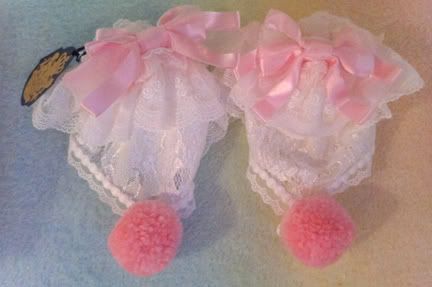 AATP cat heart box white x black
$30
condition:newSOLD

BTSSB chocolate mug
$30
condition: new
SOLD

BTSSB sweet cake heart box
$18
condition:used

SOLD

btssb small hand mirror silver
$25
double sided
condition:used, has a mark on the glass
SOLD

BTSSB bunny slippers cream
$55
they have no size. measuring the bottoms, they are 10" long. i wouldn't recommend them for larger than a US size 8.5
condition: new

SOLD

Metamorphose bow necklace peach
$28
condition: used

SOLD

Metamorphose Butterfly necklace pink x yellow
$43
condition: new without tags
SOLD

Bodyline high waisted ruffle skirt deep plum
$30
condition: used
bodyline size M
approx measurements: top stretches from about 26" to 29" the waist is fairly similar, total length about 21".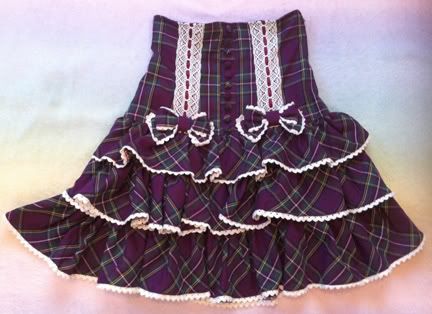 paris kids strawberry hair clips
$10
condition: new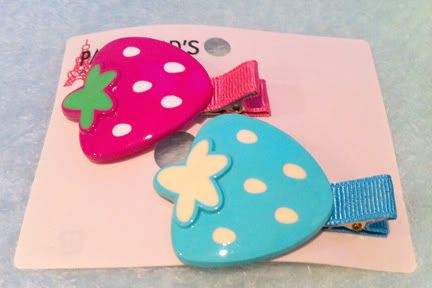 Nine west blue gray collar/ muff set
$50
condition: new with tags, the retail price of this set is over $100
the fur is not real

SOLD

Nine west black shawl/ muff set
$50
condition: new with tags, the retail price of this set is over $100
the fur is not real




Nine west white gray shawl/ muff set $50
condition: new with tags, the retail price of this set is over $100
the colour is hard to describe but its a mix white, and gray fur, with a slightly purple tinted gray satin strap and bow
the fur is not real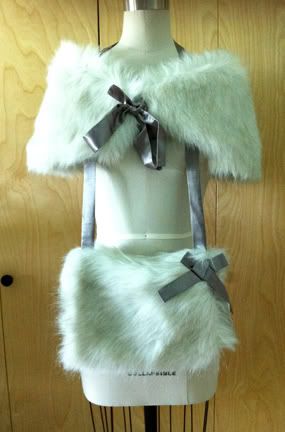 links to previous sales:
http://egl-comm-sales.livejournal.com/18972057.html
http://egl-comm-sales.livejournal.com/18894247.html
http://egl-comm-sales.livejournal.com/18832532.html