~US BUYERS PREFERRED, INTERNATIONAL BUYERS ARE WELCOME
~I ACCEPT PAYPAL, NON-CC PREFERRED
~SHIPPED FROM CALIFORNIA, I PREFER NOT TO MEET UP UNLESS YOU LIVE IN FREMONT
~PLEASE COMMENT FOR A SHIPPING QUOTE IF YOU ARE AN INTERNATIONAL BUYER
~DELIVERY CONFIRMATION IS $1, INSURANCE IS $3 - I AM NOT RESPONSIBLE FOR LOST OR STOLEN PACKAGES ONCE THEY ARE OUT OF MY HANDS
~FEEL FREE TO MAKE OFFERS BUT BE REASONABLE
~TRADES WELCOME BUT PREFER TO SELL
~PM ME IF YOU HAVE QUESTIONS OR WANT MORE PICTURES
~FEEDBACK: http://eglfeedback.livejournal.com/1268477.html


1. h.Naoto Anarchy Purple Tye-Dye Skeleton Angel T-shirt New with tags. Only tried on once. $25 $23 $20 $16 shipped in the US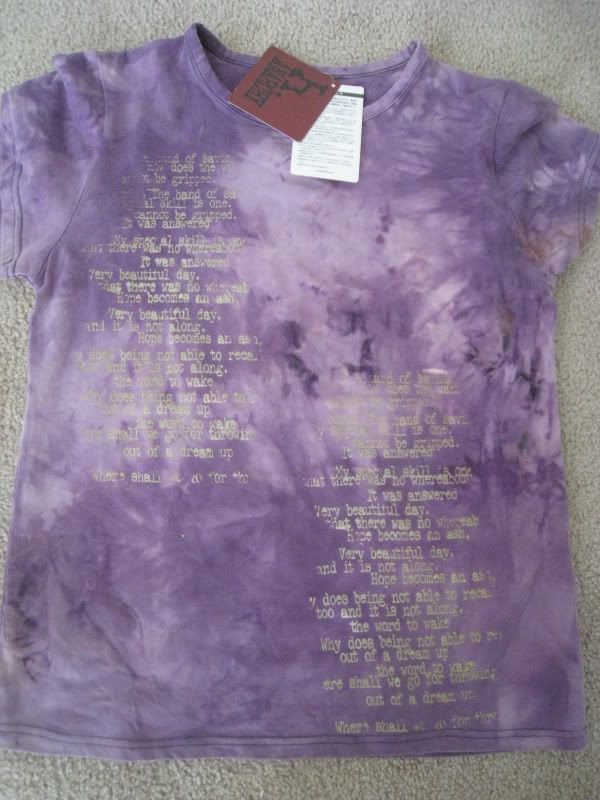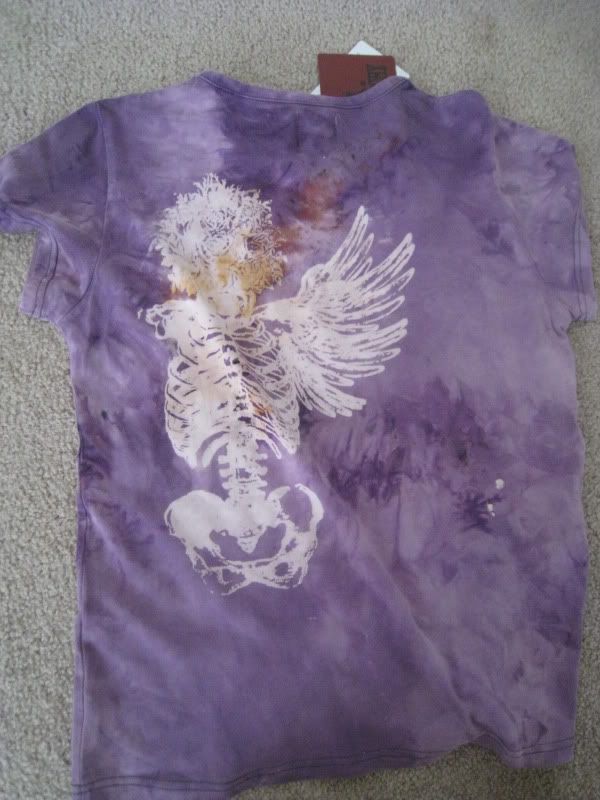 2. Angelic Pretty Lyrical Bunny Knee High Socks in Black New in package. Got directly from AP SF. $25 $23 shipped in the US


3. Angelic Pretty Little Bear's Cafe Salopette in Brown with matching OTK socks in Ivory Salopette in good condition. Worn a handful of times, comes with the donut pin and swatch/button, however I lost the price tag. The OTKs were worn once, with the slightest wear on the bottom but in good condition. $240 shipped in the US for the set.
SEPARATES: $225 for the Salopette with donut pin and swatch/button shipped in the US. $35 for the OTK socks shipped in the US.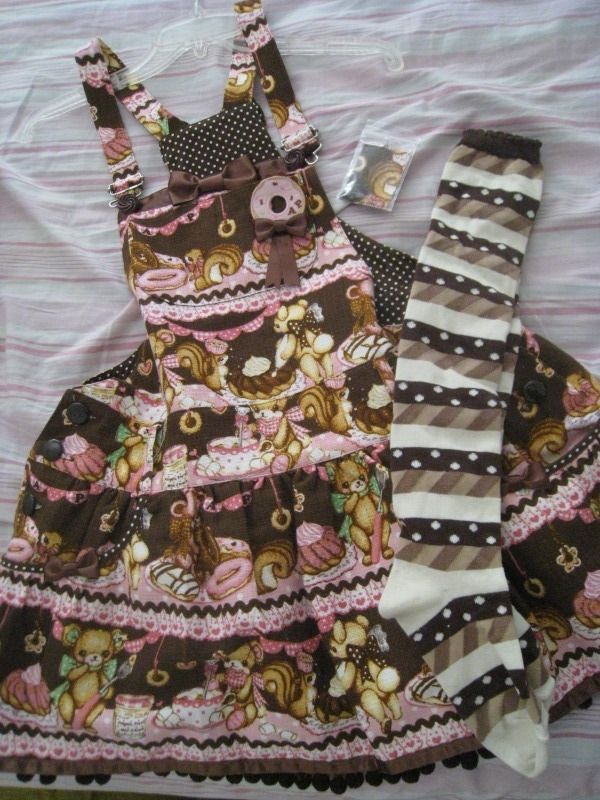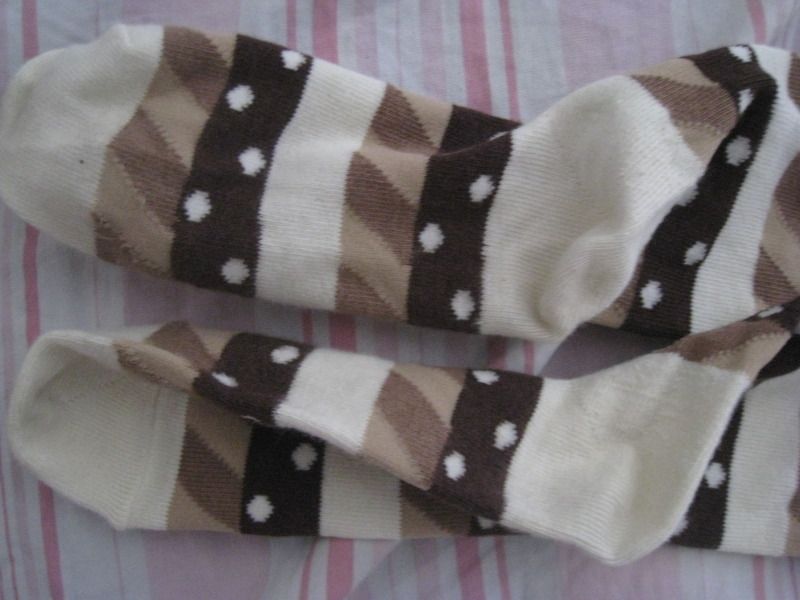 4. Angelic Pretty Merry Making Party OP and Headbow in Yellow Comes with waist ties and swatch/button. The swatch was washed as a test by previous owner so the ends are a bit frayed. I am the second owner and worn it once, overall good condition. I will not split this set unless I have buyers for both items. $280 shipped in the US.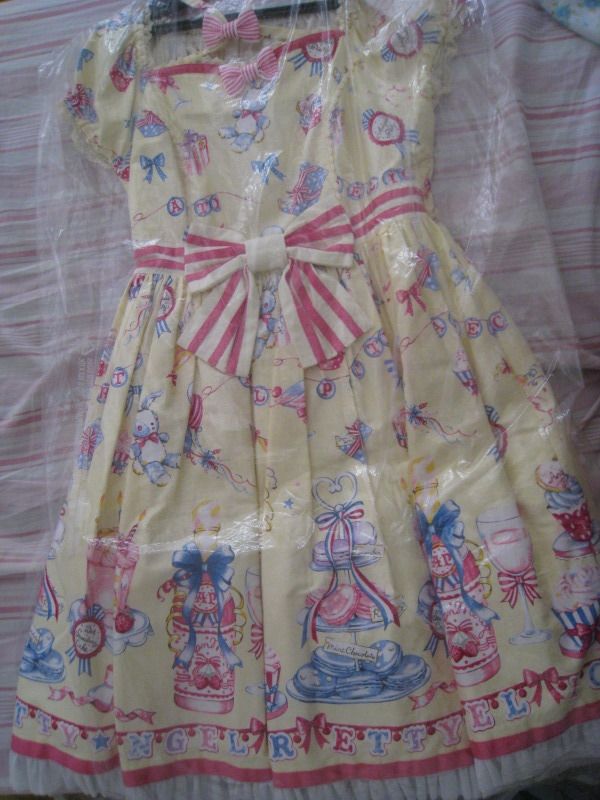 5. Baby, the Stars Shine Bright Secret Cake Factory Shirring JSK in Pink Second owner, tried on but never worn by me. In good condition. This was a dream dress of mine but hate how the shirring looked on me. $130 shipped in the US.


THANKS FOR LOOKING :)