Feedback: http://eglfeedback.livejournal.com/1215447.html
Ebay feedback:http://myworld.ebay.com/murasaki_fuyu
Location: CA, USA
Sorry, I am new seller but I have 100% positive feedback of 191 feedback on ebay!

READ FIRST PLEASE!!!!!!!

Paypal only please!
There are no refunds or exchanges so please ask questions before buying.
I will ship in about two days and please allow up to two weeks for delivery at least.
Serious buyers only please!
No trades this time!
Prices are not negotiable, sorry!
Shipping to USA only please!

DS:

These are from Clobbaonline and have only been tried on! I have not worn them out of the room, so they are in new condition without tags. I am a size US 7 and they fit me just fine with a teeny room in the back. So I would suggest them for anyone sizes US 6.5 to 7.5 (beware that they have straps so they are adjustable) . I also do not have the original box nor the original tags but they are completely unworn.

STOCK PICTURE FROM CLOBBAONLINE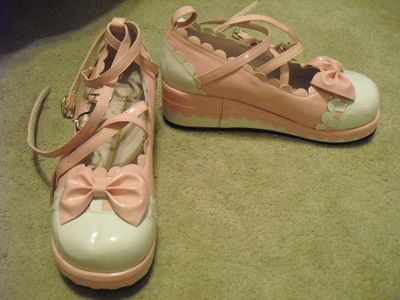 Price: $40 + $10 shipping and fees (sorry, they're a bit heavy)= $50 total (Clobbaonline is about $60 w/ shipping)

Chess Chocolate Ivory Mistake Fabric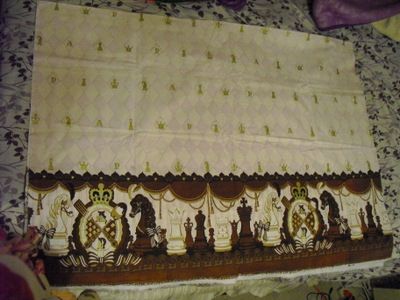 Upside down chess pieces and here is one of the two long white lines on the bottom of the border. This can be easily cut off.

This is the vertical ink stain. I have not try to get it out yet.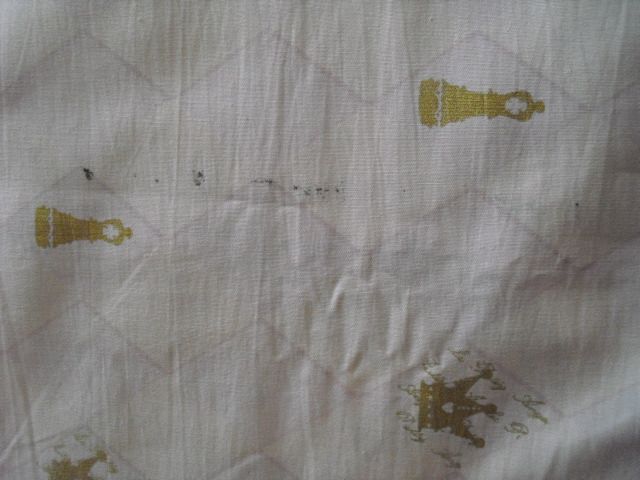 This is Chess Chocolate MISTAKE FABRIC (faded and chess pieces upside down)! I bought these but never used them so I want to let them go to someone who will make good use of them. Width is about two feet and length is about four feet (beginner measurements!!) . WHAT YOU SEE IN THE PICTURE IS WHAT YOU'RE GETTING! On the back, it's plain (not double printed) so what you see in this picture is what is being offered for sale. So there is one border of the chess chocolate on the bottom (as seen in picture and that's it!) I have two pieces of these fabric (both look exactly the same as in the picture); they are both mistake fabric. One has upside down chess pieces and both are slightly lighter (faded) than the actual color. Beware that the faded fabric might have some darker faded spots in random corners than some. Also, the one with the upside chess pieces, there is two long white lines (about couple inches long) that is on the bottom of the fabric below the border (below the chocolate candy bars); this can easily be cut. Also, there is a slight vertical black ink fade pattern on the ivory of this piece of fabric. I got it like this but haven't tried to wash it out yet!

If interested, please ask for more pictures! :) Also, be aware that the ivory appears a bit darker in this picture than in reality (It looks a bit lighter in reality).
2 1 piece available: $20 + $5 shipping+ fees for the piece that is only faded = $25 total
$17 + $5 shipping+ fees for the piece that is faded and with upside down chess pieces = $22 total
(Note the faded, upside down chess pieces, the two white lines on the bottom, and the ink vertical fade mistakes on this piece!!!) Please ask for more pictures if necessary.

(width is two feet by about four feet for each piece so each piece has exactly one border at the bottom and there is no print on the back; shown exactly in the picture) If you want exact measurements, please ask!
Gothic Lolita Bible Volume 9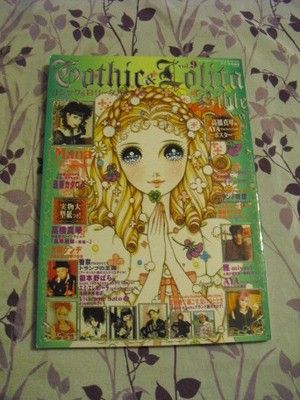 I am the second owner and it is good condition. There are no patterns and it is in English. I was unaware that a few pages were missing when I bought it so please be aware that there are no patterns included and a few pages are missing.
$ 10 + $5 shipping and fees = $15 total
Thank you for looking!