Item condition: Used but in good condition, some items might have small stains or wrinkles
(unless stated otherwise)

Household condition: Smoke-free, I do have cats but their never allowed in my room
(though a stray hair or two may come with your item, please be aware if your allergic).

Payment: Prices are listed in USD (and euros), paypal preferred though I can accept MO's and checks
(I charge no fees for ANY type of paypal and when sending an MO or check it will need to be cashed before shipping)
If you live in the NC area, we can perhaps arrange to meet up in person. In that case shipping is free,
and I can of course accept payment in cash.
All sales are FINAL! No returns/exchanges are offered for any items.
Feel free to make reasonable offers

Shipping: Standard shipping is included in the prices within the US & Canada,
(priority and other shipping methods cost more, international buyers please contact me for shipping prices)
Also I am not liable for any damages/lost items with free or standard shipping,
if you want certainty & peace-of-mind please pay for priority (prices vary for different items).

Time for shipping: I usually ship items 1 to 3 days after receiving payment,
though I never ship on weekends (so if you pay on friday the item will not be shipped on saturday)

Returns/Refunds: I will only accept returns if the item is not what you paid for
(i.e. I sent the wrong item to you), or if it is damaged.
(note I am NOT held liable for damages/lost items suffered during transit when buyers use 'standard' shipping)
You will not get you money back if the item(s) get lost/damaged in the mail when you use standard shipping.
Layaway: sure but only for 3 weeks and I am willing to put items on hold for a week
($20 minimum for 3 week layaway)

Willing to trade: Yes, I am willing to accept partial to full trades, a list of my WTB items is here

My Feedback
Ebay Feedback

All dresses come with a free handmade petticoat!

My proof

Bodyline two piece replica in crimson red
Materials: Cotton with satin lining (only the top is lined)
Condition: Used, I have worn this a few times, it has some flaws due to it's quality (listed below).
It is unwashed, but for some extra I can wash and press this set before sending
(please let me know if you are allergic to any dyes or perfumes so I can use clear and free detergents)
Measurements:
Bust: 34" to 36" (88cm to 91cm)
Waist: 30" to 32" (76cm to 81cm)
Hips: 40" to 50"? (102cm to 127cm?, the skirt can poof out pretty far)
Skirt length: 26" (66cm)
Price: $40 USD (32€) shipping included for the US and Canada (for an extra $5 I can wash and press this item)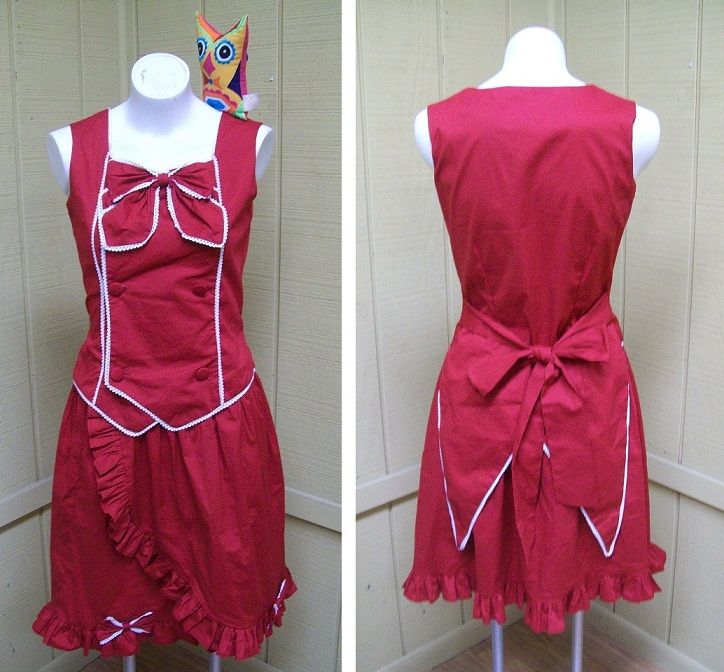 It's a replicated version of this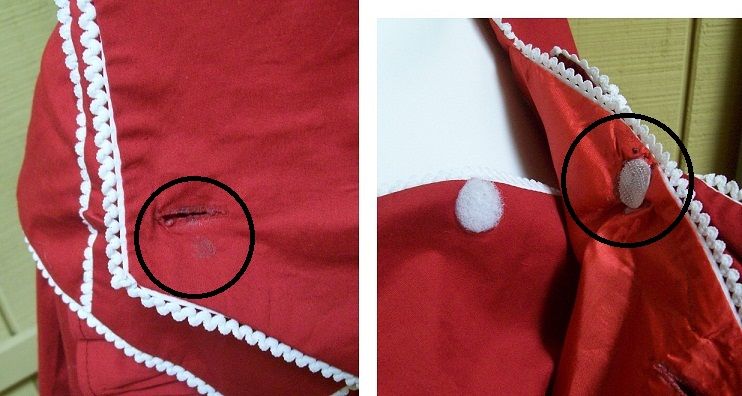 There's some kind of fabric glue or fray stopper used on the buttons holes, and the front of the vest top has some velcro glued on to help hold the chest area up.
One of the bows on the skirt also has some fabric glue on it to hold it down.



Handmade white and ivory wa loli w/ head-bow


Materials: Cotton/poly mix
Condition: Used, I have worn this only once, it has some small stains from a highlighter pen (listed below).
It has been washed and pressed since I wore it.
Measurements:
Bust: 34" to 36" (88cm to 91cm)
Waist: 30" to 55"? (76cm to 140cm? the waist of the skirt is elastic, I'm not sure exactly how far it can stretch)
Hips: 40" to 50"? (102cm to 127cm?, the skirt can poof out pretty far)
Skirt length: 24" (61cm)
Price: $50 USD (40€) standard shipping included for the US and Canada

This was handmade by my aunt, I just don't see myself wearing it as much as I should (the bow on the back snaps onto the belt)
Two small spots, highlighter pen, might come off with stain remover?



Black floral wa loli set


(dress, belt, headdress, leg warmers)
Materials: Cotton/poly mix
Condition: Used, I have worn this a few times, it has some small flaws (listed below).
It has a 'modesty' add-on to the skirt, black crinoline, the bow has been sewn onto the belt
and the headdress has been converted onto a headband.
Measurements:
Bust: 34" to 36" (88cm to 91cm)
Waist: 30" to 55"? (76cm to 140cm? the style is a wraparound, I'm not sure exactly how big it can go)
Hips: 40" to 50"? (102cm to 127cm?, the skirt can poof out pretty far)
Skirt length: 21" (51cm) w/ crinoline
Price: $45 USD (36€) standard shipping included for the US and Canada


Crinoline is a little wrinkled in the back from sitting, I have sewn-in floral wire to keep the bow strait
and I cut-off the lace around the collar

Up-close of the crinoline, and where I sewed the bow onto the belt (one of the snaps came off)
Headress Stock photo On me




Lace finger gloves


Materials: Lace
Condition: New, only worn for photo
Price: $1 USD for each set (1€) standard shipping included for the US and Canada


On hand