Feedback pages:
EGL Feedback - I am a new seller on egl_comm_sales so my current page is rather sparse
Feedback page from personal sales made through my own livejournal
Ebay feedback page (as a buyer)


All items shipped from the UK
Paypal preferred but will take concealed cash in US$ or British £ only.
Happy to accept payment / deliver by hand for lolitas living around London or Surrey in the UK.
All prices are quoted in dollars but I can convert them to your currency using XE.com.
Shipping is not included in the prices. Items are all shipped from the UK. Buyer can choose either Airsure, International Signed For or Airmail. Example of shipping fee (Airmail taking up to 5 days)-
400g packet (a blouse for example) =Airmail: £6.76 ($10.60) to USA / £4.22 ($6.60) to Europe
200g packet (a tie for example) = £4.42 ($6.93) to USA / £3.16 ($4.95) to Europe
Airsure comes with a number for tracking purposes. Items sent through Airmail are sent at the buyer's risk.
Please choose shipping type when enquiring, and I will obtain a quote for you.
Shipping cost will be converted from GBP (UK Pounds) using XE.com
Please make payment within 2 working days upon receipt of invoice.
Items will be shipped within 1 to 3 working days upon confirmation of payment receipt.
Further measurements can be provided on request. Generally however clothing is Japanese size F or UK size 8-10.
I am also able to supply extra photos on request, please let me know
All items come from a non-smoking environment.
Evidence of identity provided by the lovely Cinnamonroll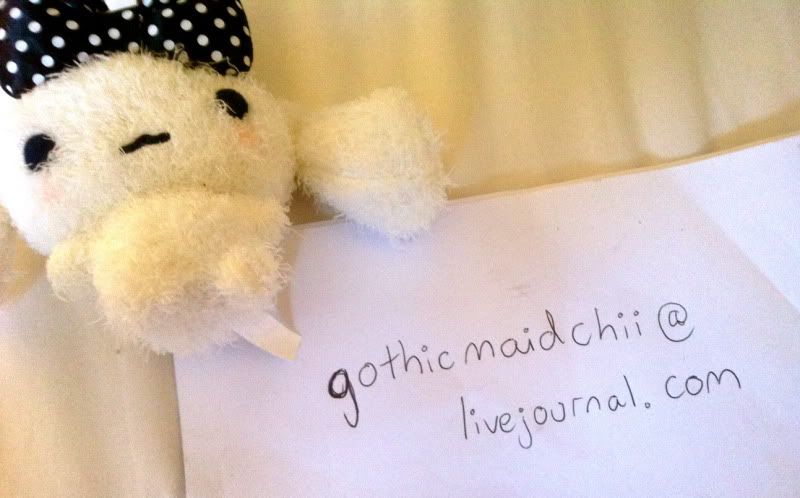 Dresses and Skirts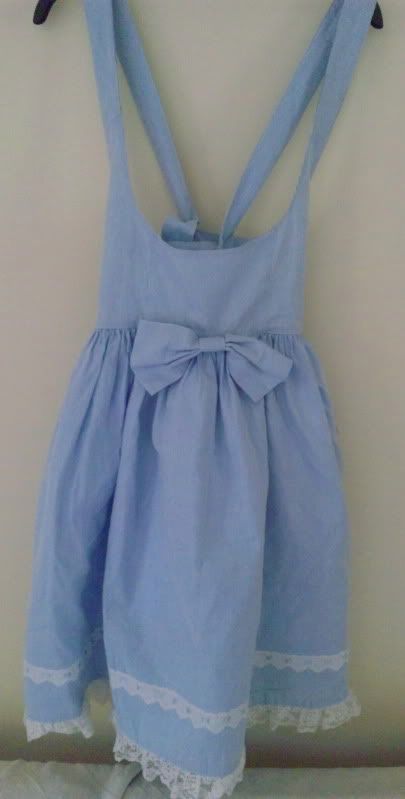 Metamorphose Jumper Skirt - $70

Notes
Cross-back straps, very 'Alice' style
Older design - circa 2005
Good condition - worn once by me to try on, however bought from another
seller. There is a minor amount of stretching to the material, present
when I bought it. I am selling it as I never wear it and it isn't my
style.

Extra detail images: Back / Close up detail of lace and hem / Pulling on material in bodice

Size
UK 8-10
Bust - 84cm
Waist - 66cm-72cm (small amount of shirring)





Maxicimam long skirt - $60
Notes
Comfortable and versatile - great for either punkish or Aristocrat styles
Adjustable strap to make black overskirt longer or shorter
Older design from 2005 - bought from Maxicimam in Japan.
Worn a few times but very good condition

Extra detail images: Hem detail / Screen printed section

Size
Waist - Free size (65cm-100cm)
Length - (I am 175cm and it was the right length on me)

Shirts and Boleros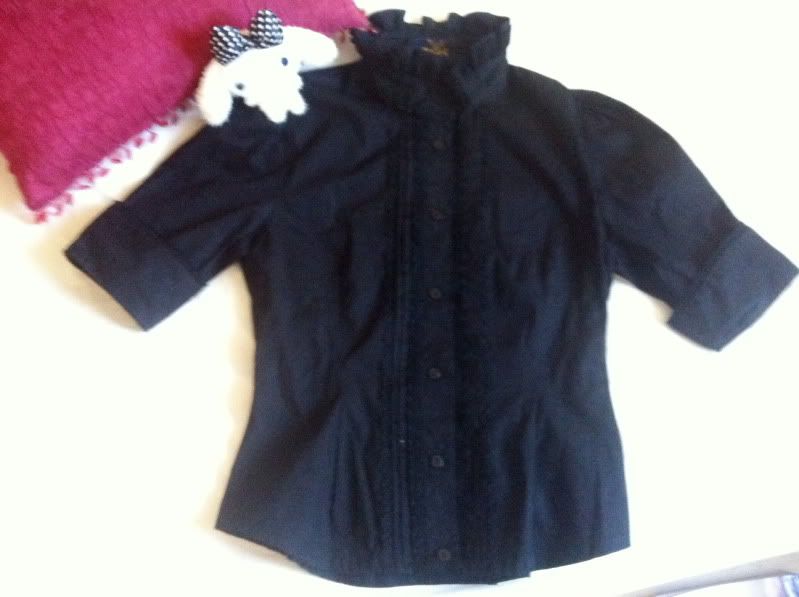 BTSSB Alice and the Pirates shirt - $50
High collar short sleeve black shirt

Notes
Never worn out, only tried on once, unfortunately it does not fit my arms.
Bought in the La Foret sale in 2010 and it was a bit chaotic to try it on instore

Extra detail images: Back

/

Buttons and frills / Cuff / Collar / Label

Size:
Size UK 8-10 approx
Bust - 84cm
Waist - 68cm
Arm circumference (at narrowest point) - 26cm
Arm length from top of shoulder - 29cm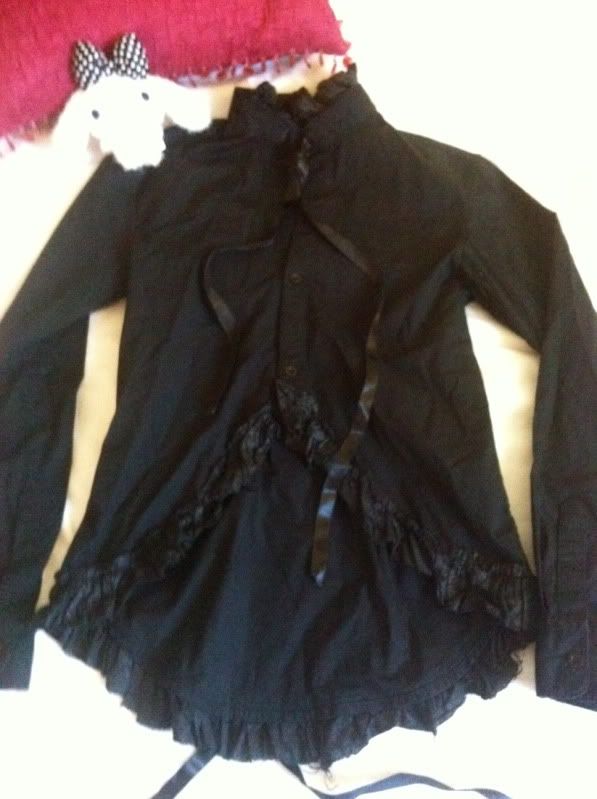 h.Naoto shirt
-
$40
Black cropped shirt
Notes
Older design - from 2005
Short fitting but good for Aristocrat styles
Worn once - I decided it was a little too short on my torso for my liking.
Extra detail images:
Back
/
Top ribbon
/
Bottom lace
/
Label
Size
S - UK 8 approx
Bust -
84cm
Waist -
74cm
Arm circumference (at narrowest point)
- 28cm but has some stretch as elastane fabric
Length of shirt (taken from back)
- 63cm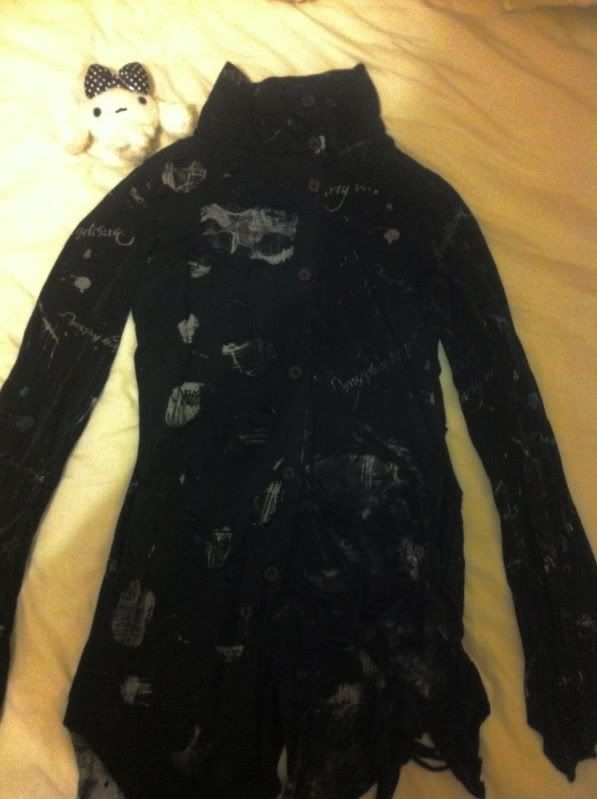 h.Naoto Dark Red Rum Cardigan - $50
SOLD
Mix of h.Anarchy and Blood
Intricate deconstructed gothic punk item, numerous details of screen printing, rips, laces

Notes
Bought in Japan in 2005
Worn a few times but perfect condition

Extra detail images: Back / Hem / Sleeve / Close up of rip/distress detail front / Label / Back collar / Front collar / Back Lacing

Size
Approx UK 8-10
Accessories: Headbands & Ties


Black rose headband - $10

Notes
Bought from Closet Child in Japan - unsure whether branded or not.
Fabric roses and black beading across top, with long black ribbons.
Perfect gothic piece.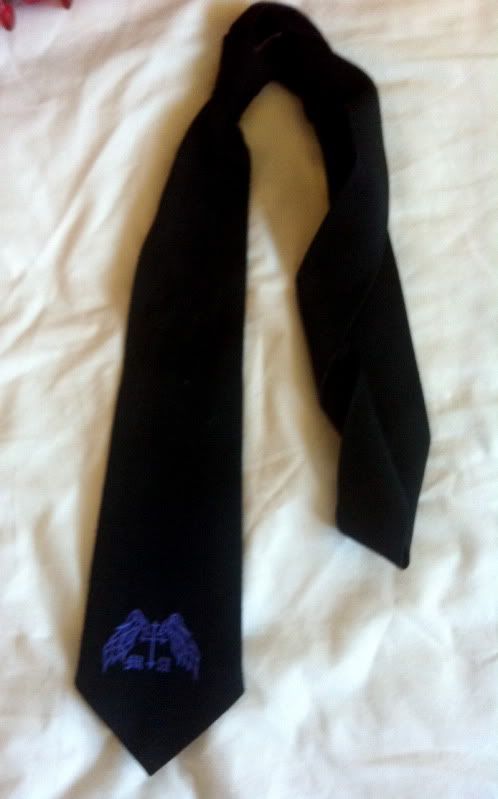 Maxicimam tie - $20
Black tie with embroided M+A logo

Notes
Worn a few times, selling now as I am no longer into punk styles
Very versatile, could almost be worn for work
Bought from Maxicimam in Japan in 2005.



Extra detail images:

Embroidered logo / Label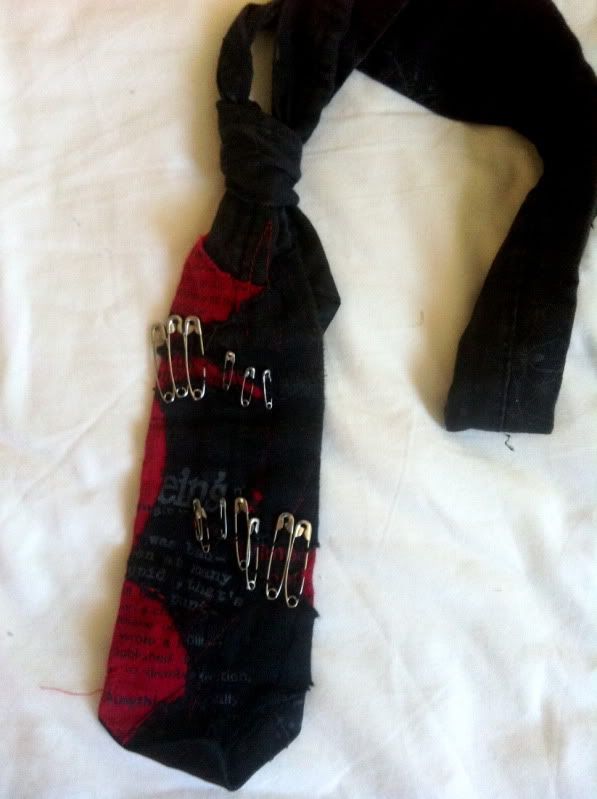 h.Naoto Anarchy tie - $20
Deconstructed punk style tie

Notes
Worn a few times, selling now as I am no longer into punk styles
Bought from h.Naoto in Japan in 2005.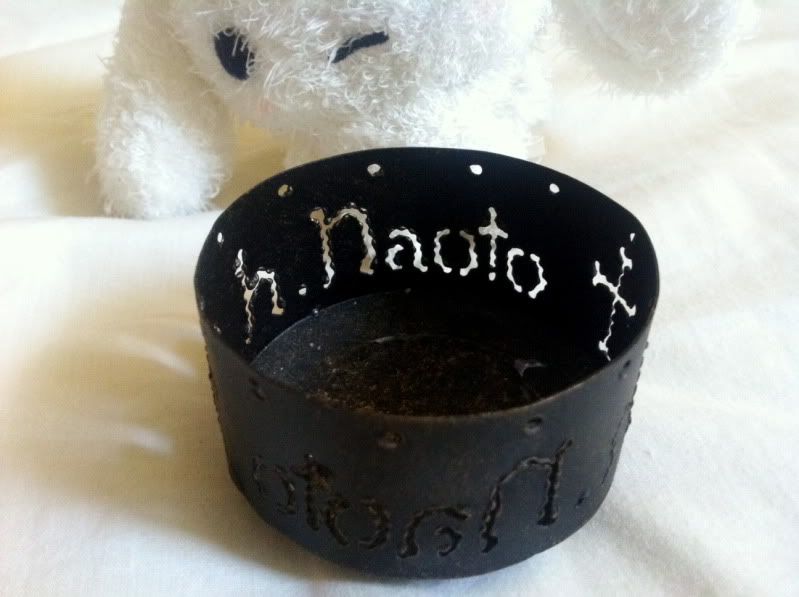 h.Naoto Metal Candle Holder - $20

Suitable for a small tealight candle
Bought in Japan in 2008
Extra detail images: Straight on / Illuminated