myfeedback- http://eglfeedback.livejournal.com/1648991.html
Hello! I'm looking for some wristcuffs. Perhaps you can help? I am looking for these in particular-

Petit Patisserie Wristcuffs (in brown)



Melty Chocolate Wristcuffs (in mint/brown)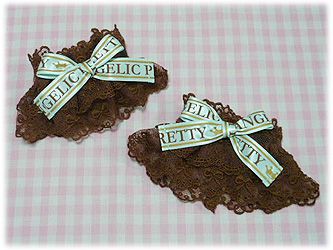 Royal Chocolate Wristcuffs (in mint, brown, or ivory)



Please feel free to make me an offer publicly on here, or privately through a message!
I'm not really limited to these, though. If you have any other wristcuffs that you think would suit this style (browns especially, mints and golds too), let me know!
Thank you so much for takng the time to read and consider this! I appreciate it!