Hi, here a few things I have for sale ! Please don't hesitate to ask questions, I'd be glad to help you ^^
- Payments are to be made by paypal (in € currency if possible, 0,25cts +3,9% fees), bank transfer or checks for french people
- Shipping fees are not included in the price unless I say so. It will be my pleasure to let you know the several methods of shipping you can choose and their prices ^^ I'm not responsible for lost packages
- No trades please, I'll accept holds depending on the feedback of the person and with a non refundable deposit for a limited period. Payment plans are accepted on items worth more than 100€
- First person to leave her paypal address gets the item, but leaving the paypal address means you're actually willing to buy the item. If you have questions, ask them first ! I'll treat every offer depending on their time of arrival.
- Item goes to the best offer
- I don't smoke but have a cat which doesn't come near my clothes. I'll remove the cat hair anyway in case there are some on the clothes, it happens sometimes.
- I'll try to reply to your questions as fast as possible but live in a different timezone (France) so I'll do my best, please be patient ^^
- I have many positive feedbacks here !

Baby "Sweet Gingham Border Ribbon" Babydoll JSK in offwhite/red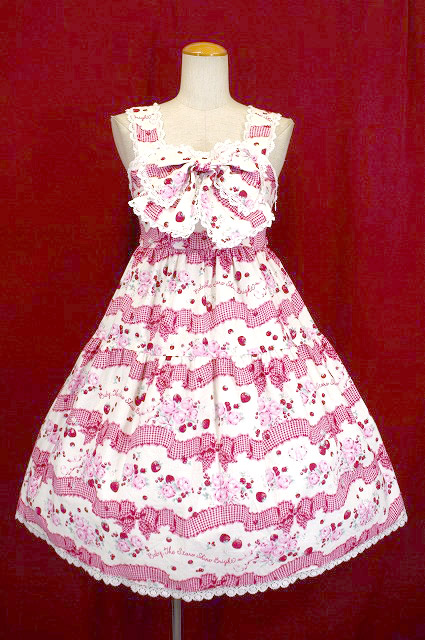 [Proof Picture]
Bought off Closet Child, worn only once, I love it very much since it's one of those rare berry prints which are not against striking white color, this one has an off-white color background and looks less sweet that way. It's perfect for summer and super comfortable, it would work well with a denim jacket as I was planning to do too *_* The dress has back shirring, from 85 up to 98cm bust and from 76 up to 90cm waist (empire waist). 94cm long. 130€
Angelic Pretty "Fancy Box" skirt in navy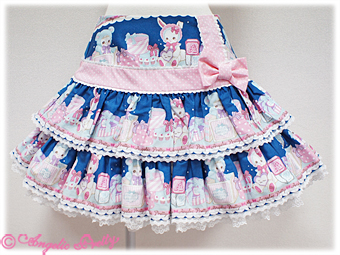 [Proof Picture] [Picture Worn]
I'm the first owner of this skirt and have worn it only once. As much as I love everything about this skirt I can't wear it as often as it deserves because it's too sweet for me now. Low waist skirt with elastic, from 65 to 72cm waist, 46cm long + 3cm for the lace. 120€ paypal fees and priority shipping included worldwide