Welcome to my sales post :)

- I ship from Canada
- Prices include shipping, with tracking, to Canada and USA. I prefer not shipping overseas, it gets very costly. :(
- Prices are in USD and do not include PayPal fees (unless "Gift" payment is sent)
- Feedback: +60
- Offers considered, but priority goes to whoever can pay full price immediately

1. ane x imoto blouse

A indie label blouse purchased from the community that's too big for me. =_= Comes with detachable sleeves! The blouse is well made, although there is some slight discolouration that's very unnoticeable when worn.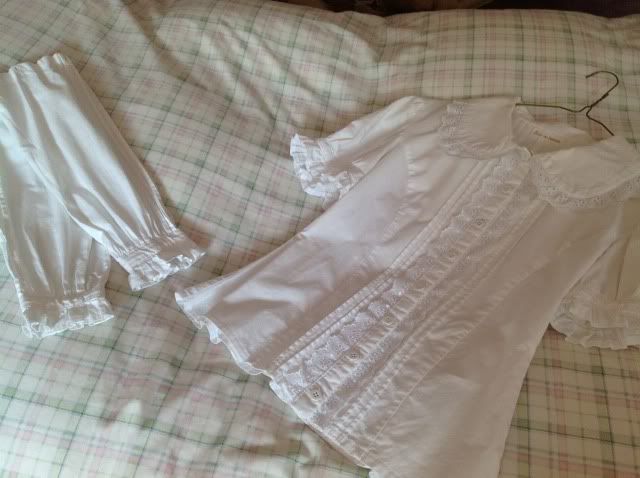 front, with sleeves | back

FLAT measurements taken by me
armpit-to-armpit - 17.5''
waist (at the most narrow part) - 15''
arms - 5.5''

price: $50

2. AP Lady Rose Skirt with bustle back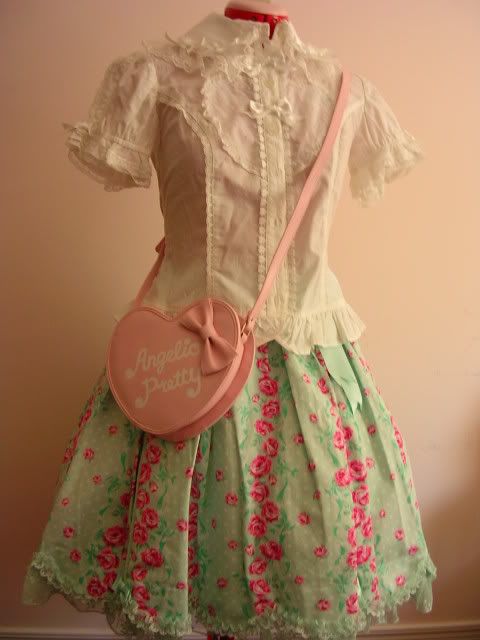 (bag + blouse have been sold)
back

The picture above was taken under natural lighting, so that reflects the true colour. It's a very vibrant print with soft beautiful lace. The skirt is new and has only been tried on. I just can't pull it off as it's too OTT for me now. ~_~ Comes with the fabric swatch, waist ties and a free mini tote bag (picture here - it's one of those small bento bags with no lining; it came free with the skirt when I bought it, so it will not be sold separately.)

Measurements per HelloLace : length 46cm + 2cm, 63~75cm waist.

price: $160

3. Btssb Plaid jumperskirt




worn picture | small flaw, near center | lace panel inside | back

Bought used, some imperfections as noted above. A button was resewn for the lace panel inside (which you can't see since it's inside!). There is no shirring but fits me well (34'' bust, 27'' waist); I have a lot of wiggle room. I think it's roomy so you can fit a blouse underneath. The shoulder straps have elastic so I think that makes the sizing more comfortable if your bust is larger, though I cannot give a max measurement. :(

Flat measurements
armpit-to-armpit - 17'' (please note, it was hard to get a "flat" measurement because the bust portion is not totally flat itself and sticks out a little bit if that makes sense :S)
waist - 14.5''
length -34.5'' (from shoulder strap, to bottom including lace.)

price: $70

4. Liz Lisa-replica boots - SIZE euro 36 / US 5.5-6/ Black Colour




I bought two pairs of these from taobao after seeing them in the community in the different size and falling in love with them. x.x I am selling the black pair as realistically I won't have that much opportunity to wear both the brown plus back. The boots come with the ribbon lace. The boots came to me folded so that's how they will come to you, but after you lace it up on your legs, they look just fine. ^_^ Your pair is new and has not been tried on at ALL (they're not even laced up yet.) They're about 22'' high - so they're supposed to be over the knee, but may or may not be depending on you. For sizing - I told the seller my feet were about 22cm (maybe a tiny bit over, but closer to 22cm than 22.5, and this was the size recommended for me, and it fits great.)

my proof photo - selling the BLACK vers. - here

Taobao link - http://item.taobao.com/item.htm?id=12869294544

Price: $60 (prefer not to ship these overseas.)

5. AP candy denim skirt with suspenders - blue colour

Worn once; I'm the first owner. The two straps are removable (or you can hide them or leave them on the side!) and you can adjust the length of it as well. There are hidden front and back pockets. :) (I noticed I hid the suspenders when the picture was taken, but they are definitely included.) I think the skirt is meant to sit on your lower waist (or at least it did for me.)




Hellolace for measurements and stock photos: http://hellolace.net/wardrobe/angelic-pretty/type/skirt/item/270/

Price: $100