I am located in London, UK.
I come from a non-smoking home with a dog and a cat, so please keep this in mind if you are allergic.
All prices are in GBP (£).
Prices can be negotiable.
I only accept Paypal.
Prices do NOT include shipping.
My feedback is here: http://eglfeedback.livejournal.com/1348847.html

I have recently moved into a flat in London, and sadly all my money went into the deposit and rent, so I am selling a few tidbits to keep me going until payday!

FanplusFriend Sailor Kodona Set: £30
Size: 12 UK (According to F+F website)

The size says size 12 since that is what I ordered from F+F and while the jacket fits me fine, I have slightly larger hips than a usual size 12 and so the shorts can be a little tight when I sit down, so I would perhaps recommend this for someone of a slightly smaller size, just to be on the safe side. Only worn once!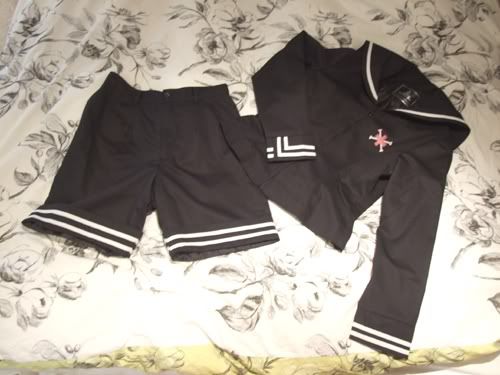 FanplusFriend Mint Chiffon Caplet: £15

This is such a lovely accessory and I'm kind of sad to see it go, but I don't wear it enough, nor have enough items that will go with it. (I only own one mint dress). So I would much rather it go to someone else. It is a lovely thing to wear in the summer when you want to avoid a cardigan, and covers up the shoulders nicely. Worn only a handful of times. One size fits all.
Bodyline Blouse: £18
Size: M (according to Bodyline website)

I've decided I don't really enjoy wearing blouses with Lolita, and as such have barely worn this at all. (Only a couple of times) and would prefer if it wasn't just sitting in my wardrobe unused. Unfortunately, one of the buttons fell off one day and I lost it, however I have replaced it with another button (pictured).