Kindly read the following before commenting
Please pay by Paypal. Local buyers can pay by bank transfers.
I shipped from Singapore.
All prices are in SGD and includes shipping with TRACKING AND PAYPAL FEES.
Should you wish to know the price in other currency, please use paypal exchange rate to get an estimate.
Priority goes to local buyers, buyers with the highest offer, first to pay me - in this order.
No trades or refunds please
Measurements listed are taken directly from webshops or measured by myself

My feedback page as follows.
http://eglfeedback.livejournal.com/1709251.html

Item 1- ACDC Rag Kitty Dress

SGD 70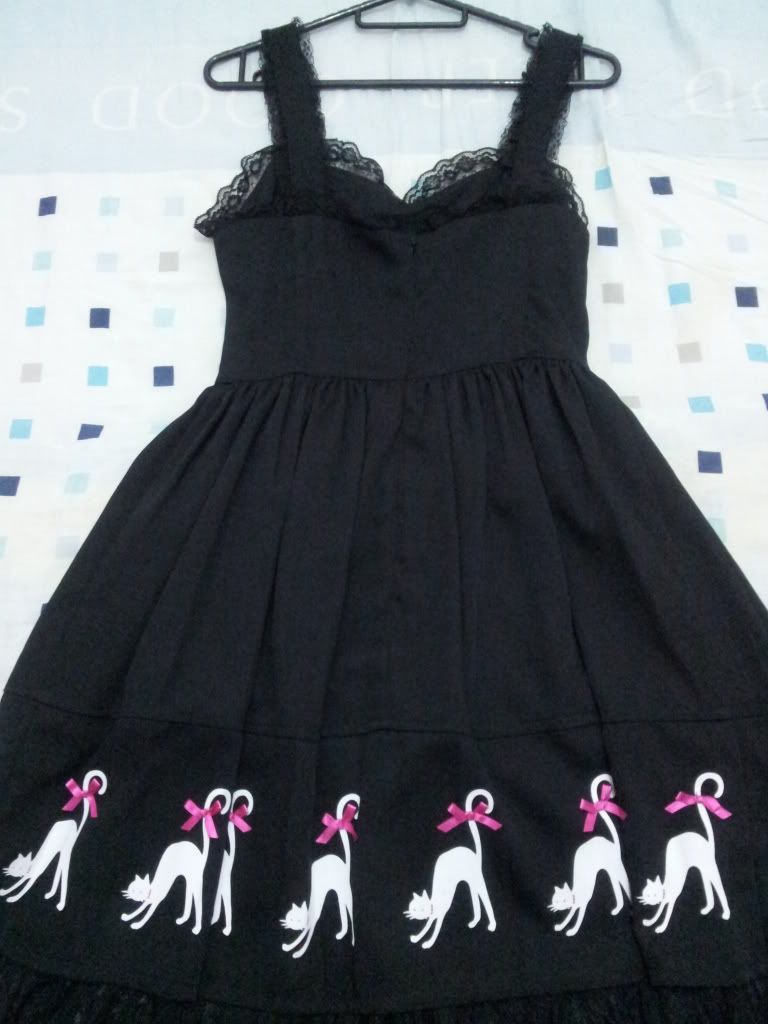 Lace at strap - http://i1168.photobucket.com/albums/r487/Jeanie_Goh/2012-03-04011657.jpg
Furry kitty detail with real bell as collar - http://i1168.photobucket.com/albums/r487/Jeanie_Goh/2012-02-29225716.jpg
2 additional layers under dress - http://i1168.photobucket.com/albums/r487/Jeanie_Goh/2012-03-04011644.jpg

Measurements of dress: 88cm + 5cm (frill) length, 86cm bust,72 cm waist

Materials of dress: Cotton and others

Additional Information: Worn 3 times, in good condition. Can be worn with or without blouse underneath.


Item 2 - Bodyline Wa-Loli style Yukata (WhiteXRed Butterflies)

SGD 80




Me wearing it during an event
http://i1168.photobucket.com/albums/r487/Jeanie_Goh/1389_50210326994_704446994_1836400_7885_n.gif

Measurements: [medium size]
*Jacket
Length 46cm
Bust 90cm
Width of the shoulders 51cm
Length of a kimono sleeve 52cm

*Skirt
Length 38cm
Waist 58-78cm

Materials: Cotton and others

Additional Information: Worn twice, in good condition. Consist of Kimono top, skirt and oobi. Shoes and socks not included.


Item 3 - BTSSB short-sleeve rose lace blouse (pink)

SGD 90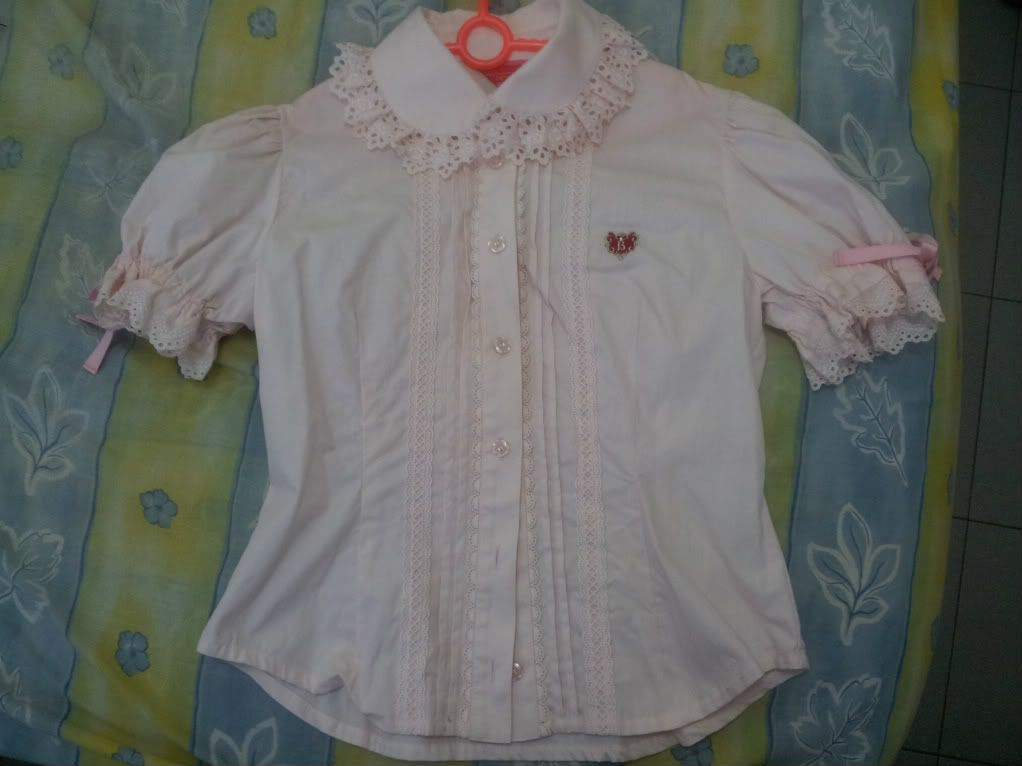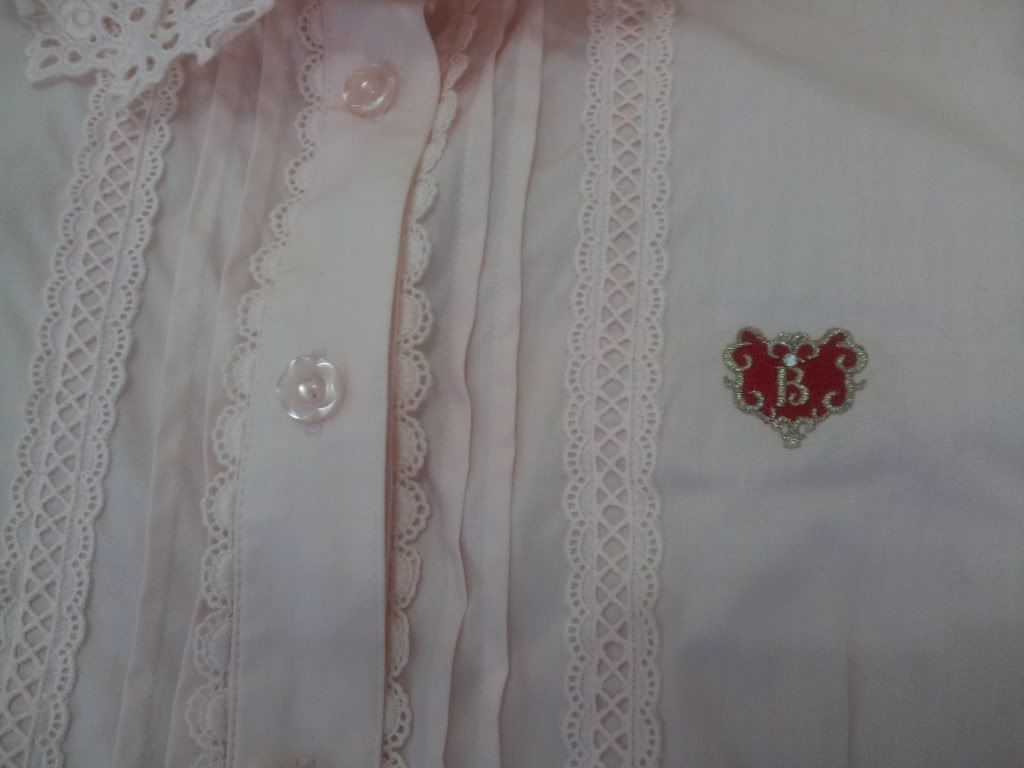 slight yellow stain - http://i1168.photobucket.com/albums/r487/Jeanie_Goh/2012-03-04160344.jpg
black stain at bottom - http://i1168.photobucket.com/albums/r487/Jeanie_Goh/2012-03-04160440.jpg

Measurements:
Length:61cm
Shoulder:38cm
Bust:90cm
Length of sleeves:23cm

Materials of dress: 100% Cotton

Additional Information: Worn only once, however there is a slight yellow stain on the collar as shown in photo and a black stain at the bottom of the blouse as shown in picture. Not sure from where as I just saw it when I took it out of the wardrobe


Item 4 - Bodyline puppy print skirt in WhitexPink

SGD 50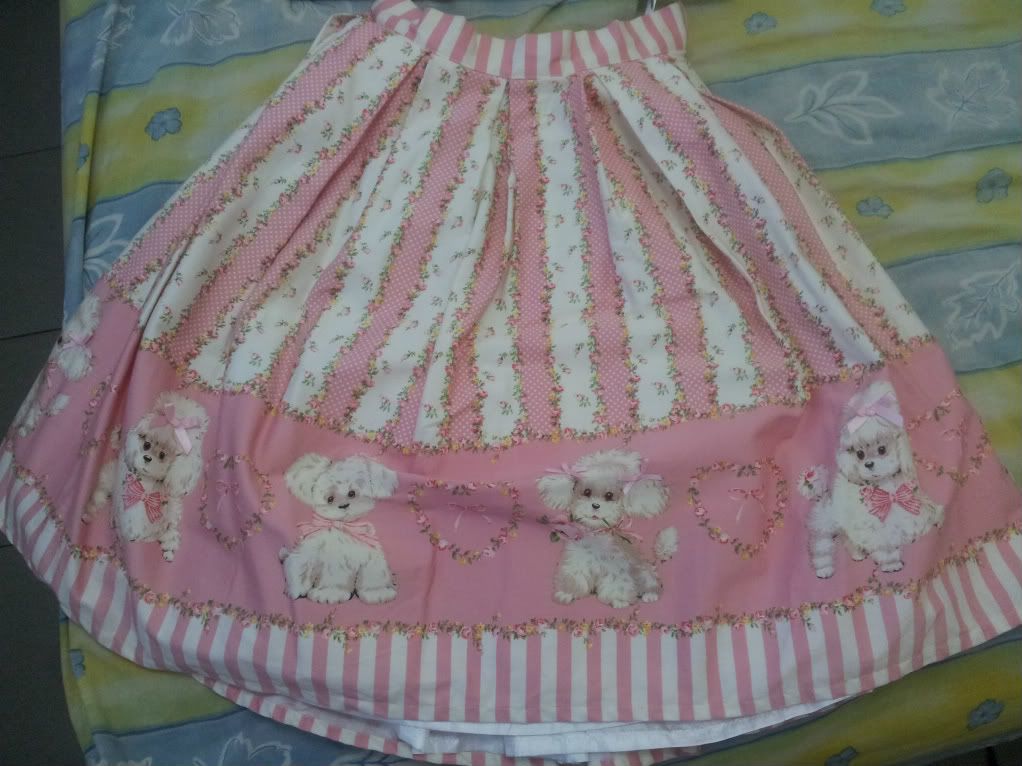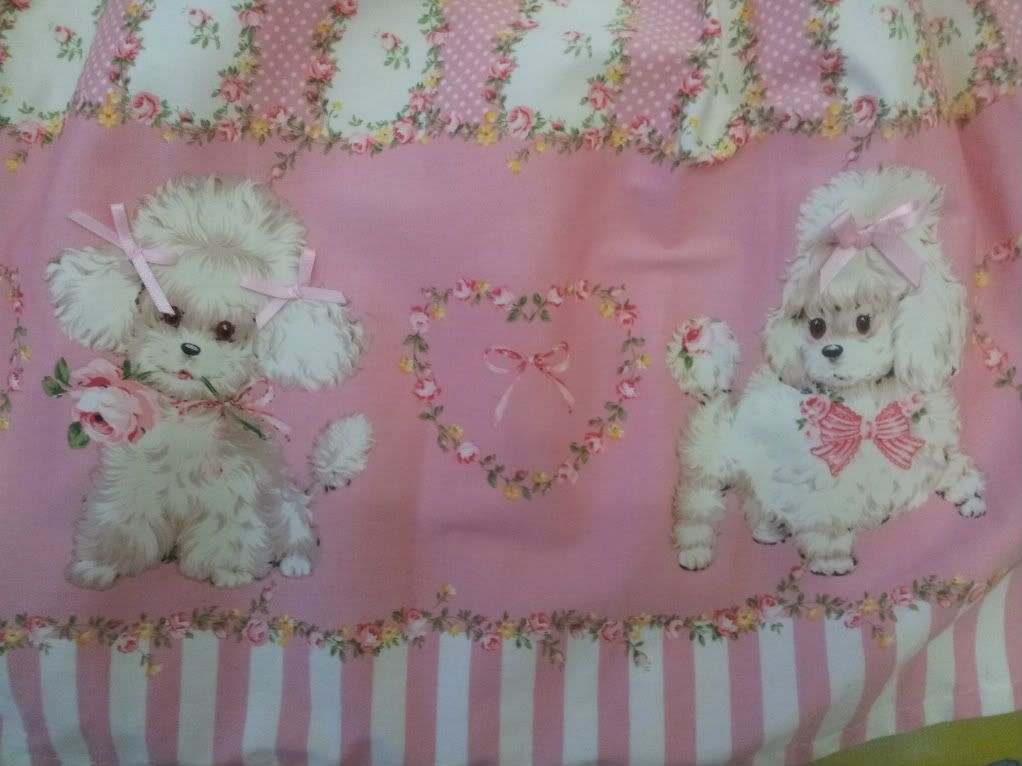 inside skirt - http://i1168.photobucket.com/albums/r487/Jeanie_Goh/2012-03-04162214.jpg

Measurements: Length 57cm, Waist 62-69cm

Materials: 100% Cotton

Additional Information:Worn once


Item 5 - BTSSB Petite doll JSK (black X white)

SGD 100

SOLD!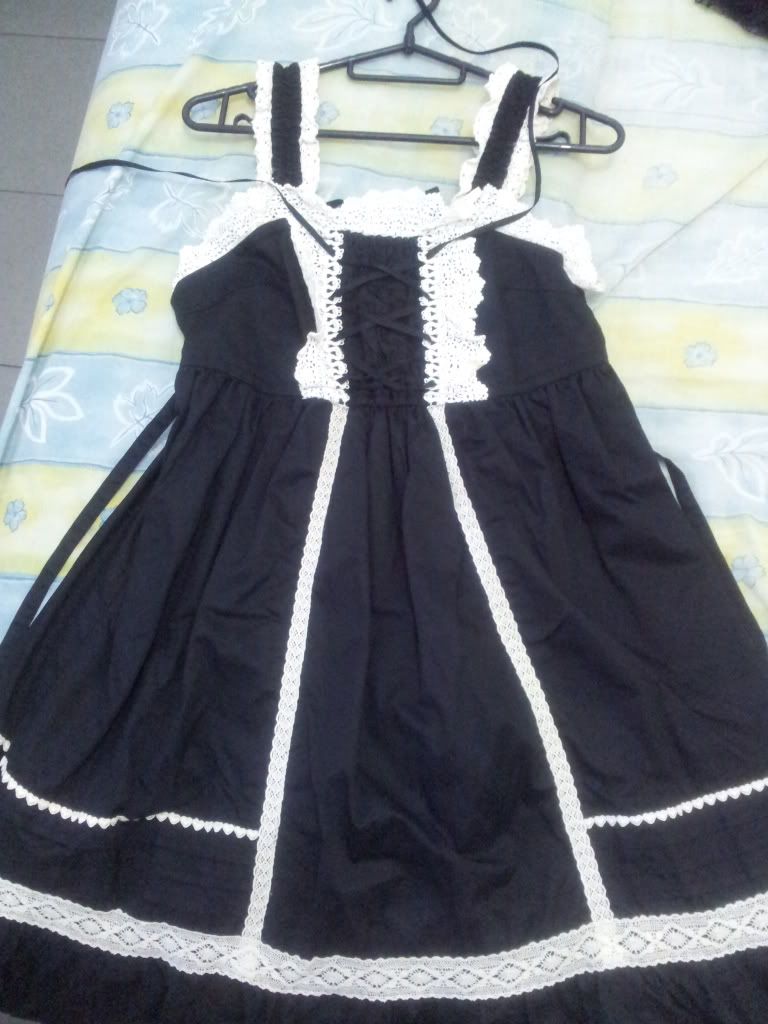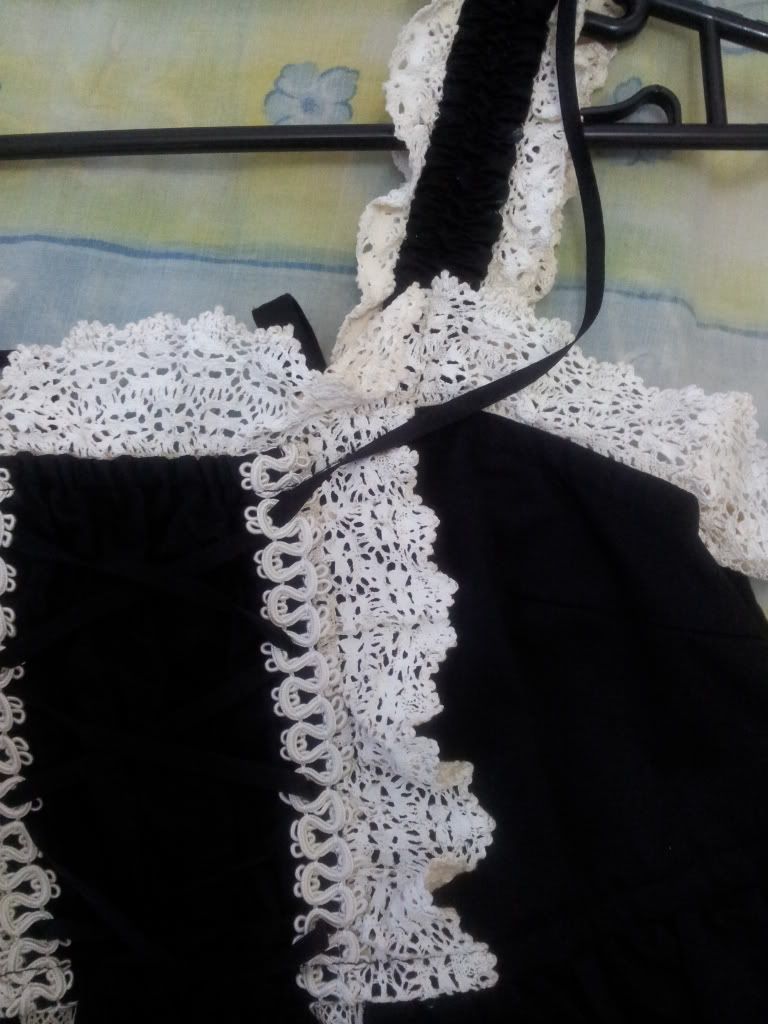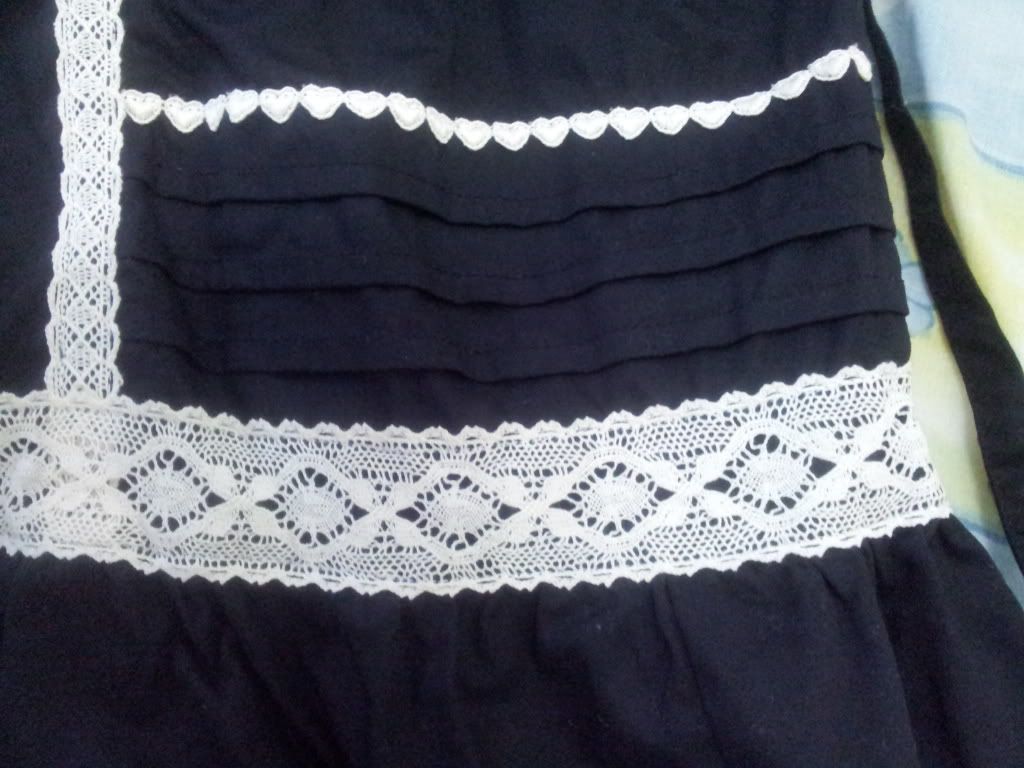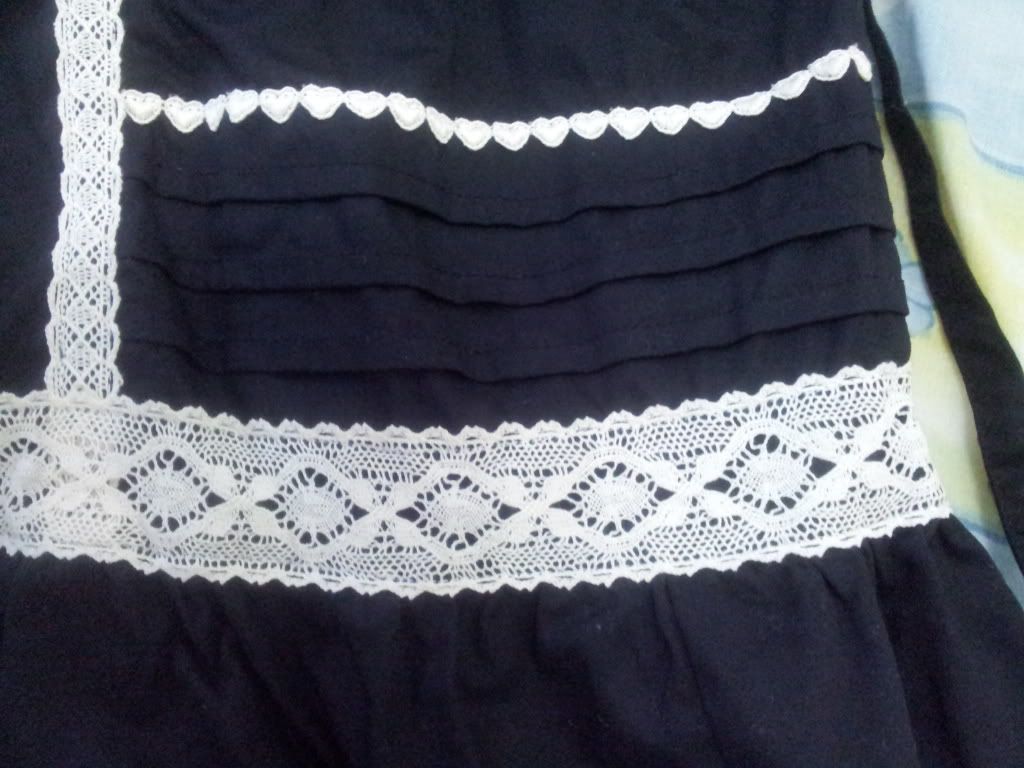 Measurements: 98cm length, 80cm body width

Materials: Fabric (100% cotton), lining (100% polyester)

Additional Information: The dress has front and back shirring.This was my first Loli dress. Bought it 2nd hand in perfect condition until I wore it once and handwashed it afterwards!
The black colour of the dress stained the white lace. Used colour run remover and even used white fabric paint to paint the lace which makes it less noticeable(pls see photos). However if you are a fabric/DIY expert, you can dye the whole JSK black and make it into Petite Doll JSK in black. If not, you can wear a cardigan over it.