100% positive feedback here:
Rules:
-Paypal only, unless you live in the Triangle area of NC, in which case we can meet up and I'll accept cash/check
-Paypal fees are included in the price. Shipping is not unless mentioned otherwise.
-I do have cats, and I do have contact with the cats while wearing the clothing. I have cleaned everything but the corset, and they are kept separately from the other garments, but just as a precaution if you are very allergic to cats I suggest you do not purchase from me.
-I will not sell to people with zero feedback unless I have priced the item under $20.
-Unless you specify otherwise, I ship priority mail with tracking in the US. I will ship outside the US if necessary, but have had hangups with shipping internationally at my local post office, so there may be price adjustments.
-I always ship within two days of receiving payment. More often than not I will ship the very next day.
-Though I have LJ set up to send me emails when I get PMs, it does not. If you send me a PM, please comment on this post to let me know.
-I'd rather not accept trades, but I will trade for sailor items and white cutsews with no collar. Must fit bust 34" waist 24"
-All sales are final.
-Haggle away!

Item 1: My dream piece: an authentic vintage medical Camp corset, great for gurololi. It came to me offwhite and I painted it white with fabric paint. The inside retains its original color. This has an antique medical look to it; it's absolutely gorgeous and I hate to let it go. The back has incredible, unique medical fan lacing. It is steel-boned and will cinch you in, but since it is a medical corrective corset the shape is straight up-and-down rather than hourglass-curvy.

Size: Size 34, but closes at 28". It's super hard to find medical corsets this small!

Flaws: Excellent vintage condition, the only real flaws are where I got white fabric paint on some of the metal hardware bits.
Price: $50 Sold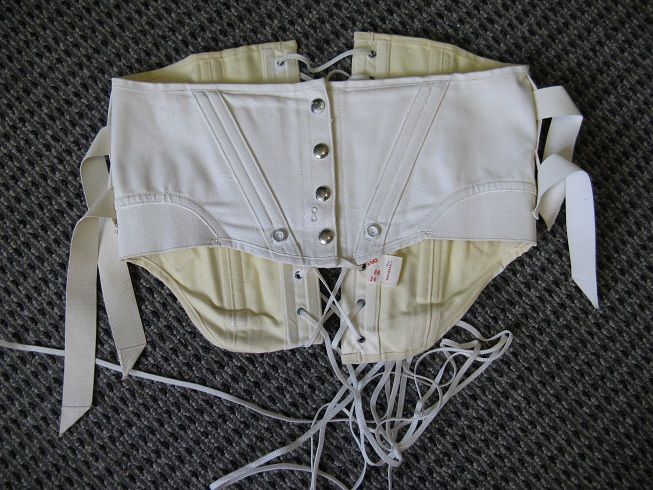 Back view

Item 2: This is the dress that got me into vintage clothing. It's just beautiful and I'm really sad to see it go, but it just hangs off of me. It's got a really cute tiny floral print and lace around the neckline and the skirt. The skirt is a full circle skirt that looks great with a cupcake petticoat.
Size info: Bust 36"-40", waist 32"-34", but I wore it at 30" and it did not look baggy or awkward.
Flaws: A tiny makeup stain, which is detailed in the previous image.


Price: $45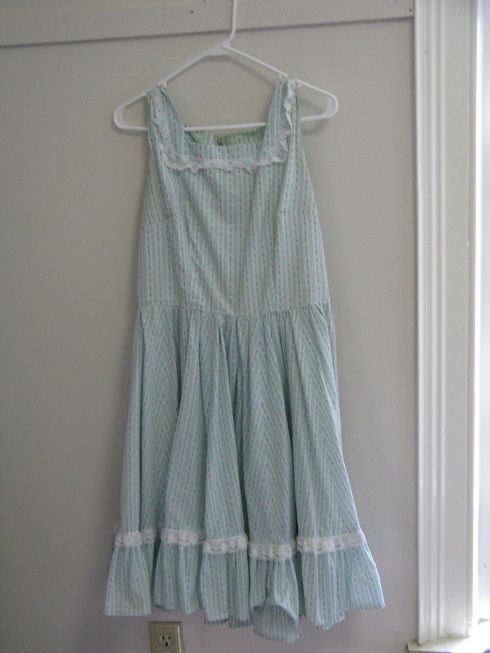 Close-up of print and small stain
Item 3: Oo Jia VR replica

Sizing info: Custom made for a 96cm/38" bust and 76cm/30" waist, but those are pretty much the minimum measurements. The back is completely shirred and could easily stretch another 8" or so, if not more.
Price: $74 PAYMENT PENDING
SOLD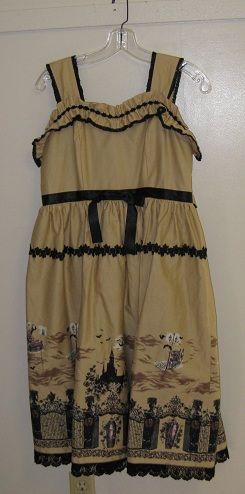 Print close-up
Item 4 Fanplusfriend sailor dress. This is a replica of an original Metamorphose dress. It's really fun and summery! It looks best cinched around the waist with a belt, with a petticoat underneath to give it that great cupcake shape. The skirt is a full circle skirt. NOTE: There are shirring channels in the back, but NO SHIRRING.
Size info: Bust 40-44", waist 32-26." I wore it at 38" bust 30" waist and it had to be belted at the waist and gaped at the bust.
Flaws: Oh dear. There are some snags on the ribbons, but the emblem is not very waterproof. There is some run in the emblem.
Price: $45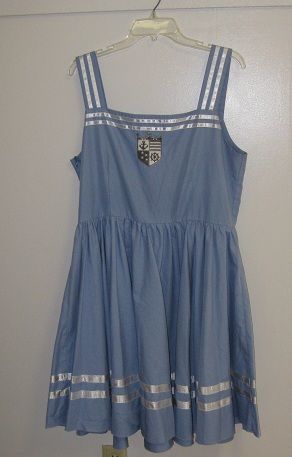 Close-up of run on emblem
Thanks for looking!