PLEASE READ CAREFULLY, ESPECIALLY THE BOLDED POINTS!

- I ship from Queensland (Gold Coast), Australia and attempt to ship things off 1-2 days after received payment!
- Please no e-cheques.
- You pay the PayPal fees, sorry!
- Please be aware that if you want your package shipped via normal airmail, I cannot be held responsible if it ends up getting lost, or taking far longer to arrive to you. To avoid this, please enquire about Registered Post International (conditions apply, I will try to send you the information about this before invoicing you).
- My feedback page is here.
- My wishlist is here (conditions apply in this post, see below):

In this particular sales post, I will be looking for Gothic Lolita items only (Moi-Meme-Moitie, Atelier Pierrot, Chantilly, AaTP etc), please don't offer me Angelic Pretty as I've currently got enough for a lifetime and would prefer to fill up my wardrobe with more gothy things! These said items must fit a bust of 39" and waist of 34"!

DS and DT:

Metamorphose velveteen JSK - $120AUD + shipping + PP fees ($135AUD shipped in Australia).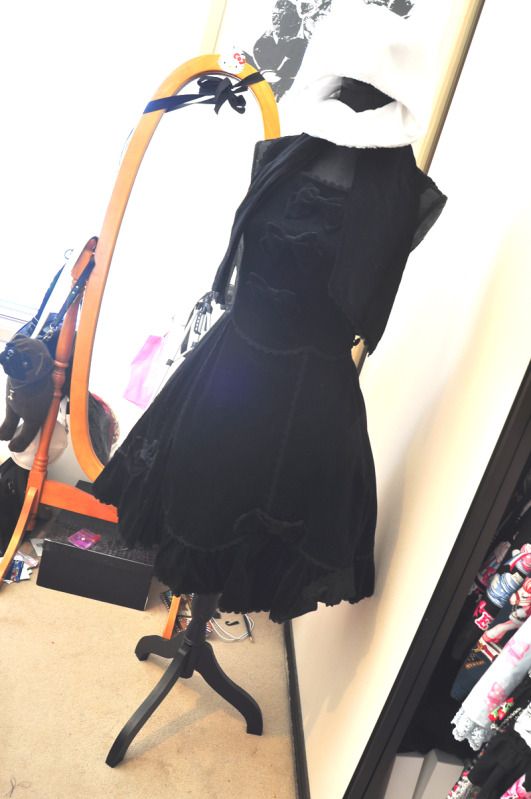 (Brightness has been adjusted to show details) Finn's hat not included (forgot to take it out before the photo, lol).

I bought this lovely JSK a while ago, but found that it's just not poofy enough for my likes! I'm a real poof person, so this just hasn't sufficed. I've worn it.. twice (?) and it's been sitting in my wardrobe since. I'd rather sell this, or trade it for something more poofy.

Measurements:
B: ~100cm
W: ~84cm for max comfort.

Baby the Stars Shine Bright Princess-like JSK - $375 shipped anywhere w/ PP fees included (Australians pay $360 shipped). I will take payment plans and OBO for this, as I know it's a lot of money!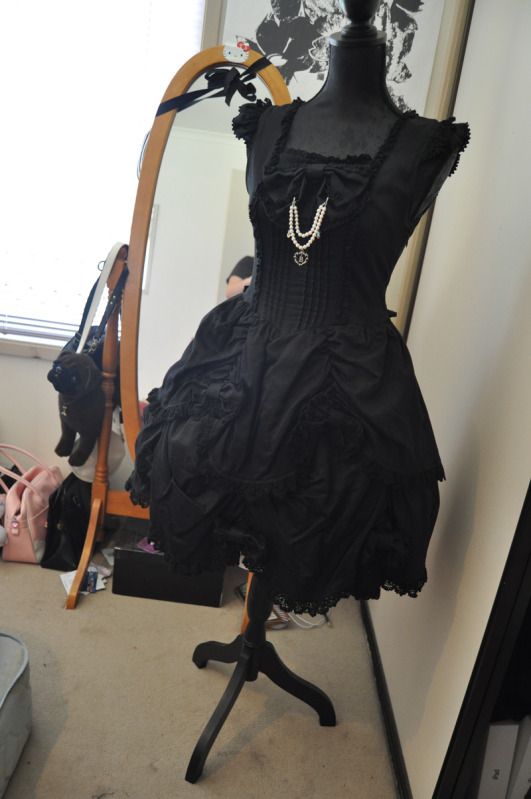 If you're paying full price for this JSK, I'll include a free BtSSB turtleneck that's pictured here: http://img.photobucket.com/albums/v600/Nattz/BtSSB_turtleneck.jpg at no extra shipping cost either! :D Same goes for a trade!

This is a very pricey JSK, but I can understand why! It's absolutely beautiful, and it look me months to pay this off via a payment plan! I wouldn't be trading/selling it today if it was just a little bit looser on me. ):
It's gotten to a stage where it's just too uncomfortable to wear, so I have no choice (besides losing weight, lol) but to sell/trade it off!

Measurements:

B: ~96cm for max comfort.
W: ~82cm for max comfort.

I WOULD LOVE TO TRADE THIS FOR THE PRINCESS DROP JSK IN BLACK/NAVY/IVORY/WHITE IN SIZE L OR LL!

TRADE ONLY

Beauty and the Rose Promise JSK in red - trade for Moi Meme Moitie JSK of some sort that'd fit a bust/waist of 39"/34" (would also very much consider another AaTP print that'd fit my measurements comfortably)!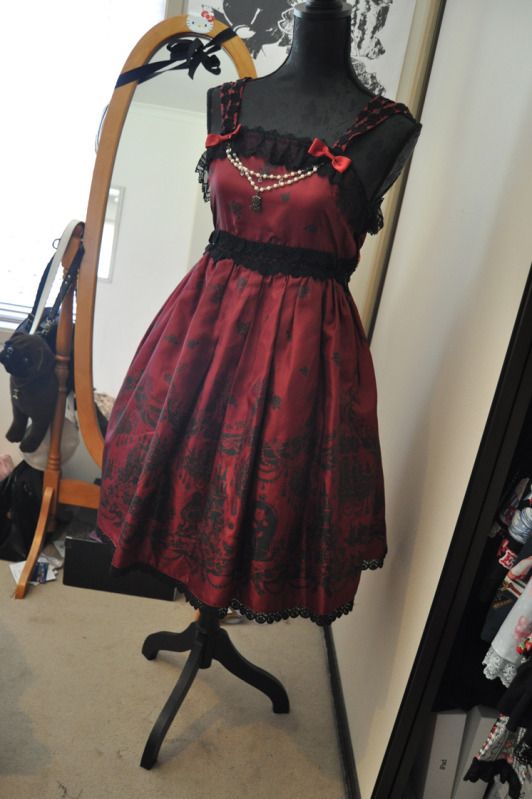 This is one of my old time favourite prints, but it's just way too tight for me in the bust, and there's no way I'd be able to wear it without splitting it in half. This would probably fit a bust of 100cm, but I think my shoulders are a bit too broad for the straps, hence it sits on me weird and doesn't fit me like it should. If you have a 100cm bust, and small shoulders, I think you should be fine! Waist is about the same size.
The JSK is in used condition. I'd say about 3/5 condition. The zip is a bit dodgey and takes a lot of strength to get back up when not on, but this can be fixed easily, even by yourself if you're keen on sewing!