Paypal only please.
I have a cat. She isn't allowed into my walk in closet where I keep my loli clothes, but keep this in mind if you have severe cat allergies.

Payment is accepted in either Canadian$ OR US$ (at par). Please let me know if which currency you'd like to be invoiced in or I will default on US$ for American buyers and CDN$ for Canadian buyers and whichever one is more convenient for anywhere else.

Layaway is available with a $20 non-refundable deposit (sent as a paypal "gift") for up to 2 months. You can lay out how many payments/payment amounts. I'm flexible as long as there is good communications. I will send an invoice for only one payment in the layaway plan (the rest must be made as paypal "gifts") as paypal will end up charging me more overall for many small payments instead of one big payment. However, if you agree to pay the paypal fees, I will happily send invoices for however many payments you need/want.

Preference may be given to buyers from US and Canada due to long international shipping times, but I usually go with whoever is first to ask to be invoiced gets first dibs. I reserve the right to give preference to a US/Canadian buyer if the sale hasn't been finalized with invoicing.

Shipping is included for Canadian and American buyers with insurance and tracking.
International shipping is included for Europe, the Americas, Asia and Australia with insurance (no tracking). If you want international tracking, shipping has to be by EMS (which is +$40 and up to most countries). I will package all items with care and very securely (I always wrap items in plastic and seal the package with tape), but if you use international shipping without tracking, I am not responsible once the package leaves my possession.

Feedback (and lots of it): http://community.livejournal.com/eglfeedback/182948.html

No holds. First to invoice gets first dibs.
http://img.photobucket.com/albums/v678/amytheyu/Lolita/Lolita-OP11a.jpg
Back
Close-up
MMM Blue Floral OP $270 Shipped SOLD
Condition: Excellent condition. Worn 3-4 times by the previous owner and tried on by me. Fully elastic shoulders and a lot of back shirring. Very comfortable, but I wouldn't recommend for anyone with a super wide shoulder since it doesn't have a side zipper so it slips on over your head or over your hips.
Shoulder Width: 16in
Bust: 33in-39in
Waist: 26in-32in (can be made smaller with waist ties)
Length: 34in-36in


http://img.photobucket.com/albums/v678/amytheyu/Lolita/Lolita-JSK25RosinaStripedScalopetteJSKB94W90L84.jpg
BtSSB Rosina Stripe Scallopette JSK $140US Shipped SOLD
Proof
Lolibrary information
Condition: Brand new without tags. Shoulder straps button on in the back with 2 sets of button holes and are easiloy adjustable. Pockets on both sides! Super cute for fairy kei, loli or casual outfits.
Bust: Free
Waist: 34in (can be made smaller with removable waist ties)
Length: 35in (can be made shorter with adjustable shoulder straps)AatP Beauty and the Rose Promise Corset Skirt $170 Shipped SOLD
Hellolace link
Condition: Brand new with tag. I was OBSESSED with this print when it first came out, but once the dust settled, I really don't need multiples of this print. I never even tried this skirt on (didn't really need to since I own the same skirt in black as well). It fits great and gives a beautiful silhouette with plastic bones in the corset waist.
Waist: 24.5in-28in (will fit 29in if you suck it in a bit while zipping up)
Length: 24.5inClose up
AatP Side Frill Houndstooth Skirt $120 Shipped
Hellolace link
Condition: Excellent condition. Worn once by previous owner and worn once by me. I'd love to see this lovely skirt go to someone who will wear it lots. It's a great piece with a nautical feel. Very "captain-y" with the buttons and chains. XD
Waist: 24in
Length: 21.5in
Back
On my dressform
Metamorphose Barbed Wire and Roses corset skirt $120 SOLD
Condition: Excellent condition. Worn 4 times by previous owner, worn 1 time by me. I have 2 skirts in this print though and I can't justify keeping both, so this one goes since I wear the other one semi-frequently. The sheer tulle trim at the bottom is sewn to the slip and provides a bit of poof. The corset waist area is a soft faux leather material. Great condition with no damage, but it's a bit wrinkly from storage (doesn't show when worn). There is shirring under the corset lace up and while it's not a tight lacing corset, it can cinch in a bit.
Waist: 22in-28in
Length: 25in
back
Metamorphose High Waist Ribbon Scalloped blue skirt $100 SOLD
Condition: Brand new with tag. Never tried on. The organza ruffle at the bottom is attached to the slip and is a separate layer. The 3 bows down thefront of the waist area have brooch backs and are removable.
Waist: 24in-29in (partial shirring plus corset lace up)
Length: 23in (includes high waist portion)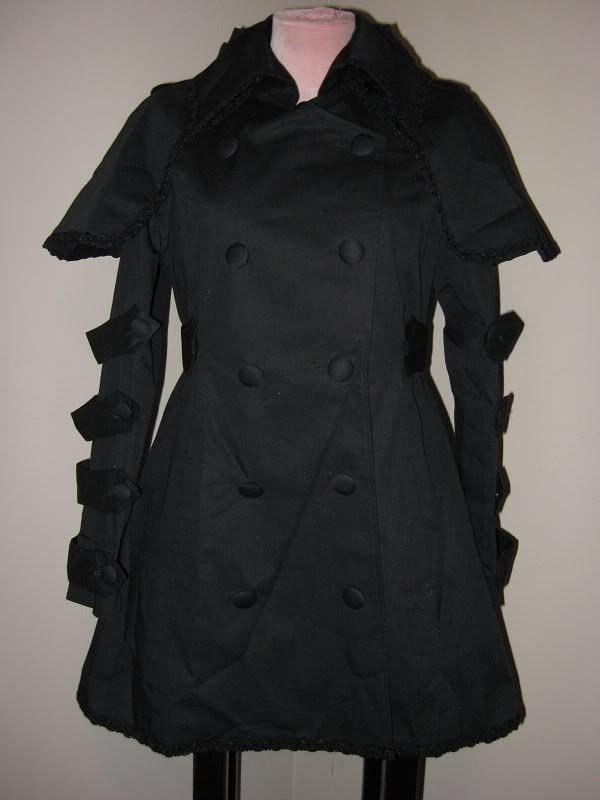 Alice and the Pirates Double Breasted Jacket with removable capelet $160US Shipped
Back view
With capelet removed
Condition: Excellent used condition. Removable capelet. Includes extra buttons. The bottom is full enough it can easily fit over top of a loli skirt. Great worn on it's own or as part of an aristocrat or lolita coordinate.
Bust: 38in
Waist: 32in
Shoulder width: 15.5in
Paypal only.
First to invoice gets first dibs. I reserve the rights to give priority to a buyer from the USA or Canada over an international one if the sale is not finalized yet.
No trades.In light of the recent scammer incident, please send your paypal by private message. You can "claim" your spot in line to purchase with a comment along the lines of "I'd like to buy XXX. PMing you my paypal for the invoice."