DS/DT: Bodyline and Offbrand Blouses, OPs, and Skirts + Wigs, Shoes, Corsets, Q-pot Chocolate Bands, and a Headpiece

Terms & Conditions:

♪~Payment~♪
I prefer payment by Paypal, but will accept other payments.
All snail mail payments are at buyer's own risk and tracking is recommended. I am not responsible for any lost payments.
All cheques and/or money orders will be held until cleared.
Prices are primarily in US dollars. British Pound, Euro, and Japanese yen may also be accepted.
Buyers are responsible for Paypal fees which can be calculated here and will be added into shipping estimate.
Invoices are in US dollars unless otherwise agreed upon.

♪~Shipping~♪
I ship from Hawaii, USA and will ship anywhere the USPS ships to.
Prices are not inclusive of shipping unless mentioned. Prices including shipping are only to the US.
I ship First Class or Priority as first choice. Parcel post is optional and slower, but cheaper. Tracking is recommended for this.
All domestic shipments may come with insurance at buyer's own cost.
International shipping primarily through envelope unless otherwise requested. Shipping extras at buyer's own cost.
I am not responsible for any packages once they have left my hands.

♪~Others~♪
I will do holds with a non-refundable 20% deposit.
Payment plans available. Non-refundable 20% deposit sent via personal payment required.
All sales are final. NO REFUNDS
I expect responses to comments within 24-48 hours unless previous mention of delay.
Please respond, even if it is to say you are no longer interested.
Sales may be cross-posted.

Feedback here: http://community.livejournal.com/eglfeedback/1122027.html

♪~Sales~♪

♥ PLUS SIZE ♥

ShadowFae Black Top :: $45 shipped
Light cotton body with slightly scratchy lace
There is no stretch or shirring
New and only tried on over clothes
Bust :: 39.5 inches, 100cm
Waist :: 36 inches, 96cm
Narrowest part of sleeve :: 12 inches, 30cm
Sleeve from shoulder :: 24 inches (to end of lace)
Length :: 22.5 inches, 57cm


Rose & Thorn Black Bittersweet Lolita Shirred Top :: SOLD
Now defunct indie brand, selling for cheaper than I paid
New, cotton body, black on black
Measurements taken without cinching in the back corseting
Shirring adds 11 inches of total stretch (not recommended to go all 11 inches)

Bust :: 38" - 50", 92cm - 127cm
Waist :: 37" - 48", 92cm – 122cm
Shoulder width :: 17" - 28", 43cm - 71cm
Sleeve from shoulder :: 7", 18cm
Sleeve width :: 5" - 16", 13cm - 40cm
Length :: 23", 58cm


Offbrand White Cotton Lace Skirt:: $33 $28
lined in the top portion, but the last ruffle is not
Size XXL
Waist :: 39"
Length :: 25.5"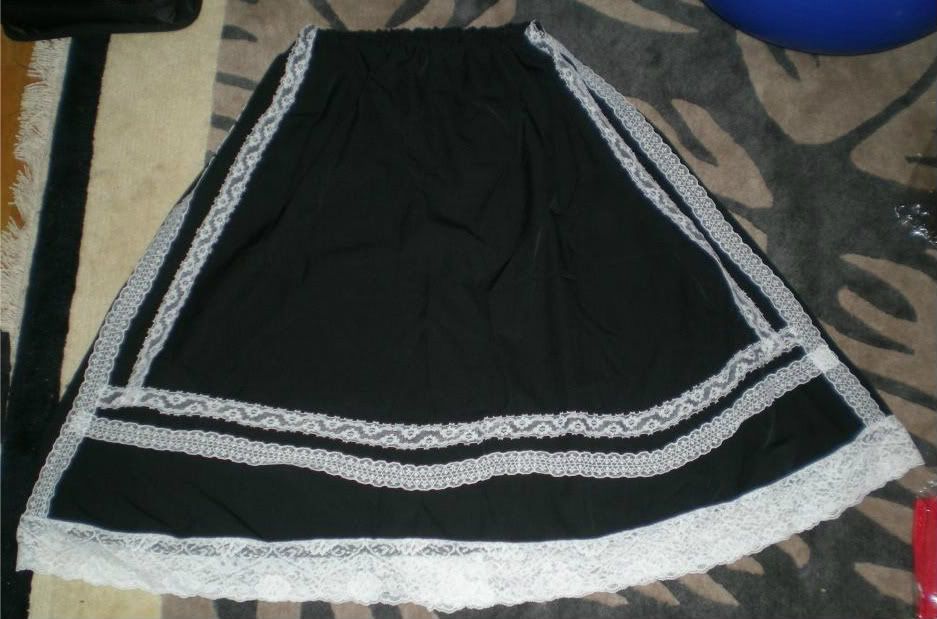 Handmade Long Black Skirt :: $40
Fully shirred waist
Waist: 24-46"
Length: 33"


♥ NON-PLUS SIZE ♥

Bodyline Black Caplet :: $20
Shoulder at narrowest point :: 41cm
Length :: 29.5cm
New with tags


Bodyline Hime OP :: $65
Dress Length: 88cm
Skirt Length: 52cm
Shoulder Width: 38cm
Bust: 88cm
Short Sleeve Length: 24cm
Waist: 70cm
New with tag. Sale is for dress ONLY without detachable sleeves.


Fanplusfriend Black Shirring Top :: $60 shipped
New, Size F, will trade for a larger size or different top
Fully shirred, bust up to 38 inches


[proof] [back]

Fanplusfriend White Corset Bustle Skirt ::
Size F, Waist 20-26 inches
Length: 29 inches from top, 21 inches from top bottom of waist to hem
New, never worn
Will consider a trade for this for a larger sized skirt
Also have this in black and ivory at a slightly larger size and will consider selling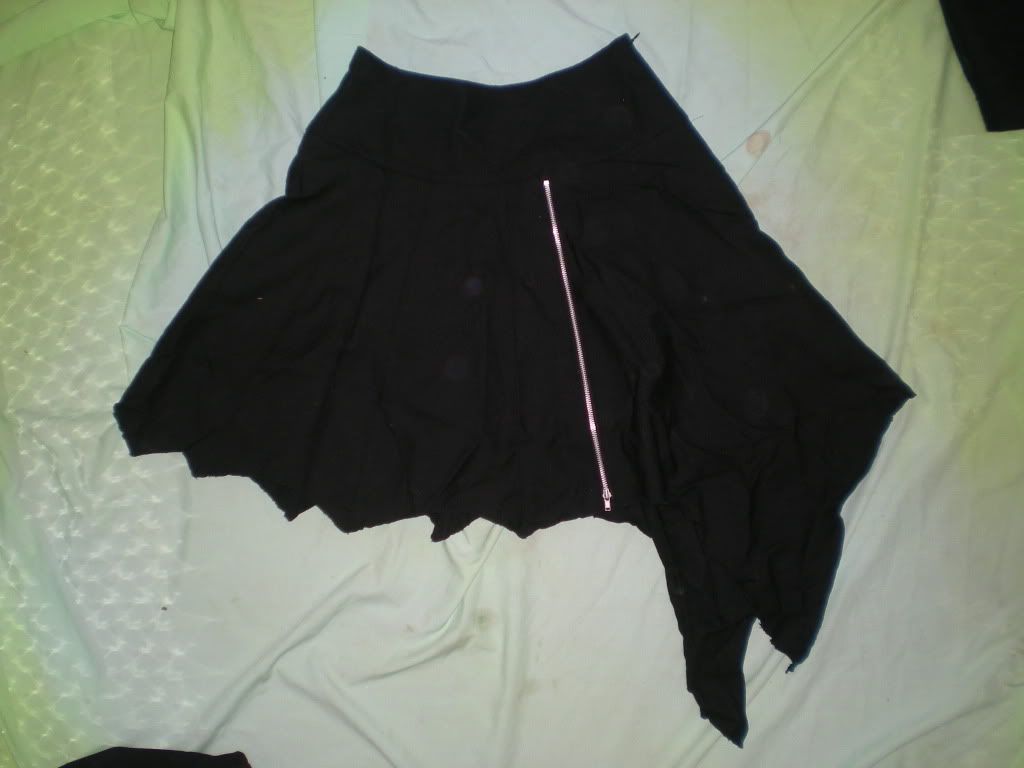 Peace Now Batty Skirt :: $175
Size F, new
W ~26 inches, L 13 in - 20 inch at longest point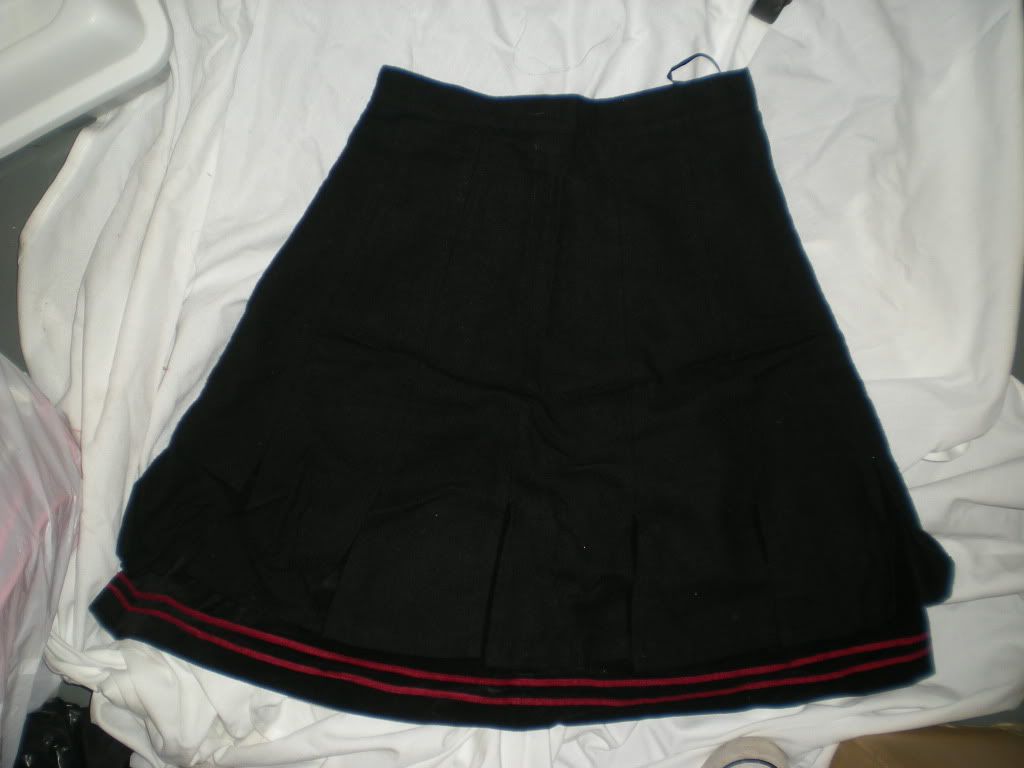 Black Peace Now Sailor Skirt :: $75
Size F, new
Waist ~26 inches


♥ ACCESSORIES ♥
Long Blonde Female Kankelon Wig :: $7 shipped
Wig shows thinning at the top, but is not visible when worn or with head piece
Was received in this condition


Black Dolly Curls Wig :: $10 shipped
New in bag, has bangs
Hair is not greatest quality




Black and White Oval Headdress :: $10 shipped
Has ribbon ties and small silver marks to the bottom right not noticeable when worn
This is new and handmade (not by me)
33cm long, 15cm wide


Q-pot Pray for Japan Peace Bands :: $13 each
Chocolate :: SOLD OUT
Strawberry :: 4 available
Mint :: 2 available
Milk :: 2 available
Left over from a group order.
This is the cost of the bands + unpaid shipping and customs fees.


♥ TRADE LIST ♥



[back]

Black Brocade Corset
Recommended to be worn 4-6 inches narrower than natural waist
Measurements given with full cinch, can be let out
Size 40 (refers to bust size)
Waist :: 30 inches
Length :: 14.5 inches
Prefer to partial trade for size 34 corset of similar make and style, but will consider anything else



[back]

Arsenic Fashions EGA Brocade Waist Cincher
Spiral steel boning, plastic zipper (so no waist training)
Recommended to be worn 4-6 inches narrower than natural waist
Measurements given at full cinch and can be let out

Waist :: 34"+/86cm+
Length :: 8.5"/22cm (shortest point), 12.5"/32cm (longest point)
Will only partial trade for something similar, full if value is matched
Prefer another waist cincher, but will consider OPs and JSKs
This was expensive and is long out of make


Pink Btssb Replica Platform Tea Party Shoes
Minor scuffing from storage on one inside toe (gotten like this)
Size 24.5, new and only tried on


Bodyline Brown Bow Strap Shoes
Size 27, worn once for less than 1 hour
Some minor scuffing not noticeable when worn. Was received like this



Bodyline White Bow Strap Shoes
Size 27, new
Was purchased as new but appears to have been tried on and has minor scuffing not noticeable when worn.


♥ WISHLIST ♥
I will consider trading for anything, but reserve the right to deny a trade.
Due to shipping costs, I prefer to trade within the US.
My current measurements:
Bust: 34-35 inch, 86-89cm
Waist: 27-28 inch, 69-71cm
Hip: 34-35 inch, 86-89cmShoulder to under bust: 14.25 inch, 36.5cm
Shoulder Width: 17 inches, 43cm
*I am somewhat tall with a large enough bust that most JSKs and OPs will have waistlines as my underbust.
Most if not all dress offers will have to look good as an underbust dress (fitting an underskirt if short)*

Primarily interested in:
Steampunk/pirate and clockwork styles and corsets
AATP, BTSSB, Metamorphose, Atelier Pierrot (similar styles or replicas)
Gothic prints, castle/coach prints, stripes, Harlequin and circus prints
Victorian/Steampunkish bags
Shoes that fit 9/9.5US (about 25.5-26), boots that fit 9.5/10 (26) or 40/41EU
Cage skirts and petticoats
Detachable sleeves in any color, primarily flared princess sleeves or gathered sleeves

↓ Currently looking for antique white princess sleeves to match this blouse ↓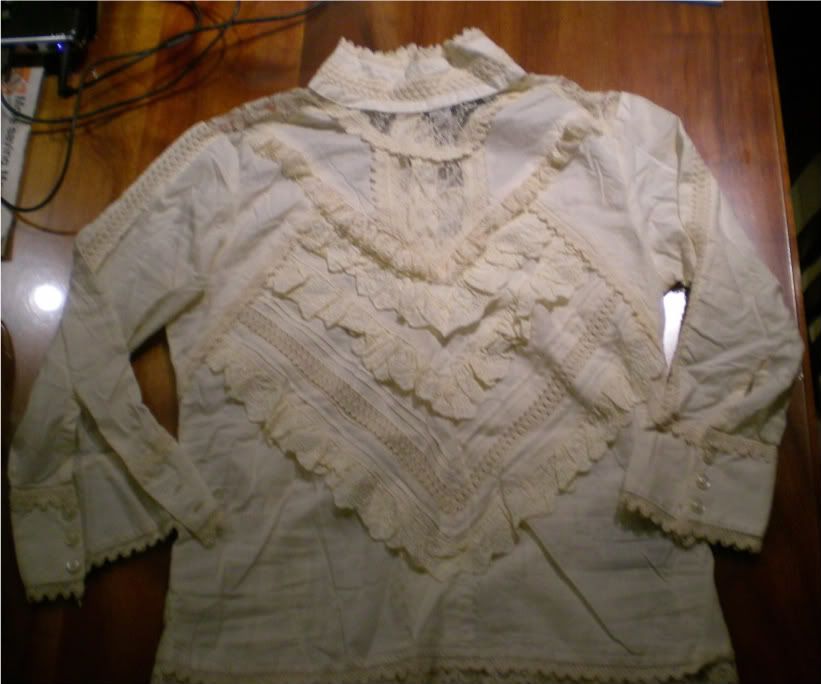 ♥ OLD SALES ♥
DS: Demonia Shoes and Boots
DS/DT: Anna House + Bodyline blouses, cake earrings, accessories, shoes
DS: Petticoat and tops
DS/DT: Accessories, shoes, and dresses