Feedback: click here

Hi I'm looking for some Meta lucky pack skirts that were in the Winter 2010 and Summer 2011 lucky packs. The one in the photo doesn't have a name, but is a flocked print with roses and the letters of Metamorphose on a kind of 'chain'.

The other one I'm looking for is the Old Rose print, which is a print with lots of little roses over it, tied in bows (I believe). I'm looking for the black versions only. Also, I'm aware that the skirts come in different styles, but I'm looking for the lucky pack versions as I need the fully-elasticated waistbands.

Here's a picture of the flocked one. I unfortunately can't find a stock picture of the Old Rose one.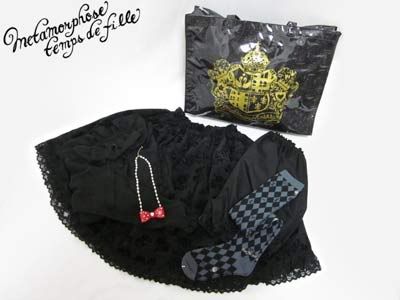 Thanks :)