I accept PayPal only.
No trades.
Price includes Priority shipping, tracking, and insurance within the US.
A US buyer is preferred, but I might consider a buyer outside the US. In this case I will only ship via EMS which will cost $25-$30.
Feedback- http://eglfeedback.livejournal.com/324802.html

Chef Kirby will be my proof of ownership.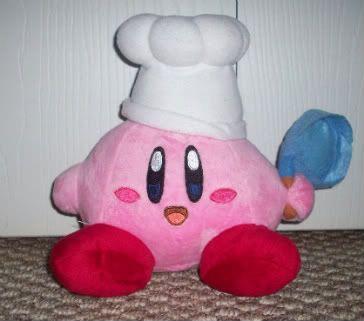 The Castle of Nightmare skirt
Price- $300
Official measurements
Waist- 66-74cm (26-29.1 in)
Length- 51cm (20.1 in)
I purchased this on reserve in 2009.
It has been worn once.
I was at a 28.5in waist at the time I wore it and would really recommend a smaller waist for comfort. It will go to the max of 29.1, but it will be very tight and I found it to be uncomfortable.
The tag is still attached. The one time I wore it I was in a rush to get ready and I had never removed the tag...I made it out the door without realizing that the tag was still there so when I noticed I just tucked it into the skirt.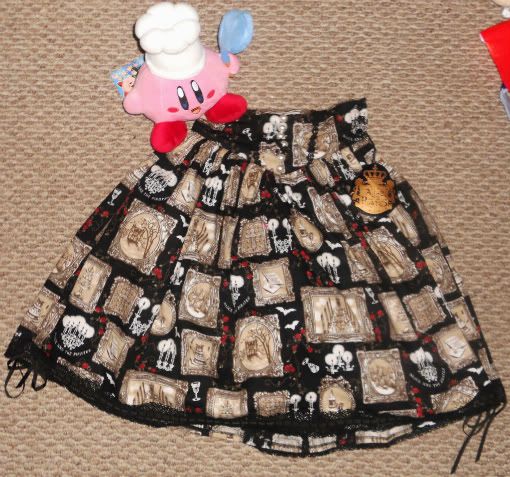 The fabric pulled a little around the buttons, but it doesn't appear to have actually damaged the fabric. The buttons are a little looser than they were when I first bought the skirt, but it doesn't seem like they are in danger of coming off.
Detail of buttons- http://i274.photobucket.com/albums/jj275/ayugrey/2-3.jpg
The shirring stretched out a little from being worn at near max measurements, but it certainly isn't damaged (as in no broken elastic). I do have the black ribbon that goes with this and it will be included.
Detail of shirring- http://i274.photobucket.com/albums/jj275/ayugrey/3-2.jpg
Print detail- http://i274.photobucket.com/albums/jj275/ayugrey/4-2.jpg

WTB- SS

I'm interested in purchasing a $100 Ladies brand mix lucky pack from the h.Naoto USA store.
Please post your feedback link and let me know your fee.
I wasn't thinking and sent all the money from the sale above to my bank account instead of leaving some in my PayPal account for the LP and my paycheck from work doesn't go in until tomorrow *facepalm*
I don't know if a money transfer made tomorrow would process before the 2nd, but I'm will to try if you are...

Thank you for looking!