Hi everyone !
My Feedback: http://eglfeedback.livejournal.com/1186126.html
There is no feedback because I never sell on Egl. I bought a often and if you need insurance about me, I can ask person I bought for if they can leave me a feedback.

By the way, I have a Ebay feedback page too : http://myworld.cafr.ebay.ca/kashiki_malarwen


Payment: Paypal only Buyer pays paypal fees
I ship from Québec, Canada.





Proof

Candy Treat, very good condition.
Here is mensurations : http://hellolace.net/wardrobe/angelic-pretty/type/jsk/item/303/
There is no shirring.

Asking price 350$ shipping include OBO


Sale only :





Shoes velvet style size 23.5 15$ worn once + Shipping




Shoes size 23.5 15$ worn once + shipping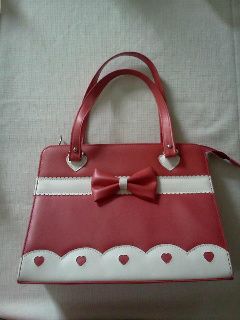 Loris Bag White and red New
25$ + shipping
SOLD




Baby the star Shine Bright Headbow 15$ + Shipping
Never worn, only tried. Headbow are not cute on my head :(

SOLD




Angelic Pretty JSK White
A lot of shirring. I can goes easily over 40''.
Worn twice. No stain.

Asking price : 140$ shipped

Proof here

DS or DT :







Proof

Milky Berry JSK White
Worn 2-3 times. No stains, in perfect condition. Fit me at 36'' bust and 29'' waist but can go a lot smaller.
Trade for the same JSK in black or an other brand JSK in black that I love.
Sell 250$ + shipping and paypal fees OBO


Will trade for:

Milky berry Black
Midsummer Night
Aatp JSKs, Accessories
Métamorphose JSKs, OPs, Blouses, Accessories.
Black or red JSK's
Mori girl clothes