Terms of Sale

-I ship from NYC, Tuesday - Friday via USPS First Class. I do notify once item has been shipped.
-Smoke free home, family has two cats. I keep them out of my room. My clothes are kept in a closet and clothing drawers away from them but I will look over items to make sure there is no dust or hair on them regardless.
-Paypal only please.
-Paypal and shipping fees are included. The price you see is the price you pay. This reflects shipping to USA customers only. I would prefer to ship to US but please inquire about overseas shipping if you are truly interested.
-Tracking is not included, but you may request it. This will, of course, adjust the price you are paying.
-All sales final. There are NO refunds.
-I am not responsible for any loss or damage. I will package your item carefully and in a proper box/bubble mailer but I cannot control how the Post Office handles it once it is out of my hands.
-First come, first serve.
-I am interested in trades, see after sales items.
-Ask me any questions you have on these items before committing.
-YOU MUST AGREE TO MY TERMS OF SALE. If you have not written and consented before committing to your purchase, I will not honor the sale. I have been ripped off too many times now by buyers. Thank you for your understanding.

My feedback is here

Proof will be my Den-O Gaiamemory: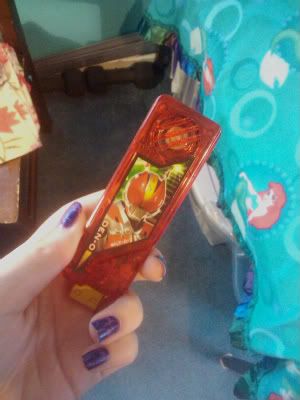 ITEM ONE White Bodyline Shoes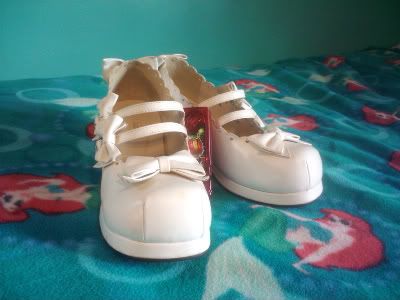 Sizing: 24.0, approximately a US Size 7. I normally wear a 6.5/7, these were a little too big on me to be comfortable for extended wear.
Condition: First owner. Worn for 3 days at a con working at the dealers room (so not much actual walking around), worn for one afternoon at a meet-up. There are very minor scratches from normal wear and tear, shoes have been cleaned and dirt removed. Additional of details of minor scuffs: one, two, three, four, five.
Stock Link: here.

PRICE $45, shipping and paypal fees included


ITEM TWO Dream of Lolita Sugary Carnival Replica in black + Headbow. SOLD!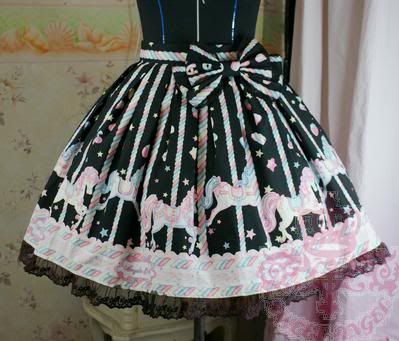 Sizing: Free size. Waist: 64cm - 78cm: Length: 52cm
Condition: I am the first owner. I tried on the skirt once, indoors, for photos. I have never worn outside. I wore the headbow once outside but on clean, washed hair. Condition on both items is as I received them from the retailer.
Proof photos:
WORN: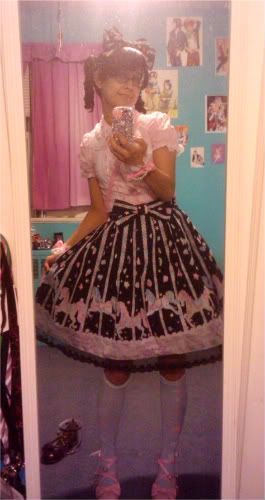 Alone with proof: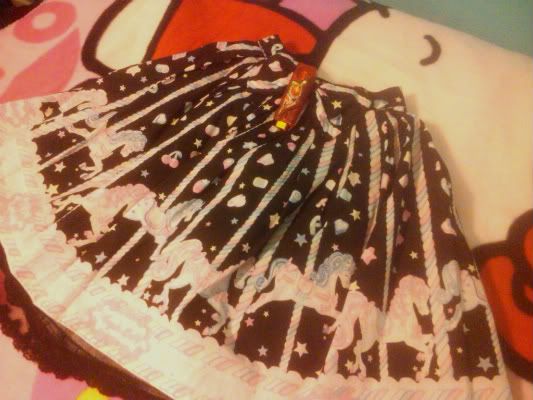 Headbow with proof: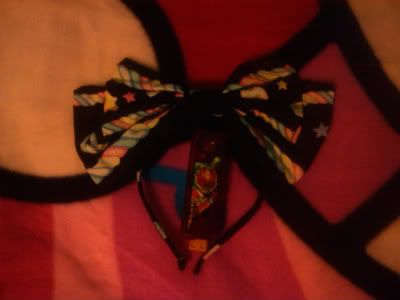 PRICE $55, shipping and paypal fees included


ITEM THREE Secret Shop Pony Socks in Blue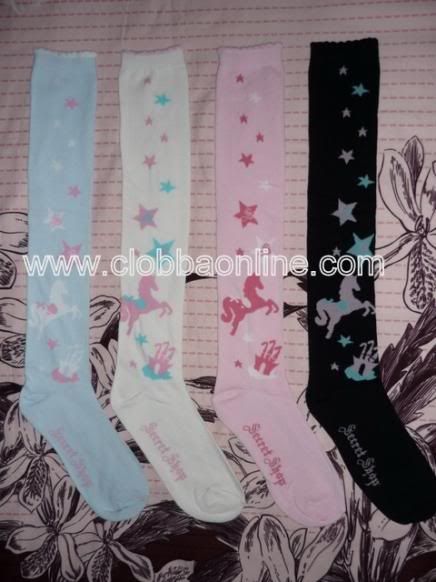 Condition: I am the first owner. Worn for a couple minutes when I tried on my Sugary Carnival replica, as seen in above worn photos. They are in perfect condition as shipped to me by retailer.

Proof pic: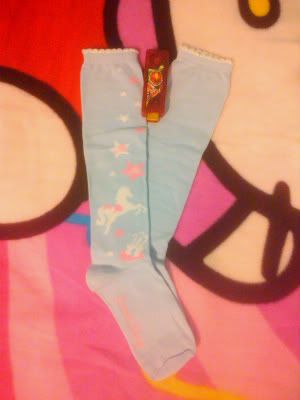 PRICE $10, shipping and paypal fees included

TRADES

The one thing I am really looking for is LITTLE BEAR'S CAFE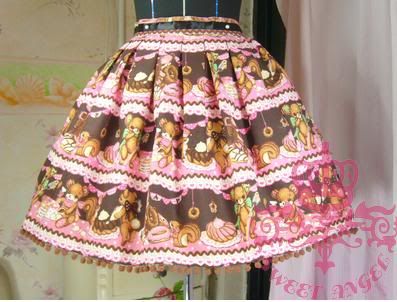 I would be willing to do something like an even trade with my Sugary Carnival rep for a Little Bear's Cafe replica (skirt and headbow). I'm looking for either the pink or brown colorways. I would be interested in the JSK with headbow as a partial trade as well. This is the only item I would consider doing a trade for. I would consider the original Angelic Pretty items too, but I feel that I would not be able to work in that price range. However, make me an offer and perhaps we can work something out.