I Ship from USA
I work a lot so I may not be able to ship right away and occasionally it takes me 2-3 days to answer messages.
I prefer not ship until all transactions are complete.
I do not reply to "Let me know when you have shipped" until I have shipped
USA shipping and pp fees included
i require tracking, this makes overseas expensive.( + appx $15)
I will do NYC face-trade
feedback

Two Way Black or Gold Sequin Star clip $16
(made by me)




Two Way double Star Silver Clip $22
(made by me)


Kidsyoyo AP Marionette girl Replica OP $110 sold

Missing one of the buttons for the waist ties.


AP school girl cutsew $80 OBO?

The collar has yellowing stains, and also there's a stain on the collar. Probably would come out with bleach or proper cleaning. Not really noticable in pictures.



MILK x UNIQLO collab $35

Lavender with black ribbon and silver glitter. worn once. Size S, but fits like a M/L; that is to say it runs bigger than other peices from the same collection. I have the zodiac OP and it's an M but fits like a S.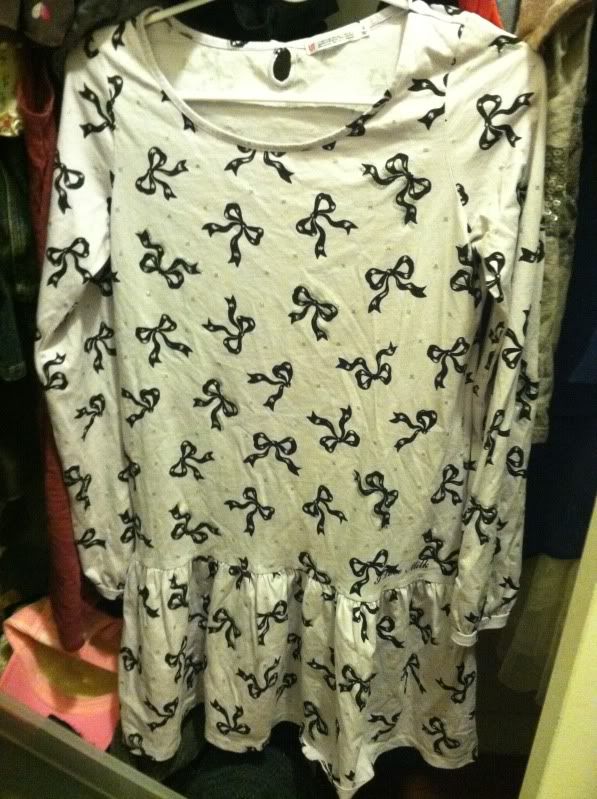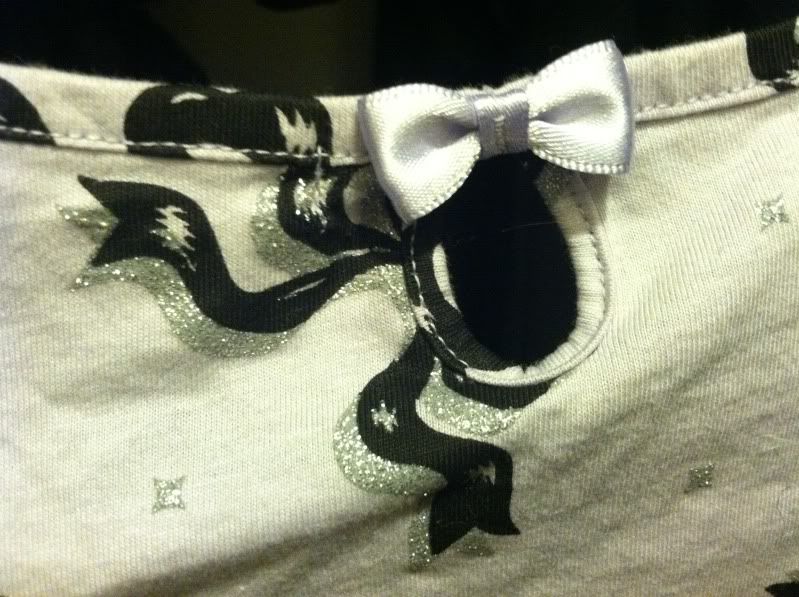 front x back hem/detail


Angelic Pretty Apron $80

Angelic pretty apron i bought to do maid style. It was originally part of a gingham set. I only wore it to try on. It's so pretty i adore this apron.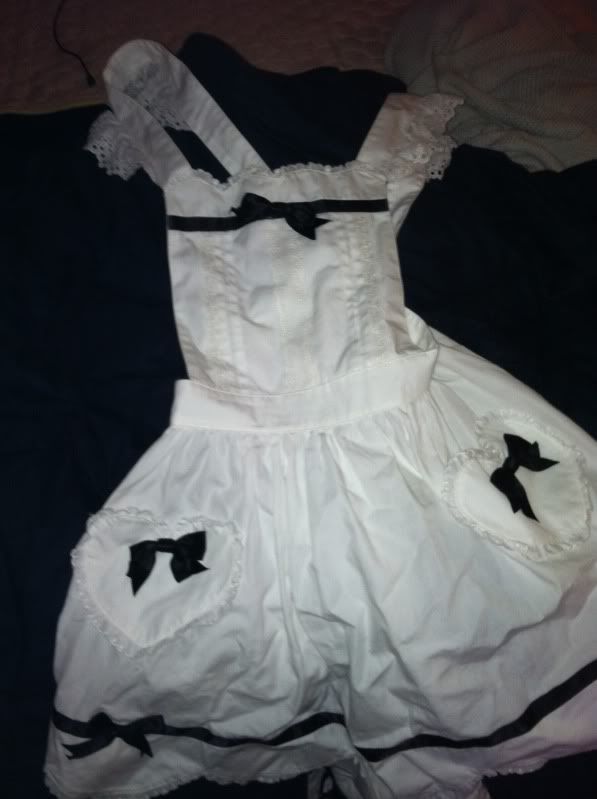 Vinyl Syndicate Sexpot Revenge Magazine/catalog $5
or $3 with other item.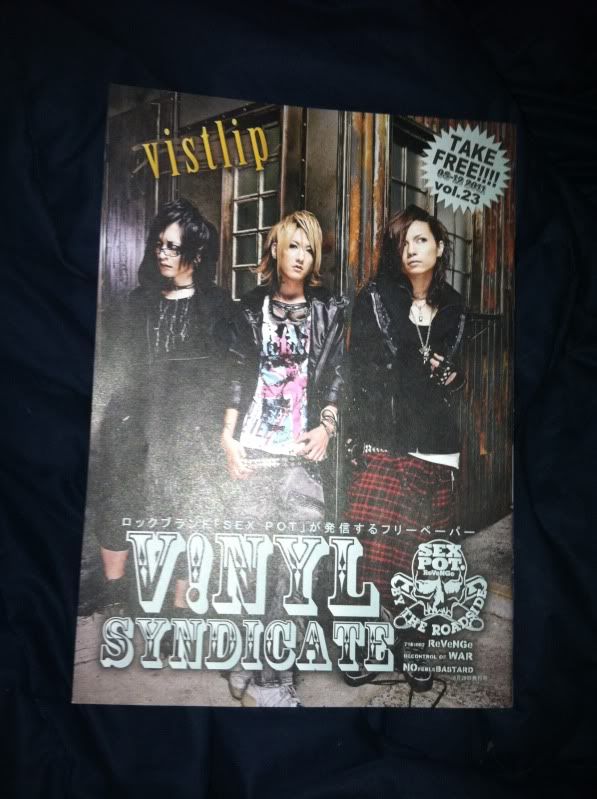 Bodyline Black Corset $35

My friend wore it once,




stock: here

2 finger rings $15

Silver star; (2 left)
Silver bunny (2 left)




Bodyline high waisted skirt+jacket $45

This is only for the jacket and the skirt. I have the shirt, if you want that too it's $65 for the set. I do not have the chain/flowers/ neck piece. Pic is tried on, no petti. I only wore it to try on.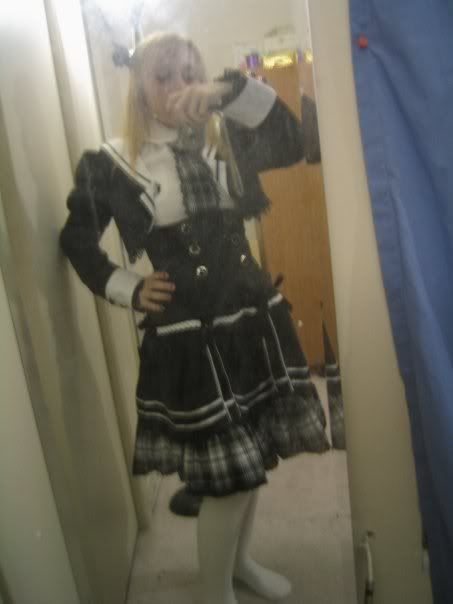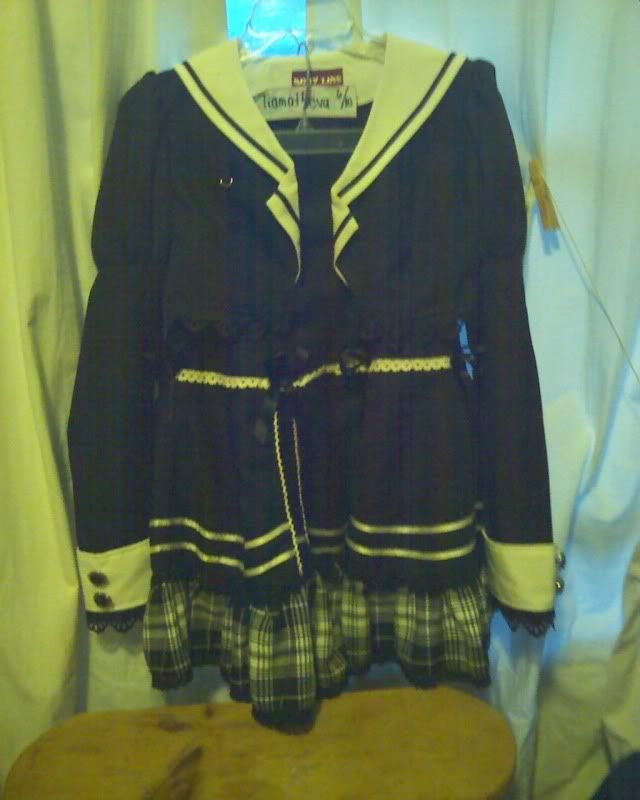 Betsey Johnson Argyle OTK $18

worn once or twice, great fit, super comfy for thighs that find AP/BTSSB socks a tad tight. I just never wore them.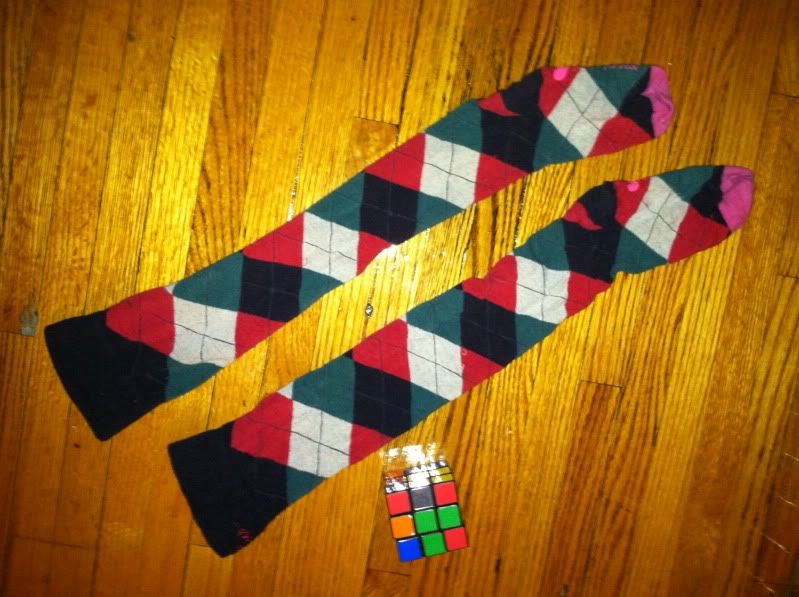 AP Chandelier OTK silver $38

worn maybe once by me, bought second hand, heels/soles are a bit dirty but nothing noticeable when worn with shoes.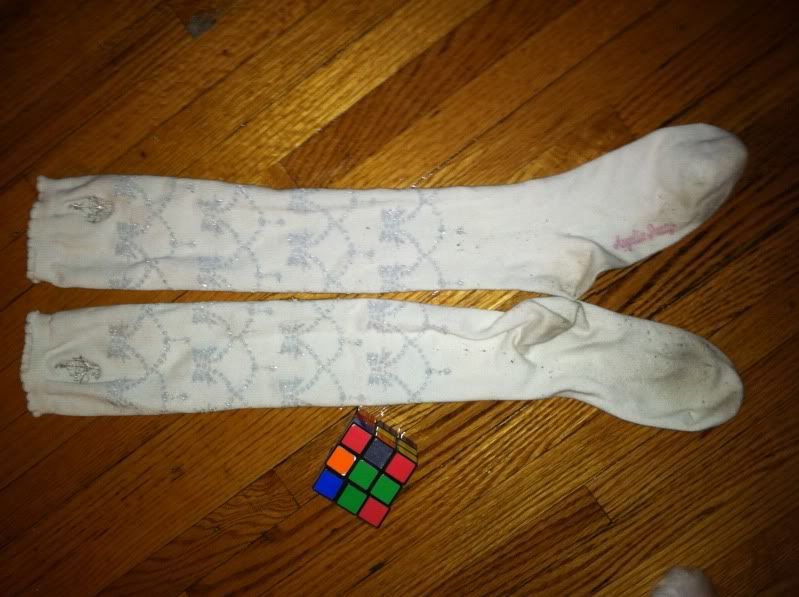 Pale Pink OTK from UrbanOutfitters $17

Work once or twice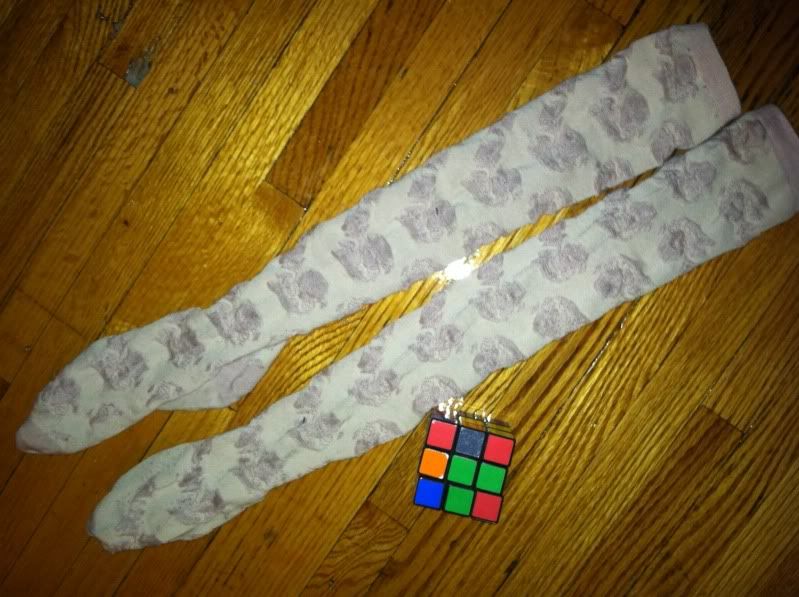 BTSSB Knee socks $20

worn once or twice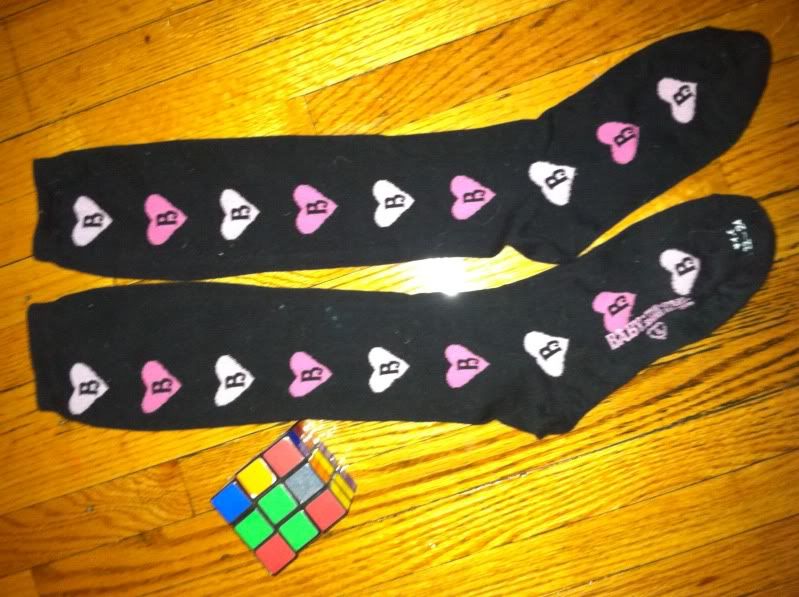 H.Naoto pin $10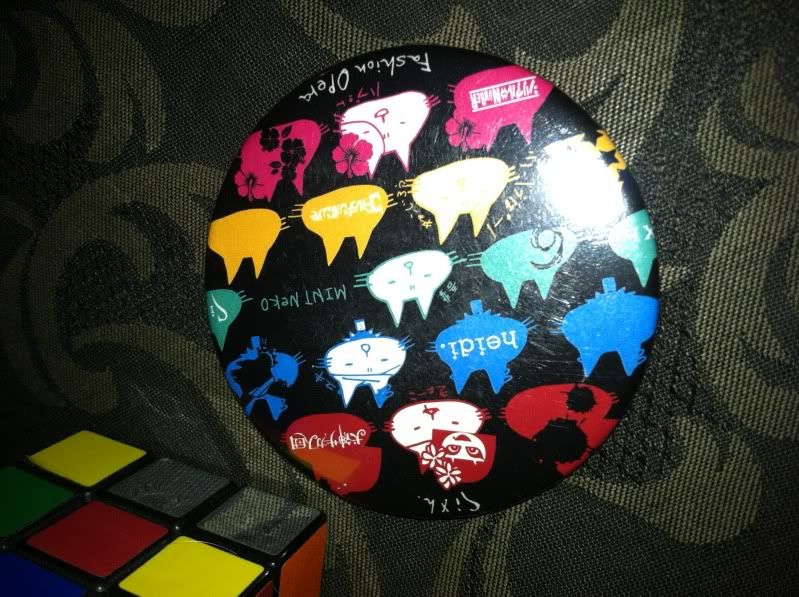 H.naoto Sixh. Minashigo ($offer?)

i have no idea what this is worth .-. I'm guessing it's collab music? New, sealed in packaging.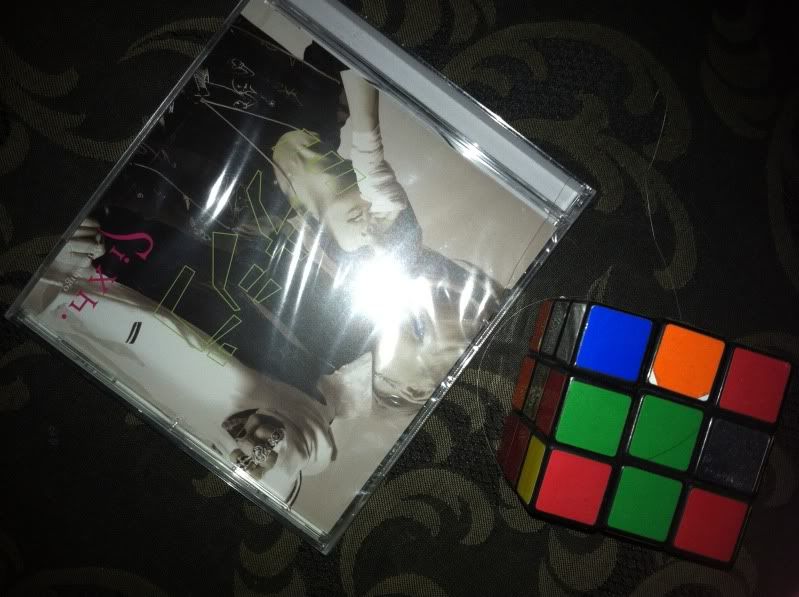 DECO NAILS:
all made by me by hand, with gems and

swarovski crystals. again, prices include shipping and fees.
Tabs are to help when affixing to your nails.

Yes, I do commissions. I can also do sizing. I can also remake something if it's sold. <3

Style 1: Purple Galazy $38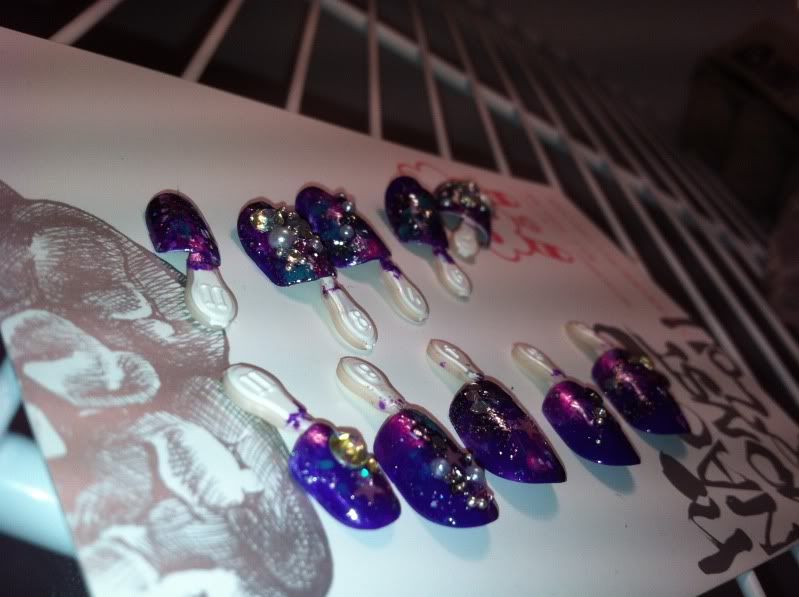 Style 2: Purple fade $32 (ogod why is this so blurry)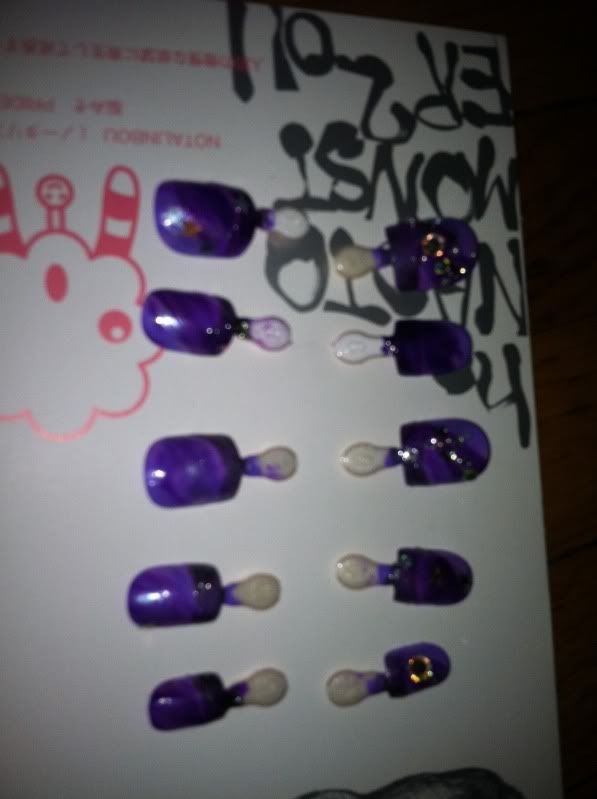 Style 3: Pastel stars and bear $30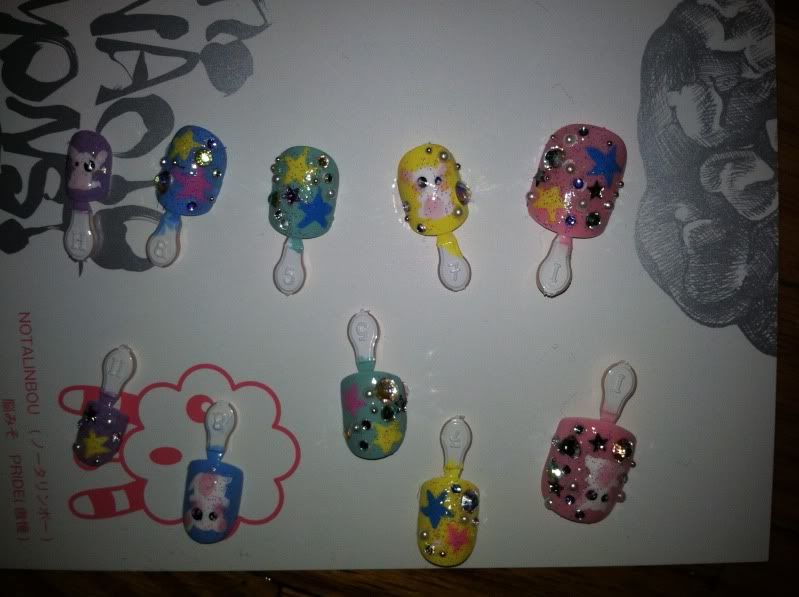 Style 4: Bleeding black glitter Bleeding pink (nude color is semi transparent and blends to natural nail) $35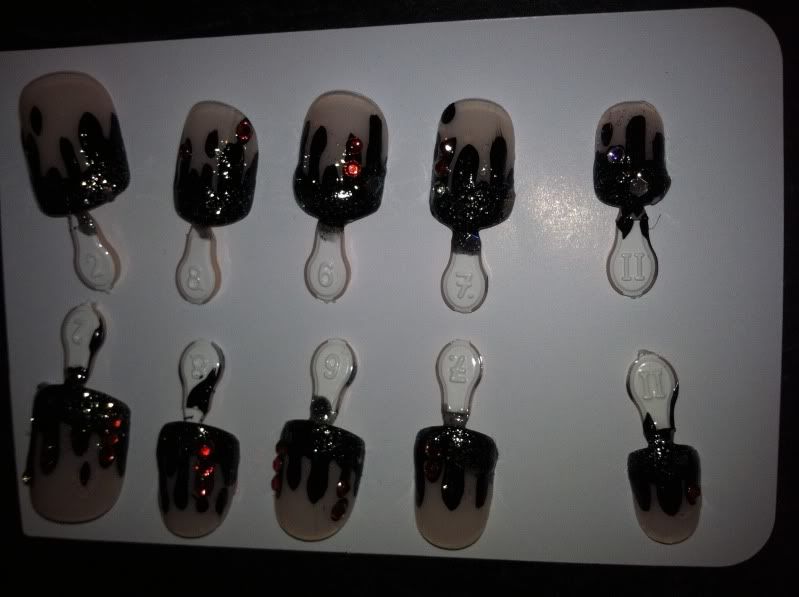 Style 5: Bleeding pink (nude color is semi transparent and blends to natural nail) $38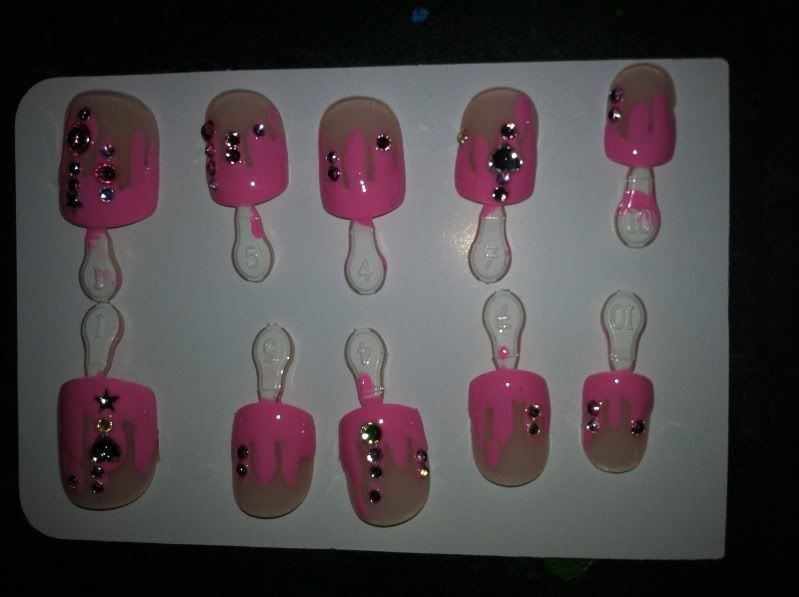 Style 6: Blue ocean $22 (you can't see it well but these are very deep and shiny and blue)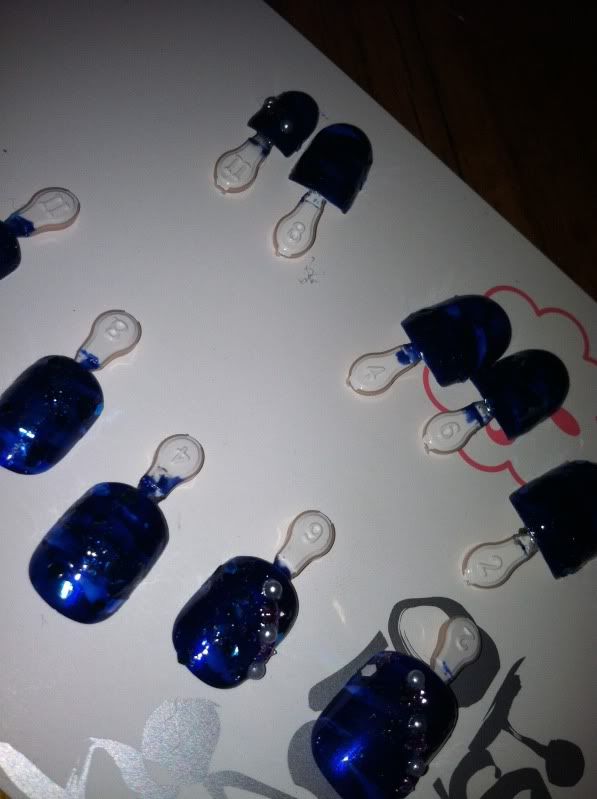 Style 7: Lavender bows and dots $35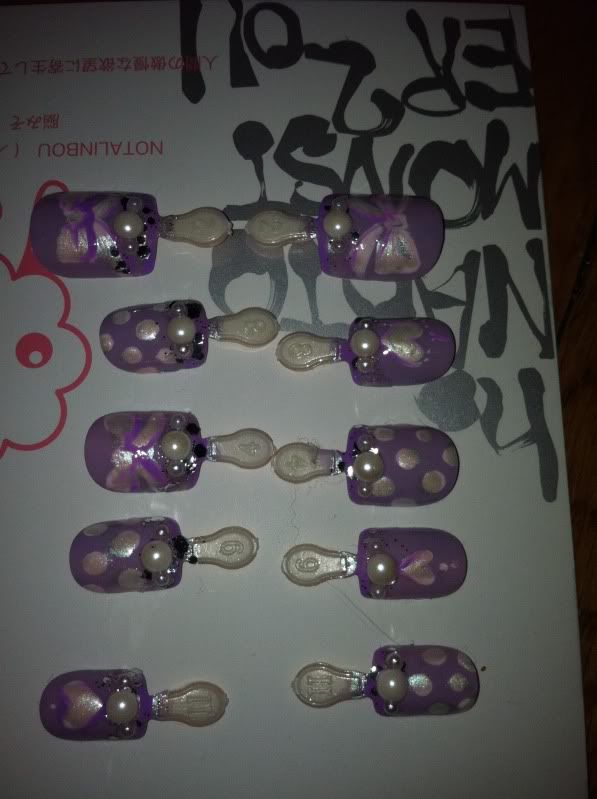 Style 8: Pink x Lavender Dripping Glitter $38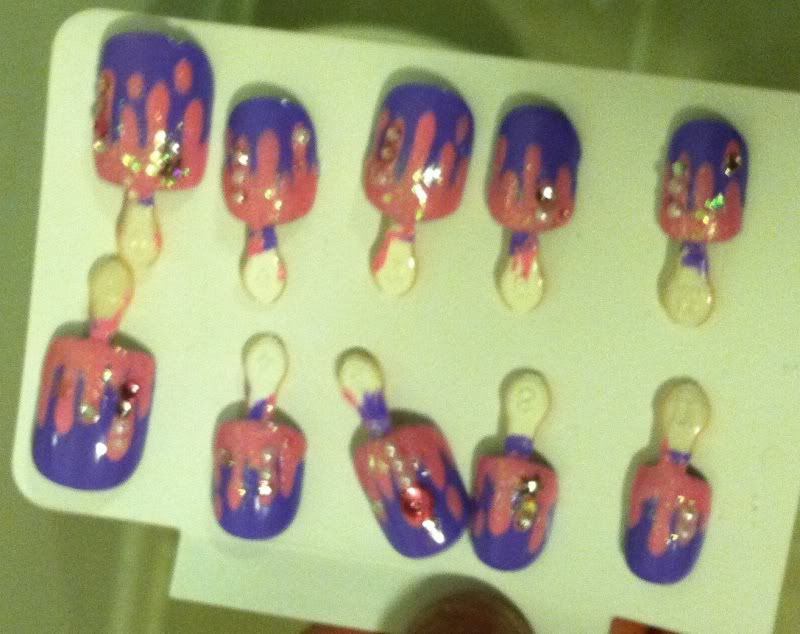 Style 8: Rainbow Skies




MILK chiffon skirt $80 OBO

I never got to wear this skirt, and i adore the print so i'm so upset to let it go, but i can't wear skirts. Look terrible on me. I bought this from a user, who also didn't wear it. No damages. It's from a Jewelry collection. It's little bit of a subtle pink, but the picture makes it darker than it is.




detail:




Offbrand Skull Skirt $40 shipped

Another one i'm sad to sell, as i adore this print. It's folder over the hanger, so it looks smaller than it is. It's an offwhite color. I think another LJ member made this, i never wore it, i don't think anyone else did. It's partially shirred, opens with a clip and has a halfway zipper for easy use. Nice seams. bye bye pretty skull skirt :'<




Offbrand pink Cardi with lace back $12

Worn once or twice. I just never wear it anymore. Nice for summer.




F21 pink cardi $15

Was trying to wear with skirts. Bye bye pretty bow cardi :'<




Offbrand Blue cardi $20

I think another LJ user added the bows and lace, but it's so cute. It's a tad small for my bust and also, i bought it for skirts. Bye bye cute bow cardi :'<




detail: (fuzzy trim!~)




BW BTSSB boddice $60
(OBO)

Fully shirred, i never did get to wear it. I was hoping for a nice skirt to match but i never did get one. Onward to a loving home :<


TRIPP NYC skull chiffon dress $48 on hold


Fully lined with black fabric, it was altered by the previous owner to
snugly fit a 32 bust. It is advised for someone 5" tall or under and
there are waist ties which are not removable. If you were to investigate the dress,
you would notice the altered stitches are not seamstress quality, but
they are also not at all noticeable when worn. Since i fell in love with it, i
bought the original in a fitting size. There are no damages to the
dress.



a website selling the dress with stock pics: here





DT: BTSSB Sugar Bouquet Shirring OP on hold
(or T/O)
Details: this dress is fully shirred, It had at least one
owner before me and it came missing the bow at the waist and the two
black bows at the top. however, i have F21 bows that nearly entirely
match the ones that should be there and i'd be willing to include them
on request. The dress was carefully taken care of. Note: I actually
really love this print, but i just feel like i'd like to try something
different and i can't afford to buy a new dress right now. Maybe one day
i'll hunt for it again, it's such a versatile piece


stock details via hellolace:







proof/worn:










What i'm looking for and willing to add $:



NO SKIRTS :'<

HOLY STORY NIGHT white or blue.

Friend Kumya-chan
JSK or OP in mint, cream, black, or yellow

ivory or lavender JSK or OP

Salopette

Vests



pink blouse, cutsew, or cardi



pastel and fairy kei items

brands: MILK, Putumayo Sexpot, BP or BPN

shirts with bright prints