- I ship from Queensland (Gold Coast), Australia and attempt to ship things off 1-2 days after received payment (may be a delay due to the Christmas season, plus I work quite a bit some weeks).
- Please no e-cheques.
- You pay the PayPal fees, sorry!
- Please note shipping fees may be a bit more expensive due to the time of year, but I do suggest in getting registered air mail for your security. I cannot be held responsible if your package is lost. Please also note shipping times vary due to the current season - do not PM me after two weeks if your item hasn't arrived - it's normal!
- My feedback page is here.
- My wishlist is here. Please note that I'm also currently on the SUPER lookout for white/black AP cotton turtlenecks with the zip/buttons on the back! Other turtlenecks are welcome - please show me!

1.) AP Fruits Parlour JSK + socks set - will consider to sell for $265AUD before shipping OBO (would sell set separately, ask for prices). JSK did not come with the brooch!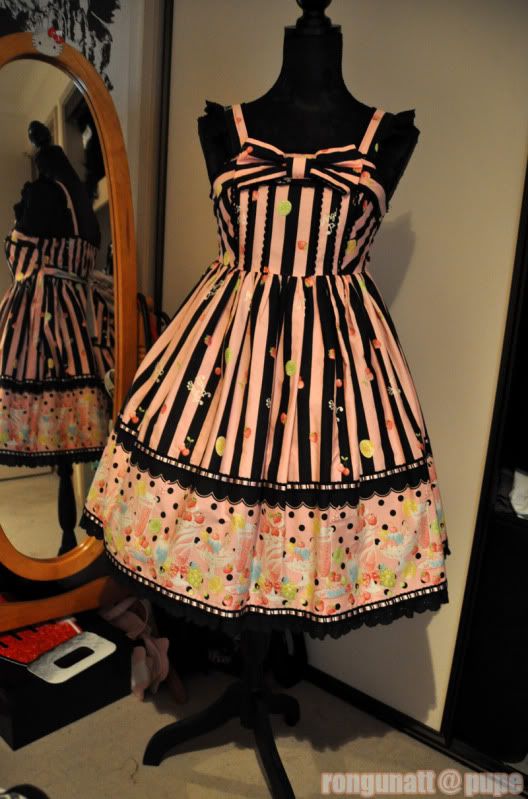 http://hellolace.net/wardrobe/angelic-pretty/type/jsk/item/75/

Socks:
http://img.photobucket.com/albums/v600/Nattz/fp_sawkz.jpg (Sorry for being on a not related JSK! Haha)

I'm really sad to be trading/selling this (as it was one of my most wanted prints), but I just can't seem to wear this without being uncomfortable with how it looks on me. The waist comes up really high on me due to my blocky figure and makes me look pregnant (easiest way to explain it, haha). I've tried it on twice, never worn it out. Received it approx. three weeks ago and it's been chilling in my wardrobe ever since.

Measurements:

Max bust: 98cm
Max waist: 86cm

Would recommend this for someone with a more slender figure (not necessarily skinny).

I would much prefer to trade this for another print on my wishlist, or for the OP version of Fruits Parlour. Might be interested in the OP version of this print if someone can first tell me the measurements - I need to know if it'll fit. ;)

2.) Putumayo OP with removeable collar and tie - $70AUD before shipping OBO or trade (preferably).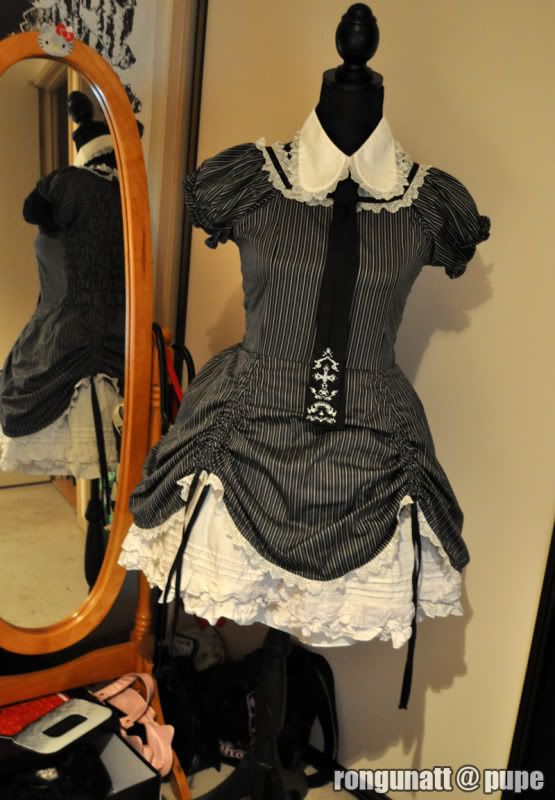 Another sad case for me, but for another reason. It's way too short on me! :(
About the cutest thing I've seen outside of the bigger brands and I adore it so much, but it just wasn't meant to be! I would recommend this for somebody that's a couple of inches shorter than me or less (I'm 165cm tall).

Measurements:

Back is fully shirred, so it can go quite big. I'd say max bust/waist would be about 102/90cm. I can double check for you if you're bigger than these measurements.

3.) Metamorphose white/sax heart pocket JSK - $50AUD before shipping OBO or trade.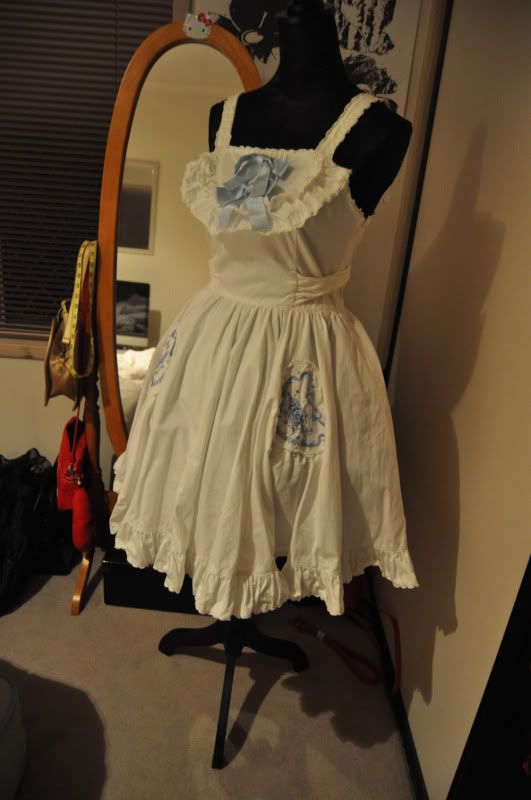 This was a bit of an impulse buy and I've grown to just accept that I'll never wear this. I bought it from Fururun about four months ago and just haven't really done anything with it since! Perfect wardrobe filler for more casual looks. It seems it's been worn quite a bit before me, but I've since washed it and it appears to have a loooot of life left! I moved the buttons so it'd be a bit lower on me, but this can be quite easily placed back to suit.

Measurements:

Max bust: I'd recommend around ~97cm
Max waist: I'd recommend around ~83cm

4.) Loris present box star bag (NWT) - $25AUD before shipping OBO or trade for a white bag (especially if you have the violin bag, hnnng - any colour will do ;D).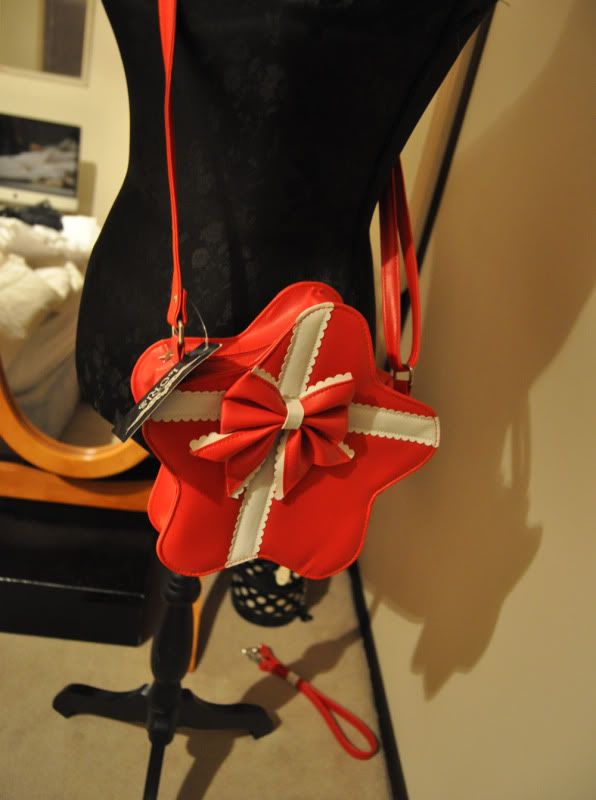 So I got this as part of a Taobao group order, but stupidly forgot that I'd already ordered a redxwhite bag from Closet Child, and so I no longer need this bag and am in bigger need of a white one! Will be happy to trade this for any smaller items like cutsews, socks, jewelery and other goods of equal value!