- Paypal only, no extra fees :)
- I'm not responsible for lost, stolen or damaged packages.
- The one that can pay first, or highest offer will get priority.
- I've got feedback here and for GO here
- I have cats and a dog, so allergic buyers beware.
They aren't allowed in my room, where I keep the items I sell, but sometimes one manages to sneak in.
- To convert currency, use XE
- Shipping includes the price of the packaging



IW Grace OP: €140 or trade
It's absolutely lovely, but too big for me.

Measurements (hellolace):
22.7cm bodice length,
61cm skirt length,
34cm shoulder width,
87cm bust,
74cm waist,
24.5cm sleeve length




IW blouse: €75
Has waist ties in the back, is an IW size Small.
One once for about 10 minutes, but I already have too many high collared blouses.



IW Crochet Top: €45
Great condition, selling because I don't have anything to coordinate it with!
This lovely crotcheted top is very stretchy so it suits a big range of sizes! Reccomended S/M!

Bust: up to 96cm
Waist: up to 80cm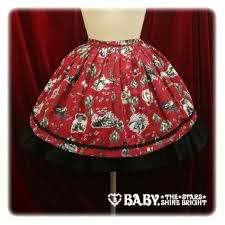 Vampire Forest Skirt (red) + Matching headbow: Trade for other brand items.
Proof of ownership
Regular skirts look strange on me sadly :(

Measurements:
52cm length,
60~71cm waist

AatP Black Cat, Witch and the Apple Tree Socks: €25 obo
Brand new, tags still attached and never worn or tried!Link to photo of proof



Victorian Maiden Chiffon Doll OP: €175 or make me an offer
Neck ties, waist tie and 2 bows included. Pictures of it worn here.

Check here for more stock pictures!

Measurements:
96.5cm length,
89cm bust,
74.5cm waist,
426cm around the hem

Moi Meme Moitie Iron Gate: (Partial) Trade within the EU only!
Proof picture here.
This is a super rare item and it's in a great condition. I feel like I'm not worthy of it though,
so depending on the offer, I might trade it.

*Please note that I won't trade this outside the EU
*Depending on your feedback/if I sold/bought/traded something from you before or the value of the trade,
I might ask you to ship it out first.
*I will only trade this for brand items, prints preferred.
*Partial trades are okay too :)
*I'm looking for print sets, so with a matching headbow and possibly (but not needed), socks.
Items I might partial trade it for (depending on the item ofcourse, for PC I don't expect a partial trade), but not limited to:

Alice and the Pirates:



Angelic Pretty:




Baby the stars shine Bright:



Juliette et Justine:



Mary Magdalene:




Moi-Meme-Moitie:


Victorian Maiden: