- Payment through PayPal only! (no credit card or e-cheque payments please!)
- Priority to those who leave their paypal address first with the full intention to buy.
- Shipping is NOT included in the prices for these items.
- I am shipping from Sydney, Australia.
- Prices posted are in USD.
- No holds unless it's payment within 24 hours.
- Non-smokers home.

- Feedback Page (+2): http://community.livejournal.com/eglfeedback/274957.html
- Feedback in my journal (+18): http://juliusss.livejournal.com/5059.html
- Feedback on Ebay (+14): http://feedback.ebay.com.au/ws/eBayISAPI.dll?ViewFeedback2&userid=my.lost.lenore&ftab=AllFeedback
INNOCENT WORLD FOREST HARVEST JSK - SIZE L - SOLD
Worn 3 times, No flaws.
Back shirring (but no corset lacing).
Proof

BODYLINE VELVETEEN WINE OP - 2L - SOLD
Worn several times. No flaws. Does not include the bow at the neck. Sold out on the website.
Proof

INNOCENT WORLD MUSIC PRINT PICO LACE JSK Bordeaux - $180
No flaws, never worn (bought 2nd hand). The print has an elegant 'handwritten' musical score along the border, and angels and roses on the rest of the dress.
Extra images and measurements: http://hellolace.net/wardrobe/innocent-world/type/jsk/item/128/




Proof
INNOCENT WORLD ANTIQUE PANSY OP Short / antique green BNWT - $230

New with tags, never worn. There is a small hole at the waist where the fabric started to come apart at the seam, I received it this way and have not fixed it. It can be easily fixed by a seamstress. Colour is more true to life in the proof picture.
Proof Hole

EXCENTRIQUE CROPPED BOLERO WITH FLOCKY PRINT - $110

Gorgeous bolero, no flaws. Shoulder width - 35cm, size S.
Pearl buttons at the cuffs.
Pearls

METAMORPHOSE TOTE BAG $15
Used once
Colour is black x grey
No flaws apart from slight fading near the base of the straps.
Fits A4 documents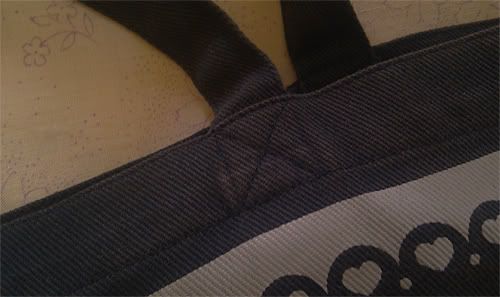 METAMORPHOSE HEART APRON $60

Good condition
No flaws except for a small square of black stitching on the back of the bodice.
Free Size. Heart bib measures 20cm down the middle and 26cm at widest point.
Comes with 3 white detachable bows.
Back straps cross over or straight.
Will iron before sending out!!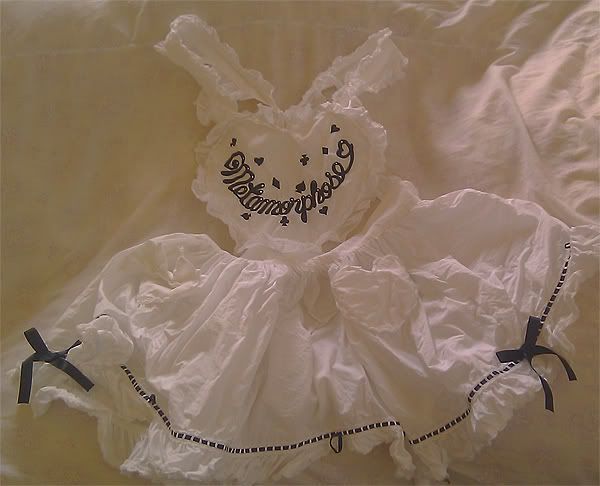 METAMORPHOSE HEAD-EATING HEADBOW SOLD

No flaws
Wire in the bow
Large size - Approx 20cm across.



BABY THE STARS SHINE BRIGHT KNEE HIGH STRAWBERRY SOCKS $15

Never worn.





I NEED TO SELL EVERTHING, SO PLEASE OFFER A PRICE! ♥

I'm selling these items to raise money for my dog's vet bills (he died a few days ago).