-EGL Feedback (+27, 100% Positive)
-Shipping from Toronto, Canada
-Prices are in USD
-Paypal fee and shipping is NOT included unless stated.

Please ask for a shipping quote and include your Zip/Postal code.


-I ship internationally.
-USA buyers have priority because its cheaper to ship there than within Canada..
-Available for local pickup in Toronto.
-Smoke and pet free home.
-I accept Paypal and Email Money Transfer.
-Items go to the first person who gives me their paypal address and can pay full price.
-I reserve the right not to sell to persons without an egl feedback page.
-Sorry, no holds.
-Invoices must be paid within 24 hours.
-Not responsible for lost packages if you purchase un-tracked shipping.
-I will consider reasonable offers, but priority will go to whoever will pay full price first.
Shipping Info: Packages will be shipped with standard, non-tracked, airmail postage. If you need tracking, it costs quite a lot more, please ask. Tracking is only included for Canadian buyers.



Surface mail

:

If you are not in a rush, surface mail is cheapest.
Airmail: is faster but it costs more and is insured.

DT Info: I will consider trades for everything except the strawberry ribbon set, but ONLY from gothic/punk brands: h.naoto, BPN, Putumayo, Peace Now, Stigmata, etc. I am NOT looking to trade for sweet stuff.




Brown Lolita Wig
Back view
Never worn, heat resistant, clip on pigtails.
$40 shipped with surface mail
If you are not in a rush, surface mail is best. It takes 15-22 days.
Airmail is faster but costs around $12 extra :(
Gothic Two Tone Crimson & Black Wig
75cm long wig with blunt bangs. Adjustable wig cap.
Superior quality and softness, this wig is from my newly re-modeled Facebook shop
'CosQueen'
.
Heat resistant up to high temperatures
, and made with a thick weft.
I will be accepting custom colored orders soon, as well as lolita wigs with clip on falls.
The page is still under construction but please 'like' it to keep up with updates!
$40 shipped
Creamy Jelly Jar Necklaces
(click pic to go to Etsy listing!)
Original price $22.00
SPECIAL egl comm sales price: $15.00
Shipping not included in price.
These dreamy creamy necklaces are a gorgeous accessory for any outfit, filled with resin and sealed with whipped cream (but dont eat it!). Decorated with a small bow, the jars hang from a 22" chain, which can be any custom length desired.
★Pick your colors!~★
♡You can choose whichever color you like for your jelly, you can even choose more than one color for a blended effect!
♡Mini bows: Mini bow: Black, Red, Light Blue, Cream, White, Light Purple, Light Pink
♡Chain: Silver, Gold, Gunmetal.
◕ ◡ ◕ ☆ My Jelly Jars are absolutely one of a kind, you will not find them anywhere else!! ☆◕ ◡ ◕
BBTSSB Creamy Soda Pop OP Set in Mint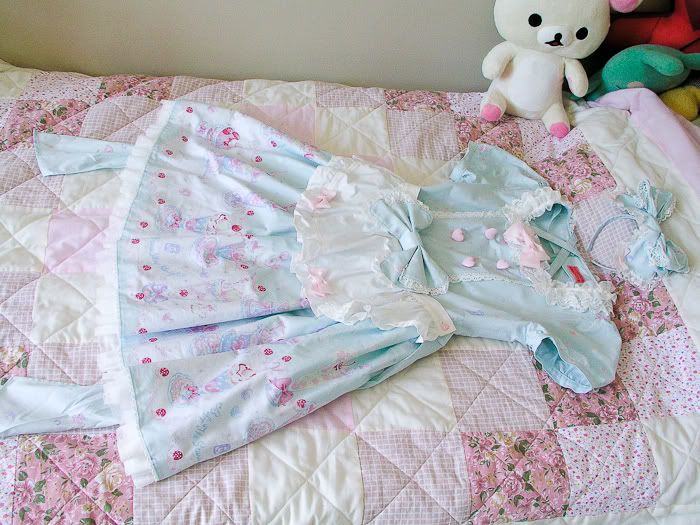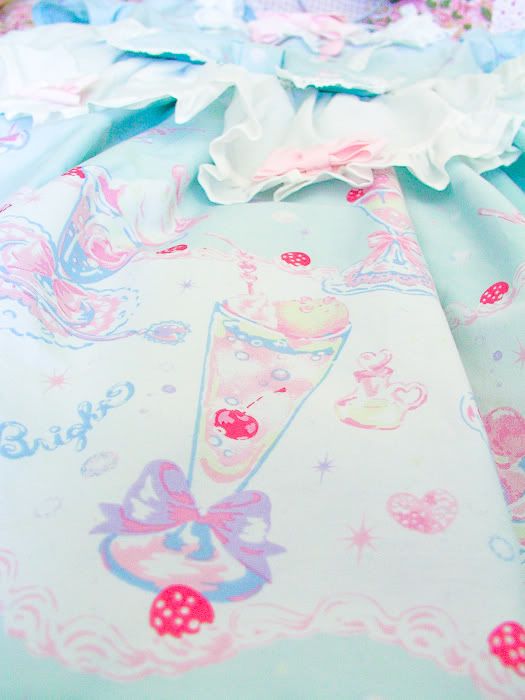 Worn once!
Excellent condition, no flaws. Comes with headbow.
$350 + shipping
$290 + shipping OBO
Will accept payment plans. Priority goes to whoever can pay full price first.
Tiara Rose OP in Lavender w/ choker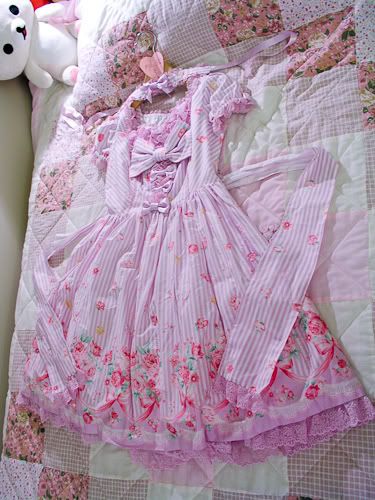 SOLD
Jewelry Jelly JSK in Sax
payment plan in progress
Worn a couple of times, bought off the comm, still in excellent condition!
$250 + shippingBodyline Soft Cream Tote in Pink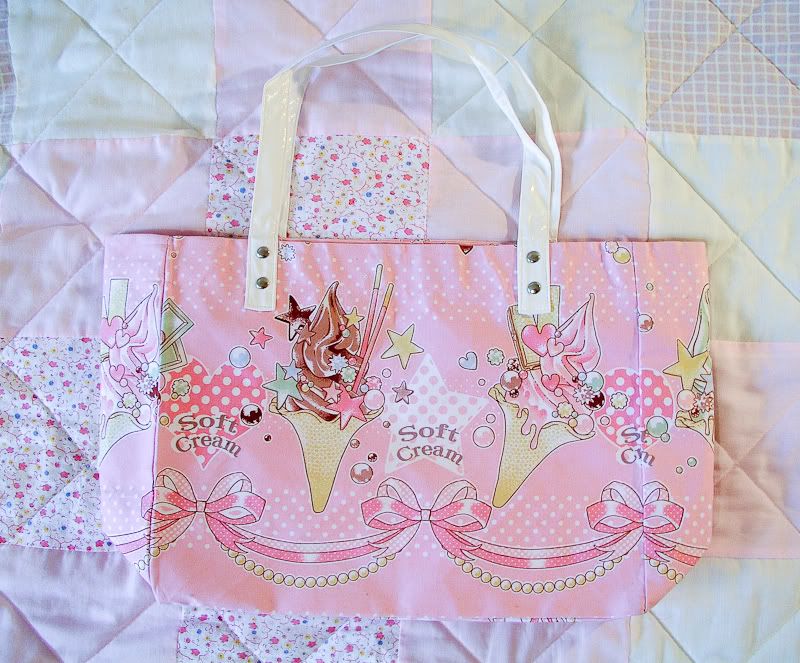 Like new.
$5 + shipping
Sweet Strawberry Ribbon OP Set in Pink
SOLD
sold
Custom Ice Cream Scoop Rings
click the image to go to etsy listing (more pics)
$10 free combined shipping!
Regular price is $12 per ring.
Individual shipping is +$7 airmail.
★Each scoop is hand sculpted with care! ★
★NO MOLDS OR TEXTURE BRUSHES are used! ★
Pick your toppings:
❤Icing syrup: Light pink, Light pearlized pink, bright white, light purple, light brown, medium blue, dark brown syrup, red syrup, hot pink, bright yellow. **all syrups can have iridescent sparkles added for extra glitter ;)
❤Whipped cream dollop: *New colors* White, Mint, Pink, Lavender.
❤Pearl: light pink, light yellow, light orange, light blue, light purple, light green, white, magenta,
Older Sale Reductions
Alice and the Pirates 'Jewelery Box' socks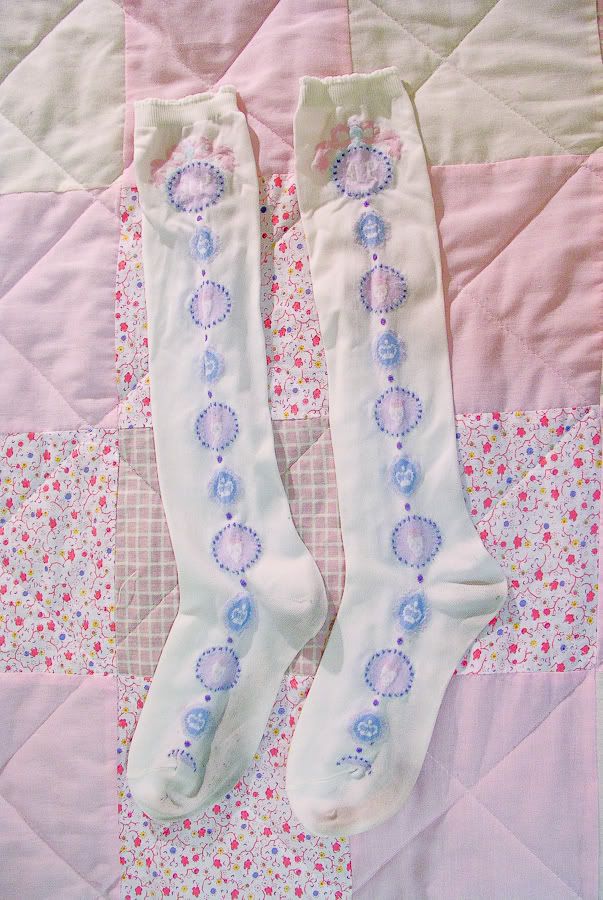 Features pastel skulls and crowns.
I'm the second owner, showing signs of discoloration. but otherwise in good condition.
$20 + shipping OBO
$15 + shipping OBO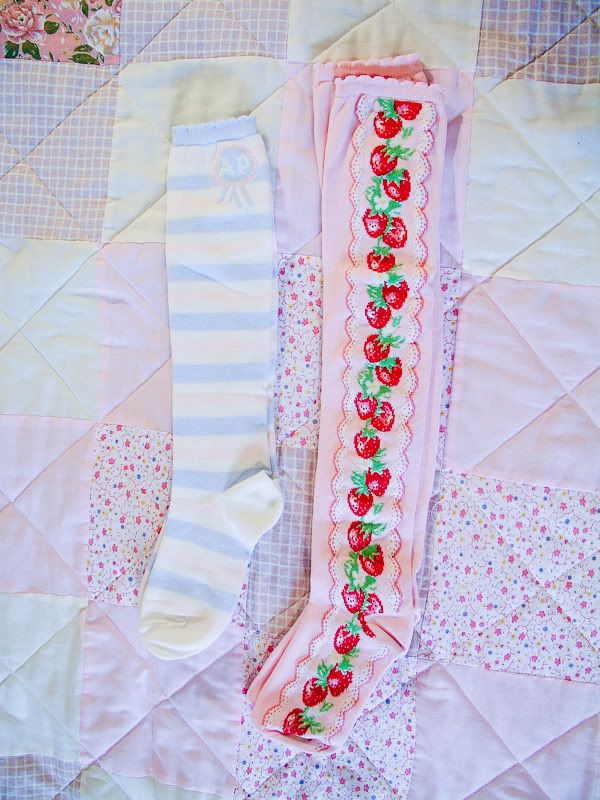 Left:
Angelic Pretty Striped socks. Brand New. Tried on once.
$20 + shipping
. $15 +shipping
Right: Strawberry ribbon socks. Not for sale seperately. (included in the OP set above)
Offbrand white lace socks. Worn once. $5 + shipping $3 + shipping

or FREE shipped with any other item purchase.
Angelic Pretty Back Lace up Pink & White knee socks. Brand New.
$25 + shipping. sold