Please Read~
-This item is
stained
.
-Non-smoker, no animal home.
-Paypal only
-US buyers only
-Ships from Honolulu, HI. I can ship right away, as I want to mail it out before I move.
My feedback:
http://eglfeedback.livejournal.com/698665.html
I am selling Baby the Stars Shine Bright's Alice Trump Yukata in Blue with the red and orange obi and bow. I really need this gone, so I lowered the price significantly.
Price:
$120 Shipped
Size
: I honestly couldn't say, but as a point of reference I have a 39'' bust and 33'' waist, and 38'' hips, and it fits fine.
Condition
: Only worn once, but it was raining so it got stained from the puddles. I have not attempted to remove the stains as I don't feel confident in my laundering abilities, so I couldn't say if they're removable or not. However, after consulting a couple of friends with yukatas, I was told that the stains were removable if dry cleaned. (This is a common stain during obon season in Hawaii XD).
Pics of the stains
:
This is the worst one.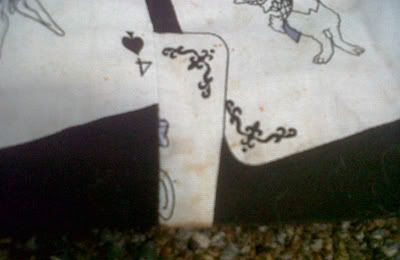 2nd worst one
The rest are like these, little spots.
This is on the inside of the fabric, you can not see this stain on the outside.
All of the stains are on the bottom, with a few spots higher up, but are on the back. The obi and bow are fine. If you have any more questions, please let me know. Thanks for looking~