I ship from CA, USA. I prefer to trade within North America for convenience & shipping costs.
I have 3 cats but all my lolita items are kept in a drawer away from them. Let me know if you have allergies and I'll take the necessary precautions to make sure you're not affected.
I'm interested in trades ONLY at this time, please show me what you have - preferably dark colors/gothic lolita style.
Ask me any questions :)
egl feedback: http://eglfeedback.livejournal.com/1591290.html

DT:
Grey/black Bodyline "Antique Clocks" high-waisted corset-style skirt (L305)

Measurements: (adjustable due to shirring and corset lacing) Length 60cm (23.6 in) Waist 64-74cm (25 in)
I have a 28" waist & 35" hips and can't fit into it. The site says it fits up to a 74 cm (29" waist) but it's smaller than that. I'm big boned and couldn't get it to zip over my rib cage, so the fit depends on your stature. If you're petite and fit into bodyline's M size, you should be fine.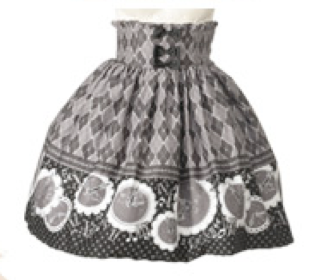 Stock photo, no worn photos as it doesn't fit me so I wasn't able to get past attempting to try it on.

On Bodyline's website: http://www.bodyline.co.jp/bodyline/showProduct2.asp?id=5913&pageNumber=2&pageStop=stop_5&noSubType=N

proof 1
proof 2

Please show me what you're willing to trade (as long as it'll fit a 40" bust and 28" waist), doesn't have to be skirts only but they're preferred. Thanks for looking!