Hello everyone I'm trading or selling my BTSSB Soda Cream Pop Skirt and Headbow

My egl feedback page is here: http://eglfeedback.livejournal.com/263117.html
I ship from CA, USA. (shipping is included for US and Tracking number also)
Feel free to ask the shipping to your country if interested in the item.
I'll save shipping receipts as proof of shipment.
I am not responsible for lost items or items damaged during shipment.
Smoke free, pet free.
US traders/buyers are preferred and may be given priority.
No refunds or returns.
Any questions, feel free to ask!

BTSSB Soda Cream Pop Skirt alteration of the OP
Measurements:
Waist: This skirt fits a size 32"
Materials: Fabric (100% cotton) Lining (100% Polyester)
Release Year: 2010
Conditions: Purchased second hand additional information in photos.
Additional Information: Detachable Apron, Detachable waisties and Detachable Bow are included.
OP from which is modified from: http://hellolace.net/wardrobe/baby-the-stars-shine-bright/type/op/item/100/

Price Both: $120 shipping is included to US for both Headbow and Skirt with tracking number.
Or: $85 Skirt and $50 for headbow shipped with tracking number
Brand: Baby the Stars Shine Bright
Trading: Looking for any other skirt in black or red, Brand or off brand.
Skirt was altered from a OP by the person before me so there are signs of alterations based on the photos. Much of the thread is practically not visible from first sight. I didn't notice them much when worn. Especially since the apron is on or the bow is attached and the waist ties are tied. Much of that is hidden even more with these accessories.
Aditional photos: [1][2]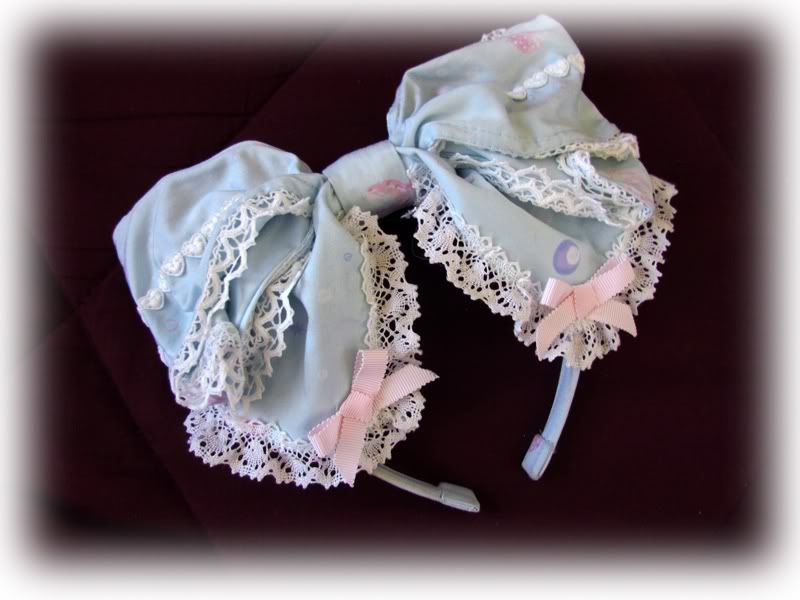 Headbow: Has a Wire that let you modified the shape of it.
Aditional photos: [1][2][3]


Thank you for watching!