4-week repost with reduced prices! Primarily direct sale of plus size items. Reasonable offers will be considered.

Terms & Conditions:

♪~Payment~♪
I prefer payment by Paypal, but will accept money orders, cashier's or personal cheques or cash payment.
All snail mail payments are at buyer's own risk and tracking is recommended. I am not responsible for any lost payments.
All cheques and/or money orders will be held until cleared.
Prices are primarily in US dollars. British Pound, Euro, and Japanese yen may also be accepted.
Buyers are responsible for Paypal fees which can be calculated here and will be added into invoice.
Invoices are in US dollars unless otherwise agreed upon.

♪~Shipping~♪
I ship from Hawaii, USA and will ship anywhere the USPS ships to.
Prices including shipping are only to the US.
I ship First Class or Priority as first choice. Tracking is recommended for this.
All domestic shipments may come with tracking and/or insurance at buyer's own cost.
International shipments may be registered for all mail types, insurance available only through EMS.
International shipping primarily through envelope unless otherwise requested. Shipping extras at buyer's own cost.
I am not responsible for any packages once they have left my hands.

♪~Others~♪
I will do holds with a 20% deposit.
Payment plans available upon case by case basis.
All sales are final. NO REFUNDS
I expect responses to any comments within 24-48 hours unless previous mention of delay.
Please respond, even if it is to say you are no longer interested.

Feedback here: http://community.livejournal.com/eglfeedback/1122027.html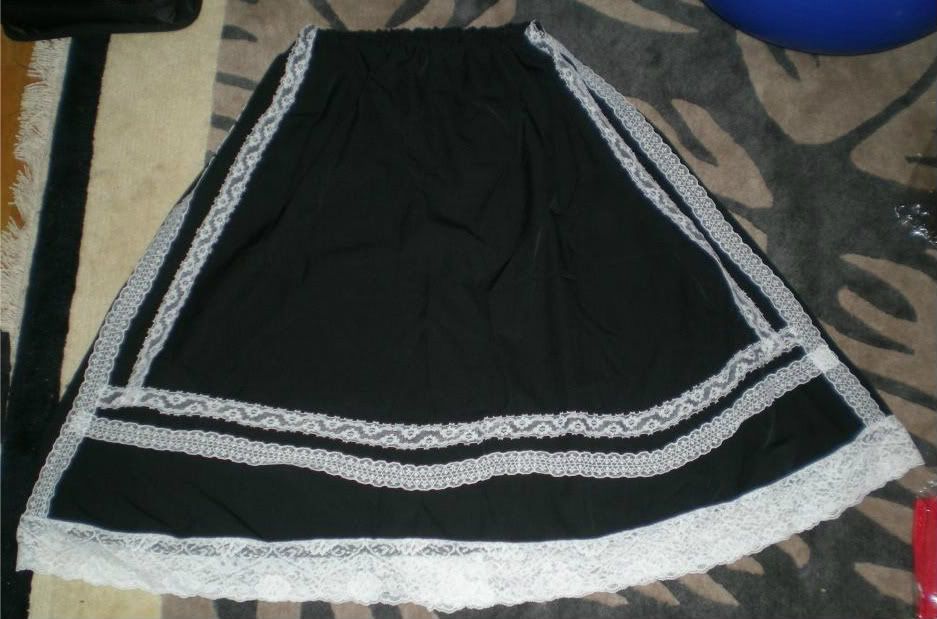 Handmade Long Black Skirt :: $45 $40 shipped
Fully shirred waist
Waist: 24-46"
Length: 33"


Offbrand White Cotton Lace Skirt:: $33 $28 shipped
lined in the top portion, but the last ruffle is not
Size XXL
Waist :: 39"
Length :: 25.5"
Black Dolly Curls Wig :: $10
New in bag, has bangs
Older Sales
http://egl-comm-sales.livejournal.com/16994843.html
[Anna House + Bodyline and offbrand tops, shoes, accessories]
http://egl-comm-sales.livejournal.com/16905249.html#cutid1
[

F+F, Bodyline, Demonia, Offbrand tops, skirts, OP, and shoes

]