Please pay by Paypal. Singaporean buyers can pay by DBS bank transfer!

All prices include international shipping (tracked), but Paypal surcharges still apply. For US buyers, it's an additional 4% rounded up to the nearest dollar.

Priority goes to the first person to leave their Paypal address (or to local buyers). Please pay within three days of receiving the invoice.

I take holds and will wait until the specified time, but only with a 20% nonrefundable deposit. :3

Feel free to make offers! There are some items that I'm not in a hurry to sell, however, so whether I agree or not will depend on circumstances.

All measurements listed below are garment measurements.
I have positive feedback I have positive feedback here.
Item 1: AATP beauty and the rose promise corset skirt SOLD
NWT
I don't have much with which to match this skirt, so I'm letting it go. :/ New with tags! Feel free to make offers.

Measurements as according to Hello Lace:

Waist: 61.5 – 73cm
Length: 62cm
SOLD
Item 2: BTSSB heart heart blouse with extra sleeves SOLD!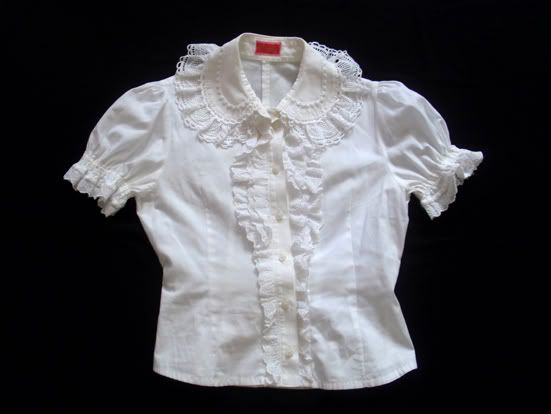 Selling because it looks silly on me – my loss is your gain! Bought second-hand, comes with an extra set of detachable sleeves! Do note that the blouse is a slightly different colour from the sleeves because I foolishly sent it for dry-cleaning without them. Another round of dry-cleaning should be able to restore them both to the same colour. There is, however, faint yellowing around the rim of the collar – quite unnoticeable until you look closely, but there nonetheless. Price reflects condition.
Measurements according to Hello Lace:

Bust: 100cm
Waist: 76cm
Shoulders: 26cm
Length: 44cm
Sleeve length: 60cm
SOLD!