PRICES ARE NEGOTIABLE.
Feel free to haggle. I'll consider all reasonable offers.



Payment and Priority
- Priority goes to the first person who can pay my asking price.
- If two people offer the same price, the first person to leave their paypal information will get the item.
- I accept Paypal payments only.
- Shipping cost and Paypal fees are not included in my asking price.

Shipping
- Please inform me of your location when you leave your paypal information. I will then calculate shipping for you. If you are okay with the shipping price, I will invoice you.
- I ship out items every few days. If you need an item sooner, please let me know and I will be happy to rush out to the post office for you. :)
- I usually use first class mail. If you require Priority mail, delivery confirmation, or a tracking number, please let me know. For international orders, this may raise your costs quite a bit.

More Information
- Additional pictures and measurements can be taken upon request.
- I'm looking for money right now, but I will accept trades/partial trades for Wonder Party halter JSK in black. :D
Feedback: http://eglfeedback.livejournal.com/569600.html

Hello~! I'm selling my Fantastic Dolly skirt in white. It's a gorgeous skirt that can be coordinated beautifully and easily with a number of wardrobes. :D I bought it second hand off of mbok, but it's in wonderful, like new condition. I've only worn it out once. :D I'm looking for money right now, so no trades unless it's for one specific item. xD; I can do a payment plan, but I will need at least $100 up front.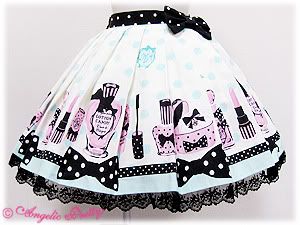 Proof Photo
I can take individual pictures of the skirt upon request.

Price: $220 OBO. I accept reasonable offers. :D

Please let me know if you have any questions. Thank you for looking!