Hello all!


The Basics:

- My feedback: http://eglfeedback.livejournal.com/983363.html
- Paypal only (no echeck!)
- Shipping is via USPS, and I ship quickly, usually within 1-2 business days. Please inquire about shipping rates, it will depend on where you are located.
- First to request an invoice gets the item!
- *No Trades*

**I am open to offers!!**


Angelic Pretty Wonder Story Switching JSK, Socks, and Headbow in Sax

I loved this set when I first saw the print, the print is so, so pretty!! But I just don't like this dress on me. Hard to part with it just because the print is so cute and the design is fantastic- this is one of the heaviest JSKs I own! It is a very thick material. I have worn it once for photos for about 10 minutes, then once in Japan. It is in perfect condition! The socks have a tiny bit of wear to them, and a small spot on the bottom that I must have missed before I washed them last (I've circled it!). Headbow is perfect too, only ever worn over a wig. There is a panel of shirring in the back. I removed the collar from the jumperskirt, but it is of course included and simply buttons back on! The bows on each shoulder are removable, and were originally on the center of the chest. I will leave them where they are, you can unpin them and move them back to their original spot or wherever you like!

The fabric is brighter in person, it's a bit dark outside here today, so the lighting is off!

Bust: 91cm
Waist: 71cm

Price: $400.00 + shipping

*I won't split the set, I'm sorry! I am open to offers on my list price though!* SOLD!


Angelic Pretty Wonder Cookie Bangle

Adorable bracelet, too big for my wrists though! Perfect condition!

Price: $28.00 + shipping
SOLD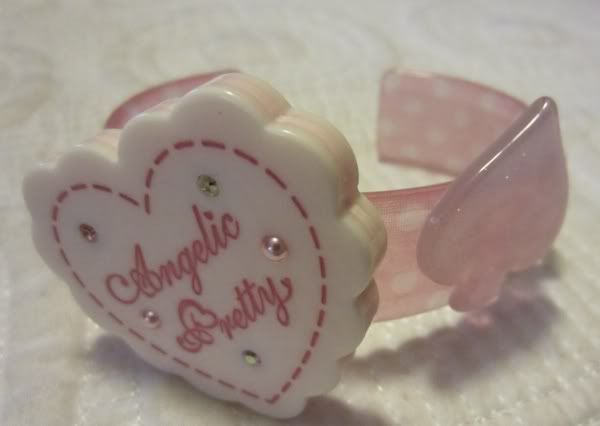 If you have any questions, don't hesitate to ask! :)

Thank you!